Thirty years ago, Halloween Horror Nights had its humble origin. Fright Night – as it was called – was a mere three nights of scares between October 25 and October 31, 1991 and featured just a single Haunted House. But HHN is like The Blob – it started out small and seemingly innocent and then grew into a monster of epic proportions. How epic? Try 10 terrifying houses, 5 scare zones, 2 shows and more chills than ever.
This anniversary event celebrates "30 Years, 30 Fears" – and it delivers all the Cheers!  (Assuming screams count as cheers!)  The greatest Icons of the past years take the helm, led by Jack the Clown, and for the first time they will all feature in a single house – HHN Icons Captured!  Other houses and scare zones also meld old and new legends together in countless ways, honoring the past while propelling us into the horrifying future.
Universal Orlando rolled out the bloody red carpet to host a media event that provided a frightening front row seat to the best event of the year, and they kicked it off by providing access to a new exclusive experience!
Are you ready to get JACK'D UP???
The Jack'd Up Experience At Cabana Bay
UO is not "clowning around" when it comes to giving amazingly haunting perks to the guests staying on property! The Jack'd Up Experience is exclusive content for visitors staying in the hotels, and guests staying at the Cabana Bay get an express lane to enter!
Located in the Cabana Bay Hotel, this mini-house of thrills is based on Jack Schmidt, the most celebrated of the HHN Icons. Walk through his madness, experience the inside of Jack's blender and pledge to join him in his mayhem. Take your haunt to the next level for HHN30 – stay on property and get Jack'd Up!
Getting the Slaughter Started
Approaching the towering archways of Universal Studios, you can feel the hunger of the crowd pressed against the gates, waiting to breach the event they have been denied for two years. HHN 2020 was Dead On Arrival due to the Covid pandemic and the anticipation for this year's event has reached fever pitch.
Suddenly a familiar voice rings out…and while all of the previous icons of the event will be honored this year, only ONE is capable of acting as ringmaster for this circus of mayhem – JACK! He has arrived with his Carnage Factory to stoke the fires of desire within the crowd and unlock their passions, their fears and THE GATES!!
The Houses
There are TEN hauntingly chilling houses this year and many weave together 30 years of nightmares dreamed up by the evil geniuses at Universal Orlando.
The Intellectual Property houses (IP) based on movies and TV series are: Beetlejuice; The Haunting of Hill House (Netflix original series); Texas Chainsaw Massacre; and The Bride of Frankenstein Lives.
The Original Houses (always among my favorites) are: Halloween Horror Nights Icons Captured; S-Carey: Horror in the Heartland; Case Files Unearthed: Legendary Truth; The Wicked Growth: Realm of the Pumpkin; Puppet Theater: Captive Audience; and Revenge of the Tooth Fairy.
Before my countdown begins, I need to make a ghoulish scream-out to Zak, our R.I.P. tour guide. He is an absolute bloody font of knowledge about HHN and its long and gory history. He made a "horror-full" night even more terrifying!
It's tough to pick a top house – ALL are great, especially after Zak schools you on some of the history and backstory you might be lacking! But it's hard to deny that the BEST house is – say it with me three times
                    BEETLEJUICE, BEETLEJUICE, BEETLEJUICE!
Beetlejuice
Grab your Handbook for the Recently Deceased and enter the realm of that ghost with the most – Beetlejuice! From the moment you step into the warped world of the pranking poltergeist, you are in your happy place. Your eyes are treated to the Burton-esque world that is colorful, off kilter, and filled with zany dead humor.
Meet the newly-dead Maitlands, who haven't quite moved on from their house before it is re-inhabited by the Deetz's including their empathic daughter Lydia. Employing the antics of Beetlejuice, Barbara and Adam Maitland hope to rid their home of the living but things MIGHT just get out of control. Maybe.  Ok – definitely…  Whatever.
This house will have you alternating screams with shouts of "DAY-O!" And if you don't leave this house wanting to form a conga line, you must be…well…DEAD!!!
The Bride of Frankenstein Lives!
This is a house we got to see last year in the dark times known as the "No HHN Due To Covid" period. Universal Orlando had pity on us poor souls that can't survive without some serious haunts and gave us some daytime, socially-distanced walkthroughs including this gem. Although I saw it last year, it is still good enough to grab the second spot this year. Maybe it's a girl power thing, I don't know…
In the original Bride of Frankenstein story, as the bride is presented to Frankenstein's Monster, she rejects him with her classic "HISS!"  The Monster responds by exclaiming, "We belong dead!" and dramatically pulls the lever, blowing up the castle.
This house begins immediately after the explosion and as you enter you are surrounded by the smoldering, smoky ruins of the castle. Destruction and devastation surround you, but agonized, bloodcurdling screams pull you forward. Turning the corner, what's left of the towering walls of Frankenstein's fortress loom before you and atop the crumbling destruction stands The Bride.
She has survived the blast and now realizes that she does love The Monster after all! Her feral, heart wrenching screams punctuate her attempts to rescue her love from the rubble – to no avail. It is a hauntingly beautiful house entry.
Moving forward, we hear The Bride planning to bring her Man-ster back to life, and it's clear our own lives are very much in danger. She plans to harvest body parts and use the blood of The Brides of Dracula to reanimate her lost love. Both she and the creatures being sacrificed for her diabolical scheme jump out to snatch us as we work our way through the dark twisted maze.
Whether or not we survive, you can be sure the entire story will come to an electrifying conclusion!
HHN Icons Captured
This house captures not only the Icons of HHN – but the very essence of this ICONIC event! Universal Orlando has created the perfect experience to walk us back through 30 years and 30 fears in this house filled with nightmarish nostalgia.
The Icons of HHN – those diabolically deadly mascots of Horror Nights that have reigned over the mayhem for decades – are together in one house for the first time! It all began at the 10th anniversary of HHN in 2001. Evil clown Jack Schmidt was loosed on the public (LITERALLY – in downtown Orlando – riding a swan boat in Lake Eola!) and brought Halloween Horror Nights to new and creepy heights.
Universal Orlando has used icons ever since, with Jack making the most – and the most popular – appearances! Other Icons include The Caretaker, The Director (my favorite!), The Storyteller, The Usher, Fear Itself, and Chance.
The house opens in a creepy, red glowing cavern, with the Icons leering out at you on massive screens to each side. Around the archway are the totems of each Icon, each nested in its own niche.
Walking through the maze, you relive the terror each of these evil masterminds has wrought and see again their victims – who are wearing the T-shirts of that year's HHN!
My favorite moments include the Director reframing horror with his torture devices that create so much suffering – all for the sake of his art – and the Usher, creepily reminding us to be quiet as he murders people in front of your eyes! And watch out for Jack – as usual he KILLS it in his scenes!
The final room features a throne with one Icon seated in magnificent, malevolent glory, exalted above all the others – but each night a different Icon may wear that crown! So you may have to visit several nights to see your favorite reign supreme. I was lucky – The Director was the King of the Killers on my visit!
Check out my walkthrough highlights!
The Haunting of Hill House
Based on the Netflix original series, The Haunting of Hill House maze captures the creepy, supernatural events that have plagued the Crain family for decades.
Hugh, Olivia and their 5 children move into a mansion with plans to renovate and sell it, but the house has other plans in mind. After paranormal events build to horror and tragic loss, the family is forced to flee. However, years later the Crain children return and must face the house, each other, and themselves.
If you've watched the series, you will feel as if you've stepped right into the nightmarish world of the Crains at Hill House.  If you haven't, you'll be binging it as soon as you get home after this tantalizing taste of terror.
Step into the fabulous opening scene as you stand outside the impressive mansion known as Hill – or Hell? – House.  Then get ready to see The Ghost in the Basement, The Tall Man and more! And the nightmare wouldn't be complete without entering the Red Room!
Case Files Unearthed: Legendary Truth
I was super excited to see this house and it did not disappoint!  Just as other houses have reached back into the archives of HHN history, Case Files links back to HHN9 (2008) when Detective Shuster fought Bloody Mary and survived. Since then, his name and the Collective he creates to investigate the paranormal have appeared in many other years.
In 1948, Private Detective Boris Shuster created Legendary Truth: The Collective, an investigative agency studying the evil at Halloween Horror Nights. Through his work, he collected Totems and hid them and his studies in his attic.
After retiring from detective work, Shuster becomes an author, writing what appears to be fiction but is actually a diary of his explorations of evil.
Fast forward to 1991 and Tim Foyel is in Boris' attic, trying to put together what Boris learned – and this might be a bad idea…
Pay attention to the dates that Tim is in Boris' attic – October 25, 1991 to October 31, 1991. Sound familiar? It should – those are the original dates of Fright Night at Universal Orlando – now known as Halloween Horror Nights – and marks the beginning of our 30 years of fears!! This is yet another example of how HHN30 really ties together so much of the history and lore of the event.
To take that even a step further, do yourself a favor before visiting this house – go to the streets of New York and stand on Delaney Street. Look up and you'll see the offices of Boris Shuster, Private Investigator. Across the street is the Kitty Kat Club. Both of these feature prominently in the house and the Creative Team at UO actually went back to the original blueprints to create authentic visuals inside!! MIND BLOWN.
As you enter the house you will be in Boris' attic where Tim is feverishly trying to make sense of what he is finding.
As he researches, we are taken back in time in a cool Film Noir setting to watch the old gumshoe himself investigating the paranormal and slaying monsters. Each time, the scene is set with the covers of the books he will write about that adventure into the paranormal.
Eventually you return to 1991 as Tim finally pieces together all of the information.  Unfortunately for Tim, this does not end well. As he puts together the totems, the horrors are unleashed!
After this house, you will definitely be ready to join Legendary Truth: The Collective!
Wicked Growth: Realm of the Pumpkin
This is a beautiful house in the tradition of Scarecrow: The Reaping and Seeds of Extinction. It turns out that Halloween is actually controlled by the evil Pumpkin Lord, whose power grows greater as traditions are practiced and sacrifices are made by his minions.
You are warned to Fear The Pumpkin Lord as you enter the forest where all things Halloween are lurking. Witches, goblins and even the Grim Reaper try to pull you into their diabolical scheme to raise the Pumpkin Lord and unleash him on the world. Be prepared to come face to face with the Pumpkin Lord himself as you try to escape this Halloween nightmare.
SCarey: Horror in the Heartland
This is another house paying homage to the haunting history of Halloween Horror Nights, as many houses and scare zones throughout the years have been set in the town of Carey, Ohio.
Carey is actually a real town, and was the birthplace of an executive on UO's creative team. In 2008, when the team was looking for a place for Mary Agana (Bloody Mary) to originate, she recommended a small town named Carey, where they had a haunted house, a haunted bridge and more spooky tales.
This house is a compendium of the tales you have grown to love over the years and you will see many of the famous characters within!
Skoolhouse with Mr. Renshaw
The Spawning with the creatures called Sculders that live in the sewers under the town
Leave it to Cleaver with the butcher Samuel Meetz (The Z stands for cannibalism!)
HR Bloodengutz Holidays of Horror
Hive and the vampires that are taking over the town.
As you pass through each nightmarish part of this horrific home town, remember –  what happens in Carey STAYS in Carey. Probably because no one gets out alive to tell the tales!
Puppet Theater: Captive Audience
The year was 1906 and the Grandeur Theater was full that night. A full house of patrons were enjoying a performance by The Gurian Republic Ballet Company and a show by Pasek's Puppet Troupe. Then disaster struck. San Diego was hit by a massive earthquake. The theater was destroyed and everyone trapped inside…where they slowly went mad.
It's a year later and the Puppet Troupe will do anything for the show to go on! Including turning dancers and audience members into puppets by pulling them apart and stitching them back together. Be careful! If they don't turn you into a puppet, you'll join the rotting corpses of the audience.
Dolls are creepy enough – but these puppets and puppeteers take it to a whole new level! This house is gory fun and remind us that the SHOW MUST GO ON!
Revenge of the Tooth Fairy
This is another house we got a sneak peak of last year. It is a very cool house and the moment you walk in you have entered an actual children's story. A nightmarish, horrible children's story…
Little James Westhorne has just lost his first tooth. He should be leaving it under his pillow for the tooth fairy – but he FLATLY refuses! THAT is a very big mistake.
You see, we have a pact with the fairies. They promise not to maim and kill us – we promise that they can have our children's baby teeth when they fall out. (Hey – it's not up to us to ask WHY they want teeth…)
When young James refuses to pay the fairies their due, he sets in motion a terrible sequence of events and he and his entire family will pay the price as the fairies unleash their revenge.
(A "fun" side note – Every member of the design team had major dental surgery around the time this house was being built. Perhaps the fairies did not want their story told!)
As you experience Revenge of the Tooth Fairy, you will truly marvel and how the UO design team merged book-like animations with horrific scenes of revenge that will rattle your teeth!!
Texas Chainsaw Massacre
The final house to review is a classic and creates quite the BUZZZZZZ! While Universal Orlando did the Texas Chainsaw Massacre in 2016, that house followed the original movie storyline tightly. This one takes a bit of license and shows events that would have happened between Texas Chainsaw Massacre 1 and 2.  Which means – lots of chainsaws, lots of screams and of course an appearance by Leatherface's brother, Chop Top! The cannibalistic Sawyer family is wreaking havoc and you're invited to dinner!
You enter the maze at a Bar-B-Que and upon entering the Sawyer house, you can see their selection of meats is…unconventional! What follows next is lots of chain saws and scares, with Leatherface lurking around every corner. And just so you don't forget this is based in the 70's, rock out to a little In-A-Gadda-Da-Vida by Iron Butterfly as Chop Top lurks and leaps at you!
Scare Zones
30 Years, 30 Fears
This zone welcomes you to Halloween Horror Nights with a massive, fire spewing scaffold encompassing the street. This zone features monsters and ghouls from the past performing on mini-stages for your terrifying pleasure!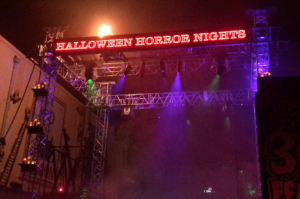 Crypt TV
Crypt TV is an online entertainment company focused on creating short horror videos you can view for free online. Created by Jack Davis and Eli Roth and backed by Jason Blum of Blumhouse productions, Crypt TV represents the future of horror!
This scare zone, located in the San Francisco area of Universal Studios, features characters from some classic Crypt TV shorts: Door in the Woods, Itsy Bitsy Spiders and Ms Annity, The Look See, and Milk and Cookies, featuring the Krampus-like Walter!
Gorewood Forest
The Terra Queen has returned – just as she promised 15 years ago when she was sacrificed at Halloween Horror Nights 15! Central Park is again one of the best scare zones of HHN, and this year the horrifically beautiful sets and characters along with the return of the Icon the Terra Queen will thrill you.
Seek and Destroy
Submit to the Controller and become part of his collective – or DIE!
This zone, located on the streets of New York, features a main stage with a massive AI character interacting with guests on the streets, while members of his collective terrorize passers by.
Lights, Camera, Hacktion: Eddie's Revenge
Jack's brother Eddie Schmidt is making a slasher flick with monsters from past HHN scare zones. You'll recognize Invasion, Killer Klowns, Vamp '55 and more! Take a stroll down the Avenue of the Stars and experience the nightmares that continue to haunt your dreams year after year!
Shows
There are two live shows at HHN30. The Marathon of Mayhem is laser and water show at the lagoon. Stand on the Central Park side to see the amazing special effects created by pulsating water, lights and music. This spectacle creates a nice respite from chain saws and screams!
But the show you must see – or you will simply DIE – is Halloween Nightmare Fuel. This is a jaw-dropping show of acrobatics, fire, magic, and dance that will BLOW your MIND. And it's put together in an incredible storyline of a man's nightmare. You simply cannot miss this show.
Tribute Store
Don't miss out on the always fun Tribute Store, located at the Macy's facade in the New York area. Filled with props and decorated to the hilt, it's like a mini-house of its own. Plus it's got great merchandise!
How To Face Your Fears
Safety First
Remember that although HHN is back this year, there are still inherent risks of attending public events because of Covid-19. Universal strongly recommends you wear a mask when in crowds and indoors. They do not police this and allow you to decide for yourself, but let's keep HHN going and stay safe
Ticket Options
If you only have one life – I mean one NIGHT – to give, don't kill yourself waiting in line. Consider the RIP tour or get an Express Pass to skip the long lines. (Passholders get a discount on RIP tours on select nights!)
https://orlando.halloweenhorrornights.com/site/hhn/products/extras
If you want to spread the fear across multiple nights, consider a Rush of Fear, Frequent Fear, Frequent Fear Plus, or ULTIMATE Frequent Fear pass. Then you can plan to do a few mazes on each visit, slowly working your way through all the goose bumps that await. Also, Annual Passholders get discounted pricing, and you'll find that link here as well. https://orlando.halloweenhorrornights.com/site/hhn/products/event-tickets
So come out and see the Icons – come out and BE an ICON
and attend the most iconic Halloween Horror Nights event yet at Universal Orlando!
See you in the fog!