One of our favorite haunts from 2019 is back as LA's Haunted Hayride Announces Return for the 2021 Halloween Season. return to Midnight Falls where it's 1985 and always Halloween. This year will be a welcome return to what made the reinvented Haunted Hayride a critical and commercial success. The event will include the main Midnight Falls Scare Zone along with three mazes and the iconic hayride.
Midnight Falls: Scare Zone
Midnight Falls is proudly hosting its 13th annual Halloween Festival for 1985. However, this strange town is always celebrating Halloween and it's always 1985. But that doesn't stop the citizens from enjoying the festival's bizarre celebratory offerings. Visiting the Midnight Falls residents in the town square, neighborhoods and exploring the local establishments reveal more of the strange and sinister secrets behind this eerie town.
The Town Square of Midnight Falls is the epicenter of the festivities. While guests walk around between attractions or hang out to soak in the atmosFEAR various townsfolk from the Midnight Falls community roam the space interacting with guests and attending to their local business.
The Haunted Hayride Experience: Spirit of Halloween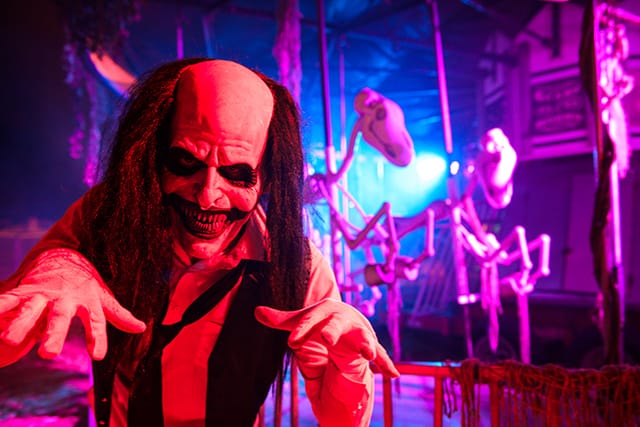 Within the foothills of Midnight Falls, The Hayride leads to a thrilling adventure of horrors afflicting the town. Out in the darkness, a portal has opened spilling hideous creatures from its rotted mouth. The spirit of Halloween comes to life surrounding helpless victims brave enough to board The Hayride.
With summer's end, as the leaves turn brown it is said the veil between the living and the dead is at its thinnest. The witch of the woods has cast her spell to summon the spirits of the underworld to cross over and assimilate into form using various objects found among town including decorations used for celebrating Halloween. Dazed within the spell cast upon them, the Witch commands her army of crops and flesh to seek revenge on the people that have cast her out.
Trick or Treat

The neighborhood of Midnight Falls has sprung to life with the magic of Halloween. The various creatures and monsters have decorated their houses for trick or treaters while the mischievous little ghouls lurk in the shadows waiting to give a fright.

Midnight Mortuary

Dying to drum up more business, the local Mortuary is hosting an open house where guests can tour the property to see what offerings await their demise. Guests separated from their tour risk becoming the next customer of the sinister funeral home.

Dead End Diner
Presale launches TODAY, where now through 8/25 consumers can sign up to receive a link on August 25th unlocking a discounted rate of $24.99 ($10 off)

Presale runs through September 8th, when the general sale begins at noon local time (ticket price: $34.99)