To be completely honest, the unknowns surrounding death absolutely terrify me. But what if we were able to exist in a utopia after we died, via a system we plug into? Phoenix Tears Productions' POSTHUMOUS not only explores the headquarters of Posthumous, a company focused on providing that utopia for their clients, but also guides the guest into considering the ethics involved with such a concept.
I went into POSTHUMOUS not knowing what to expect, as I usually do with immersive shows. All I knew was that the show fit into a 3-hour time frame, and that I had to pay attention to social media. The time frame was a bit daunting, but I soon realized that I would want more time to explore this incredibly extensive world created by Phoenix Tears Productions.
POSTHUMOUS blew me away with the depth of both the characters and storyline. By creating a performance with alternate endings, attention to detail is crucial. Phoenix Tears Productions managed to deliver a fulfilling show with meticulous detail. The entire cast appeared to be extremely committed to their roles and were prepared for anything the guests threw their way. The cast was extremely well composed, and each character was dynamic and enthralling. The characters engaged with and listened to input, which encouraged guest participation. Claire Biddiscombe's performance as Julie the Tour Guide was so compelling that many of my personal, internal decisions were to help her character! Another standout performance was by Stephanie Rae as Khadijah Banks. Rae was extremely effective in stirring up specific emotions against her character and did a phenomenal job portraying a calculated, cutthroat character.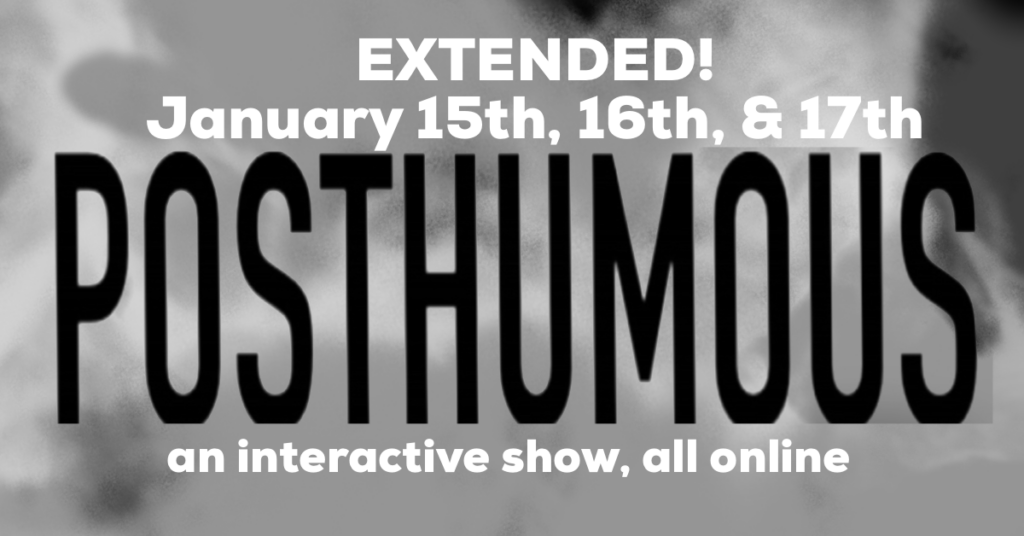 POSTHUMOUS flowed naturally and had wonderful pacing. The story was easy to grasp and accept. I really enjoyed being given a role within the show. That proved to be extremely successful in keeping my attention and immersing myself further into the POSTHUMOUS world. The production took place entirely on Zoom and, the use of Zoom's features was creative and innovative.
As for the social media aspect, the minimal interaction did not sway me towards a particular path within the show. If I had prior knowledge about the accounts, and knew that I could interact with them, I could have better utilized that function and maybe even go into the show with a set course. Regardless, POSTHUMOUS surpassed my expectations and left me wanting to explore the other potential endings.
Overall, POSTHUMOUS was impressive and quite delightful. The alternate endings have drawn guests back to experience the show again, often with a completely different journey than the first time. I highly recommend checking out POSTHUMOUS, as they added more dates in 2021 due to the popularity of the show!
Tickets for January 15-17th are $20 for general admission and $30 for VIP admission. For more information, and to purchase tickets, visit http://www.phoenixtearsproductions.com/posthumous.