What is a Zombie Joe's 50-Hour Drive-By you ask? Well, we are here to tell you. It is when 5 short plays get written in, produced, and performed in 2 days. Zombie Joe's Underground Theatre Group proudly presents their Amazing 19th Annual Festival of (5) Short Plays…Written, Directed and Courageously-Erected in a Speedy (2) Days! The Underground's Fast, Tight & Wild Annual Theatre Event, Blasting-Off ZJU's Fabulous 28th Season.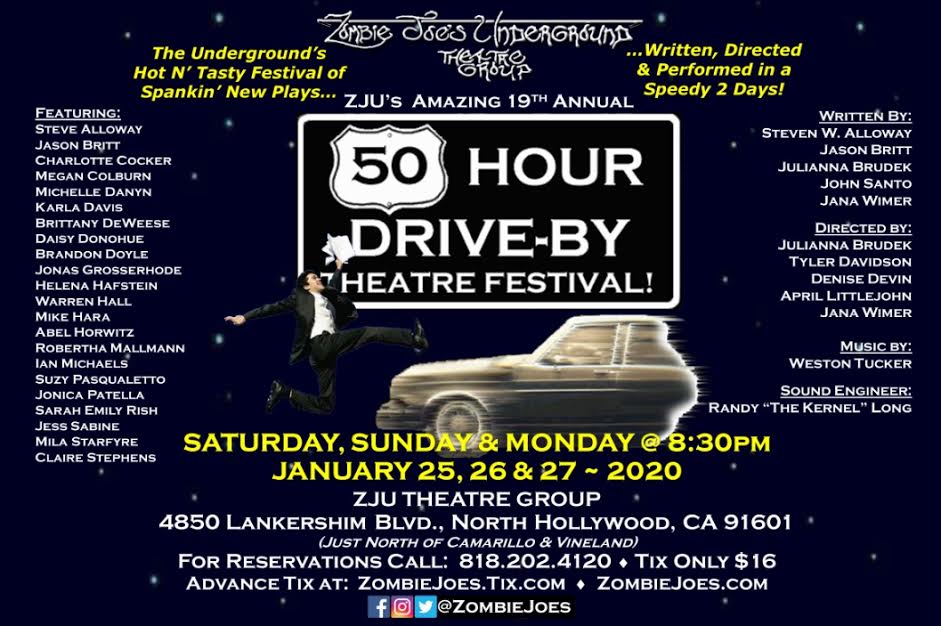 Featuring Steve Alloway, Jason Britt, Charlotte Cocker, Megan Colburn, Michelle Danyn, Karla Davis, Brittany DeWeese, Daisy Donohue, Brandon Doyle, Jonas Grosserhode, Helena Hafstein, Warren Hall, Mike Hara, Abel Horwitz, Robertha Mallmann, Ian Michaels, Suzy Pasqualetto, Jonica Patella, Sarah Emily Rish, Jess Sabine, Mila Starfyre and Claire Stephens; Featuring (5) All-New, Original Mini-Plays Written by Steven W. Alloway, Jason Britt, Julianna Brudek, John Santo and Jana Wimer; Directed by Julianna Brudek, Tyler Davidson, Denise Devin, April Littlejohn and Jana Wimer; Live Musical Score by Weston Tucker, with Sound Engineering by Randy "The Kernel" Long; Managing Director: Brandon Slezak; For Ages 14 and up.
(3) Performances Over (1) Weekend Only:
SATURDAY, SUNDAY and MONDAY at 8:30pm, JANUARY 25, 26 & 27, 2020.