Built in 1857, the San Francisco Mint has loomed over the hustle and bustle of the city's main thoroughfares with a stalwart serenity that has invited admiration as well as speculation over its possible sinister history. Urban fables surrounding "The Granite Lady" come alive in the latest version of Terror Vault – a deviously delightful delicacy that truly exceeds expectations!
Featuring their fully immersive, interactive haunted maze, Apocalypse (an "escape-adventure" that pits guests against zombies), and a plethora of spooky treats – Terror Vault is the brainchild of Into The Dark (a collaboration between the twisted minds of David Flower Productions, Non Plus Ultra and Peaches Christ). The collaborators have constructed a series of experiences within the hallowed halls of the San Francisco Mint, that are geared to terrorize, titillate and tickle guests with a sharp tongue and a wicked wit.
I have been a professional haunted attraction designer for forty years (gah), and I have to admit that it's very hard to truly get under my skin with a haunt. For the first time, in a long time, Terror Vault finally managed to push the right buttons…and gave me just the right mix of spooky atmosphere, solid storytelling, gore, frights and tongue-in-cheek humor.
Let me start with the main attraction.
Terror Vault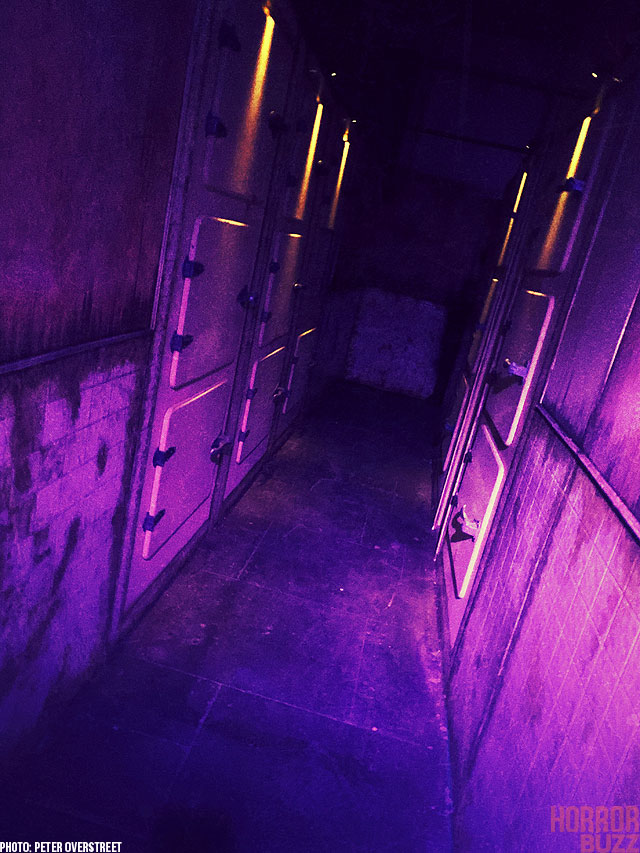 I managed to find myself on their first tour of the night, and we were immediately greeted by a staff member who gave us the option to be "more interactive" (signaled by a glow necklace that we were instructed to wear), which I gleefully agreed to. Once given the standard haunt rules, we were met by a perky, uniformed tour guide (who seemed to be styled after many historical roadside attraction docents in both flavor and delivery). She gave us a brief "history" of the Mint and introduced us to several urban legends of some of its demented denizens– whose crimes included grotesque taxidermy, cannibalism, witchcraft, and seer murderous insanity!
Once we completed an introductory video, our Guide took us on an "alternate route" where she was promptly "attacked" – leaving us to wander the maze "alone"! That's when the terror really began!
From there we encountered the first section of the maze, which supplied us with a confrontation with a devilish doll-maker! Seeking ready-made pieces for his creations, he sized us all up…only to choose one to "dismember" while the rest of us proceeded (don't worry, the guest he chose was merely taken to experience a one-on-one fright and met up with us further along the path).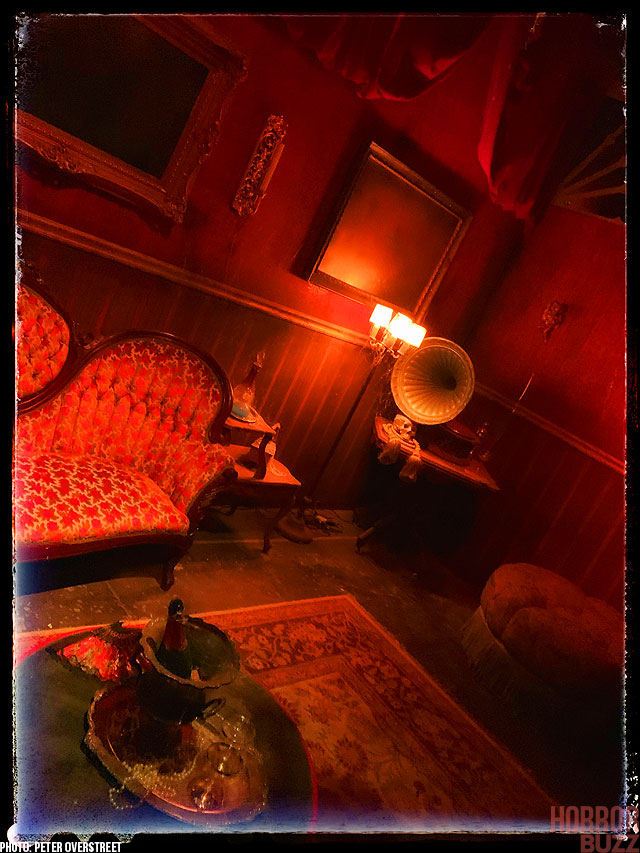 Next, we arrived in a bloody bordello, where our group was split in two. My section was taken into one of the whorehouse's bedrooms, where we were set upon by an unwilling client and a knife-wielding madam who was hell-bent on slicing voyeurs. (Warning: If you have a problem with full frontal nudity…this is NOT the haunt for you!)
Moving on, we found ourselves in the lair of backwater cannibals – a family determined to discern your…ahem…"taste" in company. My hat goes off to the actors of this scene – their conviction in portraying the gruesome family truly made my skin crawl (and that's really hard to achieve). My favorite moment was a birthday surprise that led to a genuine scream of terror from us all…and an outburst of maniacal laughter that I came to realize was my own! (I think I freaked out one of the actors with my glee) I won't spoil the surprise…but trust me, you won't be disappointed by this gut-wrenching moment!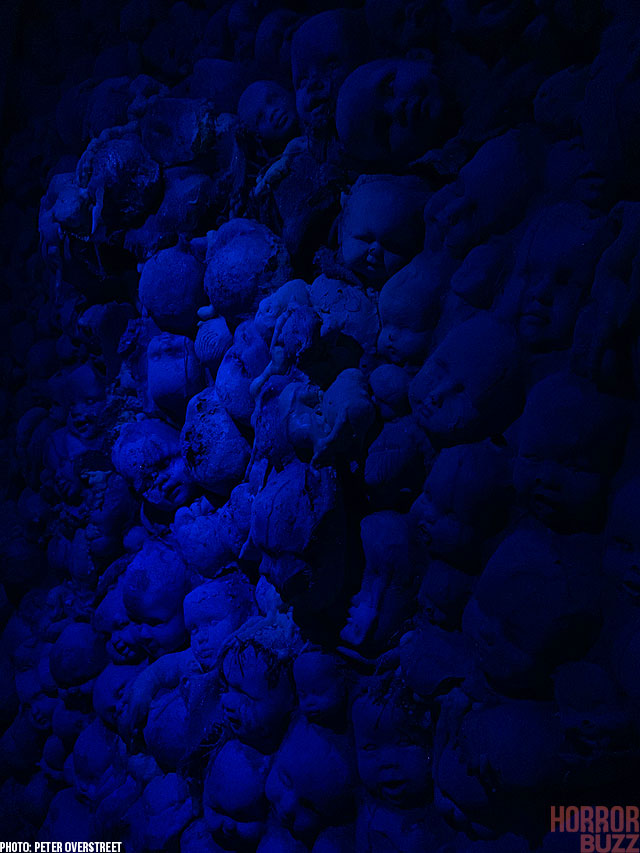 Having just narrowly escaped the cannibals…we found ourselves in the clutches of a coven of witches, who were ready to sacrifice all of us to their autumnal blood-deity! Their ceremony was a display of special effects that delighted us…but it was the actors who really amped up our discomfort (bravo)!
We then entered the last section, which was themed around a high-discipline prison block. The Warden of the prison area challenged us to collect some items as "proof" of our "rehabilitation". Where we were to collect these items, was in the free-form finale…The Terror Vault itself!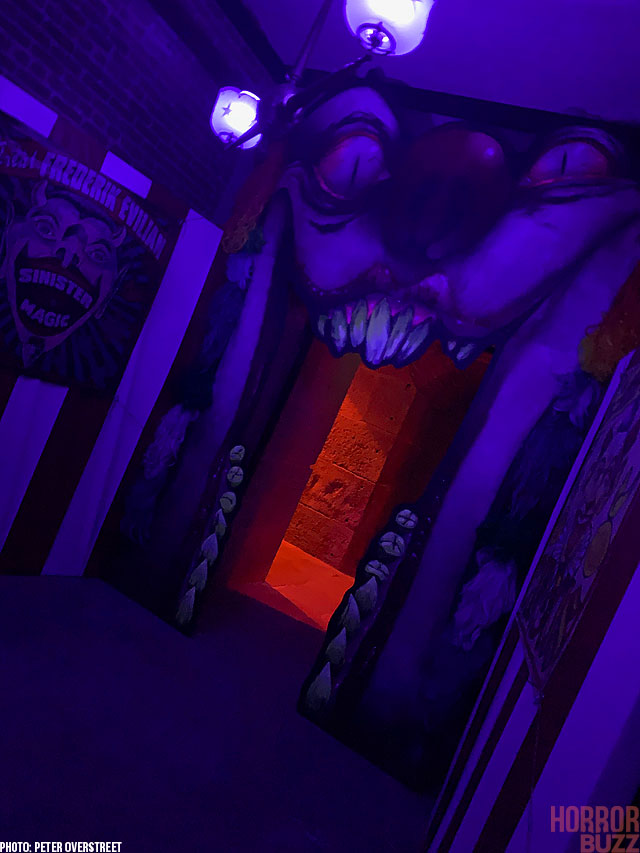 We found ourselves frantically rushing about from scene to bloody scene – seeking artifacts for our release. The darkness, the fog, and the characters lurking in the gloom made this experience an easy-to-do interactive exploit that wrapped up the story with direct confrontation with some of the Vault's most unusual characters (portrayed by some delightful actors who really knew how to engage and entice). Once we had proven ourselves to The Warden, we were set free, and back to the real world, we went. Whew…What a ride!
Apocalypse
After the main maze, I wandered over to Apocalypse – a zombie-themed escape experience that put us right in the middle of a struggle to save the city from a plague of the walking dead. To really describe this portion of the show is to give away too much of what makes it great. Sufficed to say, this is a group activity, and one must be ready to shield themselves from distractions (offered up by various actors scattered throughout the game area) to use their skills of observation and deduction if they expect to beat this game (we did). Unlike the usual escape room fare, the tension is amped up by solid sound design and actors portraying zombies who are thirsting for your flesh.
"Interactive" is a growing buzz-word in haunting circles, and every show has a different approach – each one with their own level of success. In some cases, many attractions fail to truly immerse guests in the world they're trying to create by getting bogged down with "clever" devices and technologies. Terror Vault and Apocalypse manage to carry it off nicely with just enough tech to keep things fresh, while balancing it with good old-fashioned improv actors presenting solid characterizations!
Honestly the interactivity in Terror Vault's main maze is, at times, limited, but still provides the bravest of guests with that extra little touch of the macabre. It can feel a little "one-sided" (as far as interactivity goes), with actors barking orders and hustling guests through. But, I still think the overall show satisfies.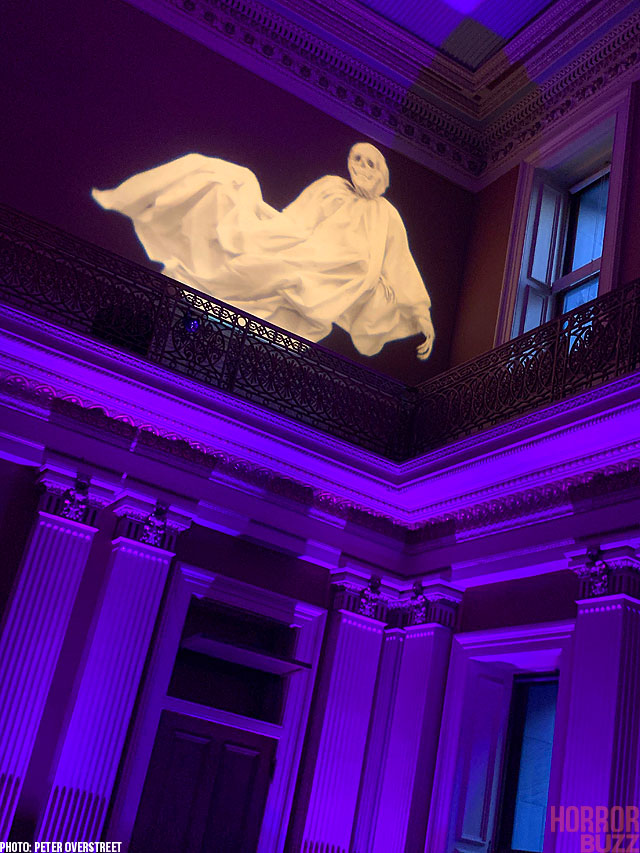 Several scenes definitely gave my tour group the added illusion of being caught in various terrible situations from which we might not actually escape – which was achieved with a nice balance of narrative interactivity. If you're a passive observer when you visit a haunt…you may need to check your discomfort at the door – Terror Vault is at its best when you submit yourself as a willing "victim" and is not for squeamish wallflowers.
Along with the maze and escape game, guests can partake of a range of refreshments in a colorful lounge area (called The Gold Bar), or shop for ghoulish gifts in The Creep Shop! There is also a Haunted Arcade, several Instagram spots, and will be offering more special treats as their run marches towards Halloween.
Verdict
This is NOT a show for the kiddies…OR the teens, for that matter. Terror Vault is a well-planned show with a lot to offer to adults looking for a boutique haunt for consenting adults looking for solid thrills and chills!
As a connoisseur of this theatrical art form, I only wound up having a couple of minor issues with the experience. Signage is lacking in their lobby, which leaves one feeling a bit too lost if they really want to "get right down to business". I felt like the free-form style of the maze's finale left guests feeling more confused (and not in a good way) than feeling the thrill of a solid horror denouement. Some of the set pieces within the maze also seemed to feel lacking in a solid punchline (I will totally chalk this up to this being their first night…and I think everyone there will find a solid rhythm and really find their fiendish footing before the season is out). I should note that all my "complaints" are nitpicky, and probably wouldn't really affect the average attendee's enjoyment of the show. I know it didn't detract from my enjoyment. I had a BLAST!
I loved the main attraction. The escape game was fun and well worth the effort. It is worth the money? You bet. Is it worth the "headache" for an out-of-towner to navigate San Francisco's busy streets to find? Absolutely!
This show is very theatrical, and that works to its advantage. The art direction is solid. The actors are well-rehearsed and attired. The costumes are fun. The effects are top-notch and clever.
Tickets and Cost
Terror Vault lasts approximately 45 minutes for groups up to 10, with time slots available every fifteen minutes between 6:30–10 p.m. Apocalypse lasts 30 minutes for groups up to 8. Haunt goers are invited to enjoy a festive drink or themed treat at The Gold Bar and Madam Zola's pop-up café before or after their allotted starting time. The bars and café will be open every night of the production, with bartenders and servers in full fright attire.
Tickets for Terror Vault are $62 and are available for advance purchase online. Tickets for Apocalypse are $35 and available for advance purchase online or on-site, subject to availability. There is a $5 discount for those who purchase tickets for both attractions. Tickets will be available to the public on ShowClix. Guests without a ticket to Terror Vault or Apocalypse who would like to experience the haunted San Francisco Mint and enjoy a themed beverage may purchase a $10 night pass. Patrons must be 21 or over with valid I.D. to visit on Friday and Saturday evenings, and 18 or over the other days of the week.
An additional offering this year is a behind-the-scenes walk-thru with producer Joshua Grannell (AKA Peaches Chris's alter-ego) on Sunday afternoons for $50. This exclusive experience is for those who wish to learn more about the creation of the two attractions and/or would rather go through with the lights turned on and no scare-actors lurking. The Sunday day tour is also an opportunity for those below the age of 18 to experience Terror Vault and Apocalypse, although they must be accompanied by an adult and parents are advised to exercise discretion.
Group packages are available Tuesday–Thursday evenings during the engagement. The package is for a three-hour time slot, and includes tickets for the whole party, a private room with an open full bar, and access to the entire venue (including the main bar and food concession). A minimum of 50 people is required for the group rate, with packages starting at $123+tax per person.
If you're looking for some chills – you're in the right place. If you're looking for a haunt that will leave you quivering and queasy from your visit…You might find yourself wanting a little bit more. Terror Vault is scary…with enough camp to give guests a much-needed release from some of the scares inside. Frankly…this style suits me down to the bone – but may not suit everyone's taste. There are, however, plenty of screams and surprises within the many twists and turns of Terror Vault – and I highly recommend that you explore them as soon as you can!