This year during the Scare Diego Event, guests were treated to a truly special event. Gary Dauberman (previous works include Annabelle, Annabelle Creation, and Wolves at the Door) the writer from The Nun showed up to provide a special exclusive look at his new film directed by James Wan (Previous works include The Conjuring, The Conjuring 2, Insidious, and Furious 7).
From the very brief showing, it looks like we are in store for another amazing story.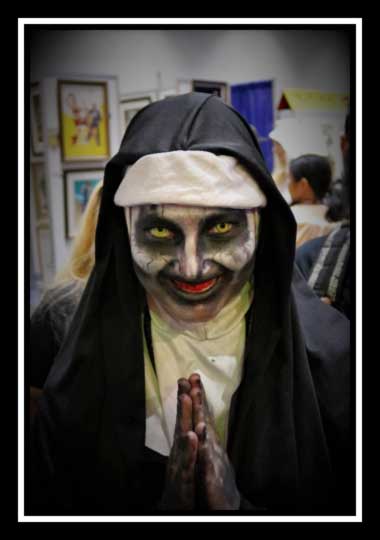 Valak, The Demon Nun, first showed up in The Conjuring 2 movie universe to scare us in 2016. Since then she has been a mainstay in nightmares around the world. With this new movie, it seems like we will finally learn the story of her fall from grace and how she fits into the overall Conjuring universe.
At least part of the setting takes place in dark castle in Hunedoara, Romania, called Corvin Castle. The rest of the filming took place in the regions of Bucharest and Mures also located in Romania.
The dark ominous tone of the music struck a nerve among the viewers, as evidenced by a collective sigh of relief which was heard when the lights turned back on.
2018, cannot come soon enough, lucky for horror fans, Annabelle Creation is being released on August 11, 2017 and IT being released on September 8, 2017 will keep us very busy. A fan too excited to wait for the release of The Nun, took upon herself to bring the character to life at San Diego Comic Con 2017.
---