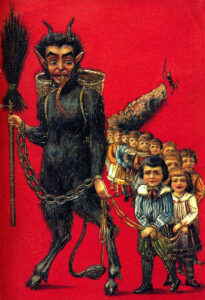 Christmas of 2015 seemed to be the Christmas of Krampus. The furor in the horror community surrounding Michael Dougherty's film release seemed to have spread throughout Southern California. A Krampus Art Walk featured several (often quite detailed) Krampuses (if that's the plural? Maybe Krampi?) stalking through Los Angeles, and several bars and breweries hosted their own Krampus-themed festivities featuring themed drinks, costumed characters and at times rock bands playing German music in honor of the demonic beast's homeland.
Among these Krampus celebrations (and the most interactive of them) was Orange County haunt Sinister Pointe's "The Hunt for Krampus." "The Hunt" marked not only the second competitive scavenger hunt that Sinister Pointe has hosted in the OC, but it was also a demonstration of what the haunt's creative team can do from its new permanent location.
Sinister Pointe has been hosting haunted house attractions since 1996 (previously under the company titles of "Bloodline Productions" and "Dark Gate Entertainment"). The Orange County production company has hosted events in several areas in the OC area, including Brea, Fullerton and Anaheim Hills. Some of their previous haunts were partnered with popular franchises such as "Saw" and "Silent Hill," inviting guests to experience recreations of horrific scenes from the films and video games. They have also shown an ability to experiment with a wide array of events that extend beyond the traditional haunted house. Over the years Sinister Pointe has also hosted movie screenings, trivia and game-show style events and "extreme bingo" nights (you read that right—extreme bingo) during its off-seasons.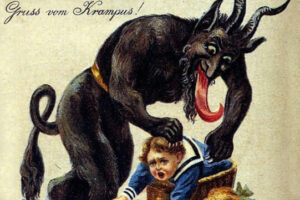 Last year Sinister Pointe Productions found its new permanent home for hosting year-round horror events—a location that doubles as a horror-themed gift shop: Sinister Pointe's Curiosities in Brea. The room used for haunt events in the back of the store hasn't proven to be expansive enough for the types of haunts the company used to host every Halloween season, but the company's creative team has faced that challenge by altering course and offering a variety of unique new experiences to startle and amuse their guests.
Shortly after Curiosity's grand opening debut, Sinister Pointe showcased its new haunt space with "The Event" last spring. After purchasing tickets, guests were directed to the then-still-mysterious new location and given no information about what would be awaiting them when they arrived. Simply titled, "The Event," the company teased only that participants would be signing waivers and possibly getting sticky. Guests ended up playing a timed game similar to the "Operation" board-game…but with life-sized (and often still moving) corpses.
Last Halloween season Sinister Pointe hosted "Fear the Darkness" (also called the "Trust Challenge"), another game where participants paired up to help each other navigate blindly through a pitch black, darkened room. This event took place in three different locations, depending on the fear participants chose to face, one option leading guests to the back room of the Curiosities Shop.
These events (not to mention their new tradition of "Splatter Night" movie screening and craft nights) utilize the space that Sinister Pointe Productions has on hand. They require—and thrive in—limited spaces; they play up the intimacy of confinement while still offering classic haunted house jump scares and spooky experiences infused with humor. This choice has also reflected the haunt's particular style—Sinister Pointe haunts are scary but fun, and often interactive and game-like. It's a method of entertaining that works best for small groups and pushes for teamwork and participation among its guests.
"The Hunt for Krampus" is another testament to how the company has solidified its particular niche in the haunt world. Participants in "The Hunt" were required to make reservations for teams of four (no more, no less) in order to play. After arriving for check-in at Curiosities, donning complementary matching Krampus T-shirts and being read the rules of the game (by Sinister Pointe creator Jeff Schiefelbein), "The Hunt" began and teams were off to earn points by participating in various activities in different specified locations throughout Orange County. The game was another step away from the traditional haunted house format (and Sinister Pointe used to host a Christmas-themed haunted house up until 2012) and marked another exploration into the new territory of interactive, monster-themed games.
Teams could choose from a variety of different locations to chart their journeys and earn points. Depending on which location was chosen, players would have different tasks to complete. Participants in "The Hunt" could choose to sport temporary tattoos from a real Brea tattoo shop (the location, according to staff, scared some guests into believing they were committing to actual tattoos at first), have their faces painted at Downtown Disney, try to beat The Grinch at a potato sack race, sing a crude Christmas carol to a seemingly unassuming (but in reality very assuming—and very amused) couple, eat some of the most stomach-turning Christmas "treats" imaginable and much, much more.
After earning points, teams then reconvened and were sent out again to different locations to catch their own Krampus—and yes, that means a team literally had to tie up Krampus and put him in their vehicle to return him to Curiosities.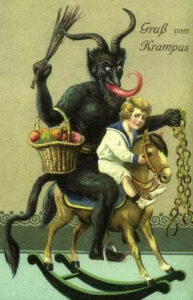 "The Hunt" wasn't one of Sinister Pointe's scarier events (the staff set the tone by telling guests they were "keeping things light" in the spirit of Christmas), but it incorporated Sinister Pointe's signature humor and if teams played along it led to a fun weekend adventure. The most willing of participants came away from the experience with mud on their shoes, paint on their faces and temporary tattoos on their—well, maybe it's best not to share where those may have ended up.
My team failed to catch a Krampus—in fact, we came in last place for showing up late to a key location. We may have lost the Krampus-hunt, but when it came to shameless body tattooing, inappropriate singing and cricket-eating (yes…cricket-eating), we came away feeling like winners. It's all a matter of perspective, right?
As an event "The Hunt" showcased what Sinister Pointe is capable of no matter where they are located or what type of space they have available to them.
Sinister Pointe is announced a new event called "The Séance" that they tease will take place Feb, 19th, 20th, 26th and 27th, although It will feature the the talented medium Scott Michael as he peels back the veil between our world and the next.
If the company ends up creating another traditional-style haunted house in the future, I am sure it will be met with open arms—they were known for detailed, elaborate productions. But as it stands now, they are still able to offer fun, memorable and exciting experiences that are innovative and creative, opening up new avenues that extend beyond the traditional haunted house. Whether it's digging through corpses, facing possessed priests in a dark room or hunting down the legendary Krampus, you're in for a memorable experience at Sinister Pointe.