Opening today in limited release and Video on Demand is Adam Schindler's new thriller, Intruders. Anna, an agoraphobe trapped in the family home is forced to take on the robbers invading her family's mansion.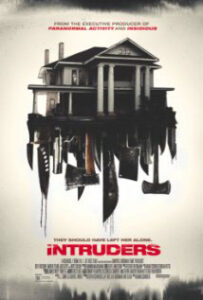 Anna (Beth Reisgraf), is left alone in her large home after her brother and lifetime confidant, Conrad (Timothy T. McKinney) dies from pancreatic cancer. Literally paralyzed with fear at even setting one foot out the front door, Anna keeps to herself.  She likes it that way. The only people that she actually speaks to are the ones that make it up to ihefront stoop and inside the house.  This includes the lawyer that is handling the legal affairs surrounding her brother's death and (Leticia Jimenez), and a kind, food deliveryman (Rory Culkin).
After not being able to find the courage to navigate the outside to her brother's funeral, Anna is soon visited by the titular home invaders. Of course Anna has a few tricks up her sleeve and more than a few skeletons in her closet too. Beginning as the typical survival movie and then taking a sudden left turn into revenge pic, Intruders seems like it's headed in a very interesting direction.
Reisgraf's portrayal of Anna is engaging and sympathetic if not a little too polished.  On the one hand, she is this beautiful woman who knows how to keep herself looking put together, on the other hand she is a hoarder who keeps sacks of cash just laying around. Culkin's portrayal of the kind soul who reaches out to Anna is surprisingly solid, giving us plenty of reason to root for him as the film moves along. The baddies (Jack Kesy, Martin Starr, and Joshua Mikel) are nicely unhinged too giving a balance of menace and motivation.
Never boring, the movie is an intriguing exercise in creativity.  Trapping all of the characters in a house of horrors and switching the balance of power, writers T.J. Cimfel and David White do their very best to keep things surprising as well as interesting. The problem here is that we have seen this before in movies like the slickly shot Panic Room and the far more visceral Inside which used extreme gore to punctuate the proceedings. We are intrigued to see where the film is headed once it paints itself into a corner but we are never surprised. Director, Adam Schindler's knows exactly how to give a movie that classic, polished look but seems a little too afraid to really dive in and get downright grisly with the subject matter.  Had this movie dipped its toe into that territory a few times it would have been far more memorable.
Intruders is an always entertaining yarn, definitely worth a rental or matinee price.