This past weekend, over 250 people attended the HorrorBuzz VIP Knott's Scary Farm event and had a blast.
We started early, with registration beginning at 2:30, allowing plenty of time before the fun began. As the folks attending were brought in, Knott's escorted three large groups backstage for behind the scenes, lights-on tours of two mazes: Trick or Treat and Voodoo: Order of the Serpent. In front of each maze, designers were on hand to give a brief introduction, answer questions, and point out some fun secrets. In Trick or Treat, they kept turning the show effects on and off to let us see how it would look later on that night during the event.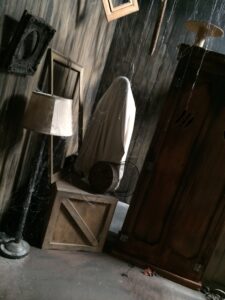 After the amazing tours, everyone was brought back to Mrs. Knott's Chicken Dinner Restaurant for a spectacular boo-ffet of pasta, fried chicken, and a whole lot more. Of course, there was plenty of boysenberry-flavored items to go around! While we were eating, Master of  Scare-amonies, Norm Gidney, addressed the crowd with the order of events for the rest of the evening. Also, being as how it was just his birthday, the folks in attendance sang him a rousing rendition of happy birthday…just before he was flanked by some of Knott's clowns from Carnevil!
After everyone had their fill of Knott's delicious food, we began lining up for security, and to await the beginning of the night! Once the clock struck 6:30, the first part of the death march began, as all 250 of us made our way over to Trick or Treat, Voodoo: Order of the Serpent, Paranormal Inc., and The Tooth Fairy. Thankfully, with the front of the line Fright Line passes that came with our tickets, we didn't wait long to get our scares on. In fact, I don't think we waited more than 10 minutes for ANY maze throughout the entire night, compared to some of the hour plus waits everyone else had to endure. Talk about VIP treatment!
Speaking of VIP, we also had priority viewing areas for The Hanging as well as Elvira's Asylum, which made scoring a good seat a no-hassle affair. I've never been closer to Elvira (mostly because of the restraining order….kidding), so it was great to be up-close to enjoy the show.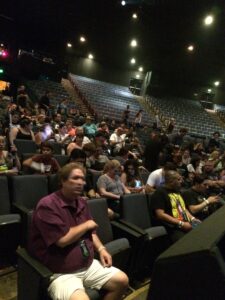 Despite being called the death march, the way Norm broke up our maze schedule with the shows was so efficient and easy that it also allowed for plenty of free time as well. We hit every attraction there was to see for Scary Farm, and still had time to go back and do the ones we really enjoyed again. I mean, really, how could I resist going through Paranormal Inc. a second time?! And again, the fright lane pass made it much easier, since we didn't have to wait, AND we had access to the Skeleton Key rooms for the mazes that had them. It was a nice touch for the evening, and really made us feel special.
Of course, what better way to end the night than to shoot lasers at zombies at Infected: Special Ops. Our wait time was at the end of the evening, so those who wanted to experience it had plenty of time to do everything else first before ending their night with a zombie spree. It was the perfect night cap.
Overall, the evening was a smashing success and everyone had an amazing time. If you made it out, thank you so much for coming and showing your love of HorrorBuzz, and Knott's Scary Farm! And if you didn't we hope you can join us next year!
---
Dark Harbor VIP Haunt event
Join us for the Dark Harbor VIP Haunt event on Saturday Oct 3rd.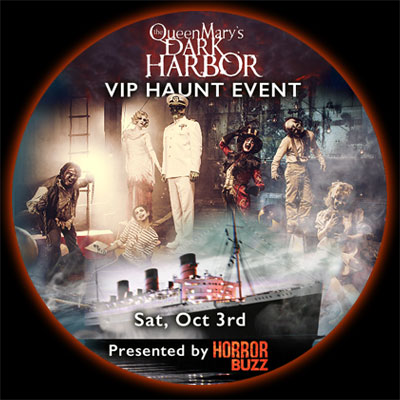 Lights-on tour of a maze with creator/designer JJ Wickham
Early Admission into Queen Mary's Dark Harbor
Admission to the All-New Anubis Paintball Adventure:
Admission into the Freakshow experience:  The Dark Harbor entertainment staff always assembles a wonderful array of shows that both entertain and disturb. Not for the faint of heart, so peak through your fingers if you must.
All Night Front of the Line access:
All-night-access to the exclusive R.I.P. lounge: Perhaps the greatest perk of all! A deck above, and yet in the middle of all the action, with endless, delicious street tacos, 3 drink tickets at the exclusive bar (again, avoiding the long lines below), and a variety of places to comfortably lounge while enjoying the delightful chorus of horrific screams that the world famous Dark Harbor sliders relentlessly create all evening.
We have bundled all of this together at the very reasonable price of $125.00 per person.  If you have visited before, you know what a great value all these extras are. If you haven't, this is the best way to first experience this distinctively unique haunt that is the Queen Mary's Dark Harbor.
See you all there with VIP wristbands on!
Get your Exclusive Event Tickets Here