Welcome to part 3 of our coverage of the SXSW Online 2021 Music Video Competition, in which we'll be discussing this year's submissions through lightning-fast mini-reviews. These videos are already available online, so if you want to want to experience these music videos for yourself feel free to follow the title links, and if you missed part 1 or part 2 you can find them here (oh holy editor please link to part 1 here) and here (oh holy editor please link to part 2 here) respectively!
Makeup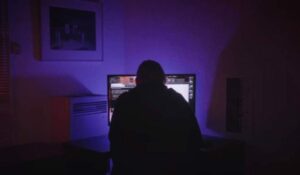 and Vanity Set- Algorithm (Directed by Saman Kesh and Justin Daashuur Hopkins): Vaguely reminiscent of a black mirror episode, this video is about a guy trying to get a fraudulent refund for his computer monitor. He gets in a fight with an ai chatbot, which is able to access his files and expose his gross dark secrets. This one hits extra hard when the character says some abhorrent things about Asian women, so it's also a good cathartic moment to watch this guy's life get ruined. The song itself is a smooth electronic jam, but it mostly serves as background music because the plot of the video is so developed.
Run
The Jewels ft. Pharrell Williams and Zack de la Rocha- JU$T (Directed by Winston Hacking): Run the Jewels does not disappoint, and adding Zack de la Rocha of Rage Against The Machine fame to the mix is just as natural a combination as peanut butter and jelly. The video itself is a trippy collage of…things related to American commoditization and the grimy roots of our particular free labor-based economic systems. The song is high energy, the lyrics are great, and the video is trippy and enthralling.
Wax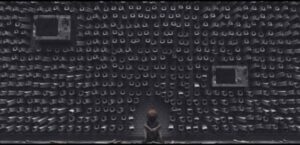 Tailor- Misery (ft. Rosemary Sandler) (Directed by Berkay Türk): One more dystopia for the road. This is the one with the most heavy-handed imagery, as people in grungy happy face masks are surrounding by surveillance technology and Brave New World style propaganda. The fact that it's digitally animated means that this video gets to take some of the biggest visual risks, and it's better for it. The song adds to the melancholic vibe, but much like in Algorithm it takes a major backseat to the video itself.
Waze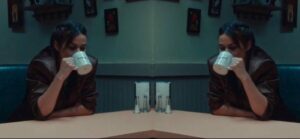 & Odyssey, George Michael, Mary J. Blige & Tommy Theo- Always (Directed by Nelson de Castro):  I'm conflicted on this one– it's a heavily effects centric dance video that blends digital and practical effects to create a completely mirrored world. The practical elements, like the weird fused coffee mugs and the jacket sleeves, are really cool. The digital effects are as expected, and the song doesn't do much of anything for me, it's just sort of…there.
Witch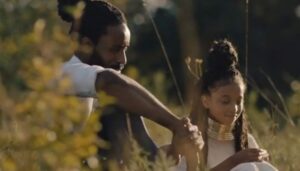 Prophet- Tesfay (Directed by Leah Vlemmiks): The story the precedes the music is inspirational– this song is dedicated to the singer's grandfather, who raised five girls as a single parent and taught his daughters to expect more from life than the roles they were expected to fill. The video is a bright and hopeful dance number that serves up looks throughout, especially the characteristic suits worn by the grandfather character. Absolutely loved the instrumentals here, both the bass and the sax are next-level good.
And that's the last of the entries to the 2021 SXSW Music Video Competition! There are too many great entries for me to pick a clear favorite, the field is definitely stacked this year. Check the contestants out for yourself and let us know which were your favorites in the comments!