In recent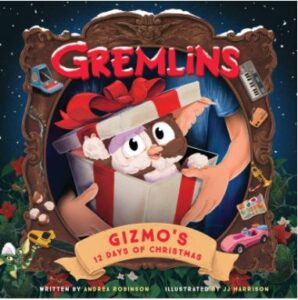 years there's been a lot of discussion about Christmas movies that aren't– I'm thinking specifically about Die Hard, Batman Returns, and the other non sequitur holiday movies you've seen in clickbait articles all over the internet. Occasionally the Joe Dante classic Gremlins pops up in those discussions, albeit erroneously given that Gremlins is all about Christmas, gift giving, and the responsibility of pet ownership that can go along with the two. Enter Insight Editions' Gremlins: Gizmo's 12 Days of Christmas, which takes full advantage of Gremlins' status as a Christmas movie.
Gizmo's 12 Days of Christmas reimagines the plot of the film as the titular Carol, featuring rhymes courtesy of Andrea Robinson and vibrant, playful (occasionally ghoulish) illustrations from JJ Harrison. The rhymes and writing are almost one hundred percent, with a few weirdly crammed syllables and a couple of instances of clunky phrasing, but it flows well enough and I imagine the whole book would be great fun to read aloud. Bold illustrations give the book a lot of cartoonish personality and I found myself taking the time to go back and really look them over. I actually read the 30-odd pages twice just so that I could take in the details in the illustrations fully the first time, then follow along with the timing of the song separately.
As is usually the case with picturebook adaptations of beloved genre staples (there are a few now) parents should exercise discretion. The rule of thumb does hold here– if your kid is old enough to watch Gremlins they're more than prepared for the book, and many who can't yet handle the movie will still be able to enjoy this retelling. The official synopsis says that the book is suitable for fans of all ages, but I can imagine the youngest kids still getting spooked by the gremlin decapitation, Stripe's melty fate, and the non-human gore in the kitchen scene. There's a great line towards the end of the book which incredulously addresses the movie's PG rating and there's a bit of a similar feeling in those specific scenes, granted the whole affair is a lot tamer than on the screen.
Gremlins: Gizmo's 12 Days of Christmas is a fun novelty throwback to an often-overlooked-specifically-with-regards-to-Christmas classic that will delight fans of the film. Plus, Mogwai are adorable and there's a weird sort of synchronicity between this book and the scene of the gremlins caroling that I just can't shake.
Rating 8 out of 10 Mogwai