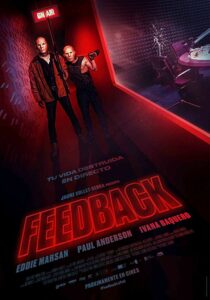 A radio star experiences the worst night of his life when stalkers assault the radio station where he's working.

In a new-born culture where every other person or activity is getting "cancelled" if it goes against fragile subjects, and all men are considered pigs while women are being victimized for being themselves, and there is more than one truth to every story but we rather believe the first source that makes themselves heard, comes a film about pointing fingers and believing in nothing because we are not allowed to think beyond the new standard even though what you see or hear isn't always the truth.
Feedback (2019) starts prior to a radio program by broadcaster Jarvis Dolan (Eddie Marsan). That night he would be interviewing a former co-worker from the beginning of his career. Unfortunately for Jarvis, his schedule for that night's program changes drastically when two masked men take control of the cabin and Jarvis must conduct the program under the orders of these criminals. What are they looking for with the attack? The truth about a night that marked their lives but was indifferent for Jarvis and his guest. If they manage to meet the demands of those who now control the booth, and neglect their self-centeredness as alleged radio celebrities, they could have a chance to survive the night.
This is a movie that has a well-structured cast with a lot of experience. If we list the filmography of each one, we can see that they have enough successes. Each character is developed in such a way that you can hate him or love him and vice versa when the roles are reversed; it is the advantage of having versatile actors.
Feedback has a fascinating, controversial and well-structured plot of political issues such as Brexit and current movements such as Me Too, which has the greatest influence on the development of the story. However, the results obtained from the development of the story are questionable at the time of forming a lesson-learned of the mess created. The story reaches the point where you no longer know if it is right to support the villain because they were always the victim or to support the victim which suddenly became charmless.
Derived from this, the end can be a bitter drink or a victory song for the spectators. Reactions can divide public opinion but this does not eliminate the fact that the conclusion is vitally good, but not positive for who sees it this way.
Feedback is an entertaining English-spoken Spanish thriller with a well-crafted setting, a wonderful cast, and an excellent story that'll put your morals to question as for you will either root for the victim or the villain. But, in the end, who's who?
Feedback
RATING:

TV-14

Runtime:

97 Mins.

Directed By:

Written By: