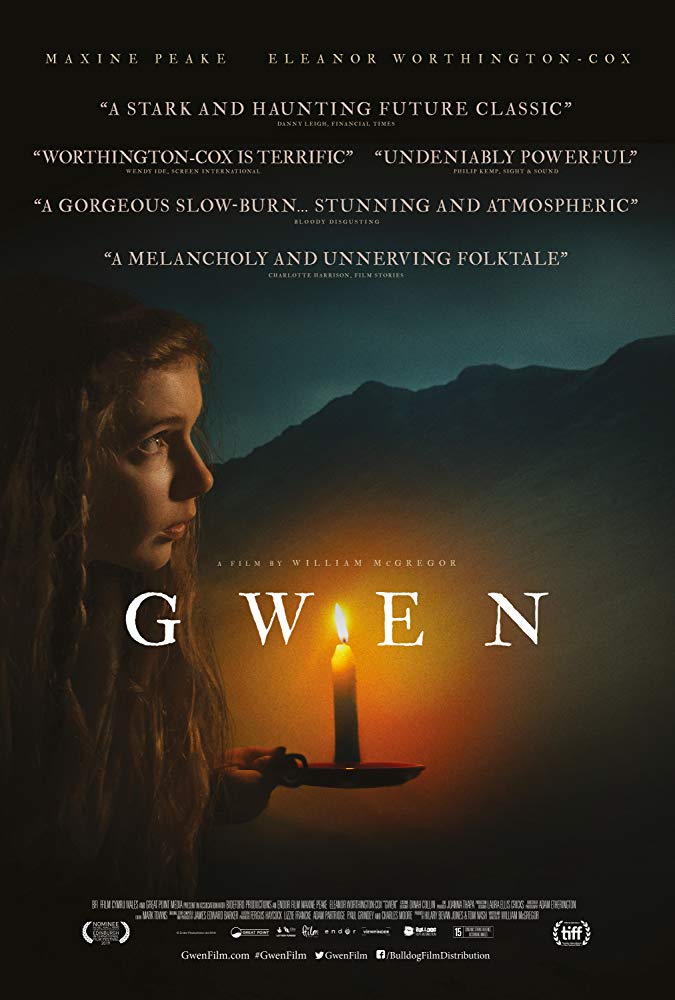 An atmospheric arthouse folk tale set in the hills of Wales during the industrial revolution.
Gwen (Eleanor Worthington-Cox) lives a worrisome existence. With barely any food to eat, she and her mother Elen (Maxine Peake) and younger sister Mari (Jodie Innes) muddle through life in 19th century Wales as life's worries encircle them. Amidst the misty, windswept moors the three women take care of their crumbling hovel with admirable diligence. One day, they awaken to find a sheep's heart affixed to their front door triggering a series of mysterious events that lead to an inevitably morose outcome.
The new film GWEN from writer-director William McGregor is a sumptuous cinematic mood piece that plays with genre conventions to deliver something grounded in the horrors of realism, and in effect, something deeply effective. The movie is not without its minor faults and frankly might not be everyone's cup of gruel. But understanding the approach and the tone of the film will go a long way in allowing you to enjoy this well-made pic.
After said animal mutilation, Gwen's mother comes down with a startling illness, causing seizures and bouts of self-mutilation. To add to the problems, they are running low on funds and the patriarchy of the town are circling the home in hopes of grabbing the land for themselves. About the only man in the town that is helpful is Doctor Wren (Kobna Holdbrook-Smith). But even he charges these destitute ladies for his tinctures and medicines. As the story develops the situations, horrific visions and stakes become dire until things are forced to a painful conclusion.
This is slow burn horror done right. When the plot isn't occupying our attention, we are treated to foreboding atmospherics that reinforce the mood.  Adam Etherington channels camera giant Roger Deakins with his beautiful lensing that holds a deep focus while taking in the expanse. Tom Coates art direction paired with Laura Ellis Cricks thorough production design creates a true world with gravitas. It is also fair to mention the exceptional job that Eleanor Worthington-Cox does in carrying the film. Her portrayal of Gwen is at once frail and staunch. A person of strength in tremendously frightening circumstances.
Lastly, it is to William McGregor's credit that we have a film that captures a time and place so vividly while telling a story of nuance. The film is a refreshing immersion into a world of palpable danger laced with the trimmings of English folklore, executed with polish and talent.
Gwen
RATING:
UR
Runtime:
1 hr 24 Mins
Directed By:
Written By: