Otto is a handsome, sensitive, neo-Goth zombie with an identity crisis wandering the streets of the city, until one day he auditions for a zombie film…
A cute young man with a German accent and dirty clothes slouches through a strange landscape where gay zombies are accepted as real, but as an oppressed minority, and an arty filmmaker wants to make a documentary on the subject with the help of her girlfriend, who is inexplicably only in black and white, and subtitled. The movie never quite answers the question of what is real and what is in Otto's (Jey Crisfar) mind. Is he really a zombie or just homeless? Is the world he walks in real or is it just an extension of his warped worldview? And who the hell is Medea Yarn (Katharina Klewinghaus)?
Man, if you don't know Bruce La Bruce, you're in for a treat. At least, if you like foreign semi-pornographic queer zombie art films with an amazing soundtrack. And baby, I sure do. It helps that the star is just adorable.
Warning: actual zombie screwing is neither simulated nor censored. The blood and viscera are probably fake, though.
The soundtrack is eclectic and interesting, and just weird enough to make the whole film surreal. Well, even more surreal than a gay zombie art film would be anyway.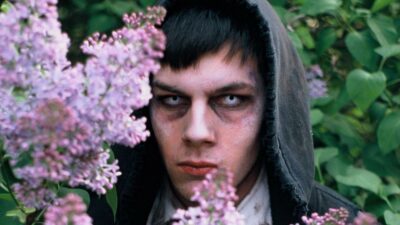 What drew me to Otto was, at first, Otto himself. He resonates as much as a disaffected teenager in a world that doesn't feel like it has a place for him as it does a zombie shambling through the weeds. He walks to find himself. He uncovers memories of a previous life, of love, even. The people he meets along the way react in differing ways, but never with outright horror. This style of zombie is well-known enough that he can even successfully hitchhike. Some want to screw him, some to use him, some to help him. And some to beat him to a second death.
As a metaphor for the eternal outsider, it is not subtle. But it is stylized and artistic in a way that makes the movie fascinating to watch, and a bit uncomfortable at times (and not just when the zombie sexually penetrates the eviscerating gash of a naked man, who then rises to seek his own meal).
Apropos of nothing, this movie was released on my birthday.
Otto; or Up With Dead People

RATING:

UR

Runtime:

1hr 30mins

Directed By:

Written By: