Much to my chagrin, I wasn't old enough to attend the 1964-65 New York World's Fair, let alone the 1893 Chicago one. I mean, how cool would that have been to see?! However, thanks to the magic of THE VOID, myself, my family, and fellow HorrorBuzz writer Brian, were transported back in time to 1894, just after the end of the Chicago fair, to investigate some strange goings-on, in NICODEMUS: DEMON OF EVANISHMENT.
You see, apparently one of the exhibits from said fair brought something evil into this world…and no one has wanted to go near it since. It was up to us to explore the Evasnishment Room, and try to figure out just what the heck was going on. This brand-new experience from the folks at THE VOID takes everything they have learned from their Ghostbusters and Star Wars offerings, and ups the ante to eleven.
Look, long-time readers to this site know how much I enjoy immersive horror experiences. I love being in the middle of the action and part of the story. It gets your blood pumping and the chills running down the spine. I had some reservations horror in virtual reality, but let me tell you, this exceeded all expectations. NICODEMUS was everything I have always wanted horror VR to be, and then some.
Working in a group of four, you are asked to pick an avatar to represent yourself in this world. However, your group of four quickly becomes two, as you are paired off, easy pickings for the demon. While Star Wars and Ghostbusters have you brandishing a weapon, NICODEMUS leaves you with only your wits and another person. And let me say that that other person, my son, quickly became my shield against the horrors we would face.
NICODEMUS is more about exploration; after a brief "ride", you are set loose into the exhibit to explore the decaying ruins. Most of the stagings are falling apart, and even the interactive exhibits that DO work are twisted by the demon's presence. There is a puzzle or two present, to give you a sense of "doing something," but I honestly felt like it wasn't needed. I had an absolutely blast just exploring the place, and seeing what frights awaited us.
And oh, did the frights come hard and fast. I am not going to lie…I screamed. A lot.
NICODEMUS employs some incredible subtle scares, traditional in normal haunted houses, and turns them up to the maximum setting. There are slow burn scares, there are jump scares, and there are scares that you might not even notice you aren't looking in the right direction (fortunately, I was, and goddamn, was it scary).
I am a seasoned horror experience veteran, and NICODEMUS scared the living hell out of me. If you can get to one of THE VOID's locations during this Halloween season, you NEED to do this. It is absolutely breath-taking what they have accomplished with virtual reality now, and this is what we, as horror fans, have been waiting for. Go do this. Immediately. Now.
Not only was NICODEMUS great, but we returned to THE VOID a few days later to check out Ghostbusters: Dimension. This experience was the first that THE VOID did, so our gracious hosts were concerned that we would not enjoy it as much. However, they were couldn't have been further from the truth!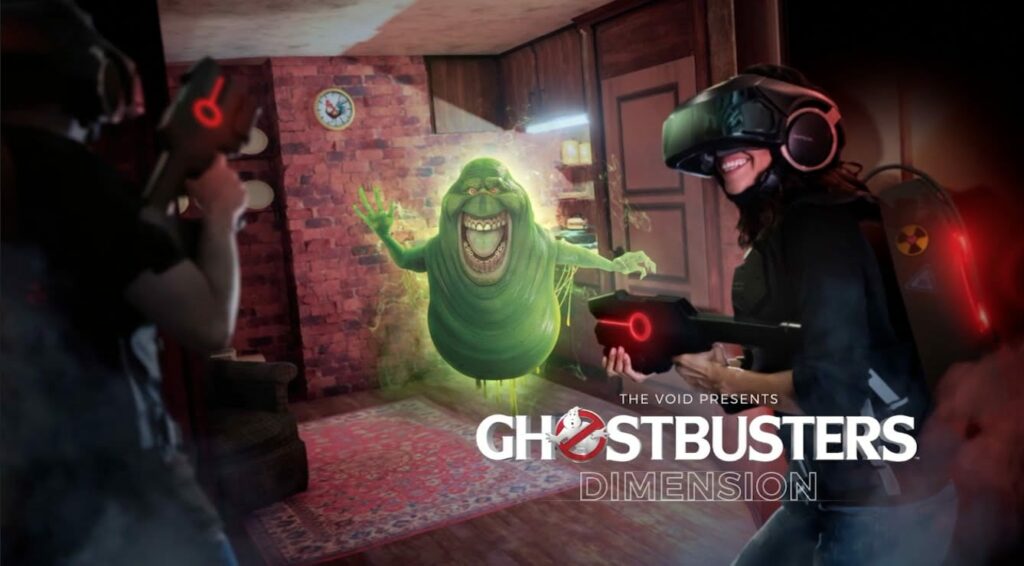 I loved the Ghostbusters films as a kid, so strapping on a proton pack to bust some ghosts hit me right in the feels. Nostalgia kicked in the second Dan Aykroyd appeared on the screen for the introduction movie, and continued right on to the first time I hit the trigger to hear that familiar sound of my pack starting up.
While considerably shorter than NICODEMUS, Ghostbusters: Dimension still packed quite the punch. Taking on the role of some interns out to get coffee, Ray re-directs you to a haunt-infested building to check it out. Brian joined me again on this outing, along with my friend Colin, and the three of us set foot into the building with gusto. It wasn't long before the malevolent spirits began to manifest themselves, and things got out of hand. Blasting things with the proton packs, destroying everything in sight in the process, was just as fun as you'd imagine it to be. Hell, I even went out of my way to take some shots at the expensive, decorative plates hanging on the wall, just to see how they would react to my blast. I wasn't disappointed in the results.
Of course, there were some great moments with ghosts both familiar and new, and a show stopping finale really blew us away. While it may have been the first THE VOID outing, this definitely had some tricks up its sleeve. One notable sequence, while overlooking New York City, left us breathless at the size and scope of the city before us. And the moment Stay Puft showed up, man oh man, you could almost hear the smiles on our faces.
If you have any love of the Ghostbusters franchise, this is yet another must play. Seriously, there is nothing like stepping foot into the world of these films, and being able to take part in it. I FELT like a Ghostbuster for those all-too-short minutes, and would have loved to have stayed in there longer.
THE VOID really knocks it out of the park with these two experiences, and they are definitely worth checking out this Halloween season. Certain experiences only run on certain days, so know before you go, and check out their website for locations and available times at: https://www.thevoid.com/
One final note before I end this, and it's not about the experiences themselves, but the people who run it. For both of these, we visited THE VOID location in the Glendale Galleria in Glendale, CA. These folks are not only extremely enthusiastic about the experiences, and are also incredibly nice.
The first time went off without a hitch, but on our second visit, we hit a bit of a snag. Just as we were being strapped into our packs for the experience, my son began to not feel well. As in, he was about to be sick. Now, don't be alarmed, this was BEFORE the experience, so it was not the VR that did him in, but merely something he ate earlier.
However, the staff sprung into action, going above and beyond the normal call of duty to help out. I got out of my pack as well to help, as they offered to let him sit in their back room to relax for a bit. After I helped get him there, the manager told me to go try out the experience, and she would be happy to sit with him while I was in there. With him not feeling well, I was hesitant to leave him alone, but she assured me he was in good hands and that she would be there in case he needed anything.
Seriously, the entire staff went out of their way to make sure he was taken care of, and feel welcome. This is customer service at its best, and I am beyond grateful for them. I hated to leave him alone, but they kept assuring me they would be there in case he needed anything. And upon my return, I found him happily chatting with the manager about all matter of haunted experiences.
A big thank you to everyone work on Tuesday, September 11th at the Glendale Galleria location. You guys and gals are the best, and I am enthralled by how incredibly you all were. Give these people a raise!
Again, go see these awesome experiences, and if you're in Southern California, see them at the Glendale Galleria location. You won't regret it…and tell them HorrorBuzz sent you!
For more information, visit THE VOID online at: www.thevoid.com