In August of 2017, Drunken Devil, a Los Angeles-based production company with an emphasis in horror nightlife and immersive dining experiences, began a monthly burlesque brunch, Deviled Eggs. Designed to be a lighter alternative to its more sinister, nighttime faire, the brunch sold out its first show, and continued to grow in popularity throughout the year. The show, which combines interactive theatre, burlesque performances, and thematically appropriate menus, has had many manifestations, including a drug-fueled 70's party, a midcentury kitschy Holiday edition, and a seedy bayou Halloween brunch.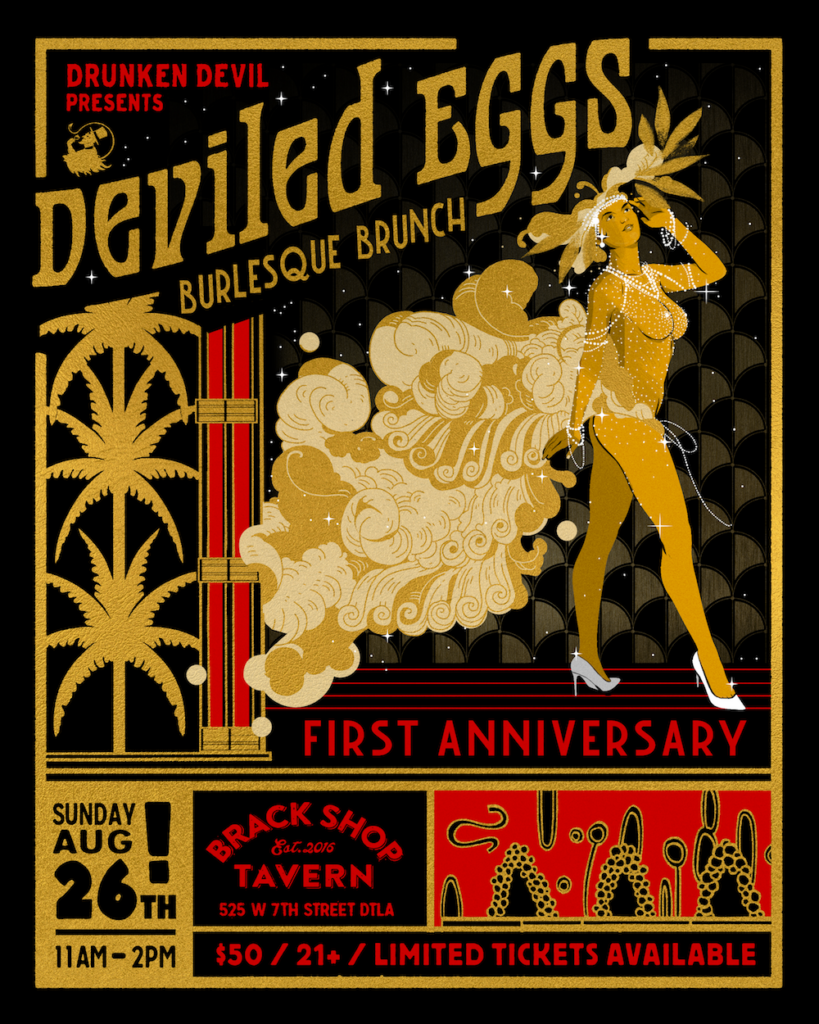 On Sunday, August 26, Drunken Devil will celebrate a year of bawdy brunch revues with a throwback to its first ever show: a 1920's, prohibition-themed experience. Deviled Eggs: First Anniversary will feature a decadent menu with modern twists on classic 20's recipes, specialty cocktails, interactive characters, and the biggest lineup yet of the city's best and brightest burlesque stars.
Guests are invited to dress in theme. Limited tickets, which are $50 and include the show as well as the full brunch meal, are available now, and can be purchased at www.restlessnites.com/ DeviledEggsAnniversary. Bottomless mimosas and cocktails can be purchased at the bar. 21+.
WHO: Drunken Devil, a Los Angeles-based production company with an emphasis on genre-themed nightlife, dining experiences, and special events, in partnership with Brack Shop Tavern in Downtown LA.
WHERE: Brack Shop Tavern, 525 W. 7th Street, Los Angeles, CA, 90015.
WHEN: Sunday, August 26, from 11:00am – 2:00pm.