"Why did Rick get the most applause?"
"My microphone's bigger."
This exchange was only the beginning of Midsummer Scream's exclusive preview of what to expect at Knott's Scary Farm 2018. 

After kicking off the panel with a video promo, host Jeff Tucker made a grand entrance as he introduced several heads of the Scary Farm teams. (Attached to people though.) The goal is, as it has always been, for Scary Farm to be the "ultimate Halloween experience," where the whole park is the attraction—no cobwebs are left unhung, no strobe lights are left unblinked, and there is no where to hide.
The Halloween Haunt humbly began in the heart of Ghost Town in 1973, when Walter Knott decided to celebrate Halloween at the park by handing out Planet Of The Apes masks to several of the employees and hung up cobwebs everywhere. 46 years later, Scary Farm exploded into an entirely immersive haunt experience, and every inch of the park has something new to discover.
One of the several secrets of how they do it? Scary Farm has introduced Atmos-"Fear" characters into each of the scare zones, who each have a task to complete by the end of the evening to build it into their character and the atmosphere organically. These characters have ranged from gravediggers, to a conductor on Engine 41 who reaches out and tries to connect with guests, to a janitor dressed as Freddy Krueger.
Some pre-existing attractions have had new life breathed into them (ironically), such as CarnEvil, the park's most popular scare zone, where new creepy clowns will be running amok. According to the Haunt's head costume designer, there will be "fresh, clean clowns to scare you." The LED lights that are a defining feature Hangtime, the park's newest rollercoaster addition, will be dressed appropriately for the Halloween season.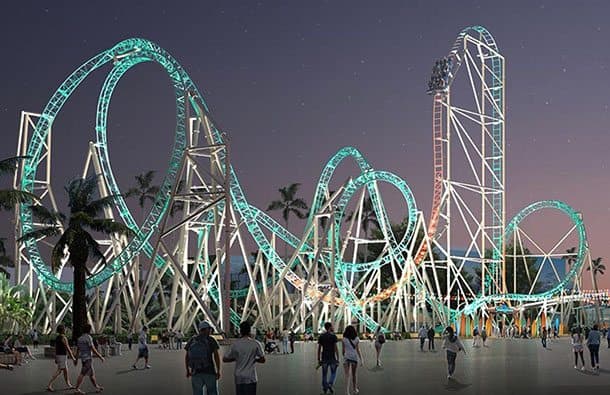 Fiesta Plaza will no longer be a scare zone, but will instead be going back to its roots as an all-night dance party called "Awaken The Dead." Guests who want to take a break from being scared all night can enjoy DJ entertainment, sugar skill go-go dancers, and stilt walkers. 
A burning wicker man display and Camp Spooky's natural foliage will provide the spooky backdrop for The Hollow, which follows the story of a witch-hunter who is after three witches trying to gain control of the zone. 
The panel saved the best for last with the introduction with an entirely new scare zone, underneath Silver Bullet, known as Forsaken Lake, which tells the story of a cemetery covered by a lake that recedes every fall, allowing the ghouls who reside in it to roam free. Paying homage to the past attraction Gauntlet, Forsaken Lake will be a Victorian-style, New Orleans-esque crypt infested with water-logged monsters.
https://youtu.be/o7NXsG8OK_M