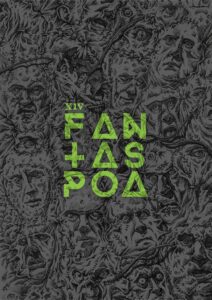 The largest genre film festival in Latin America, Brazil's Fantaspoa has revealed their second wave of programming for their upcoming fourteenth edition. The film festival will be running from May 17th to June 3rd. The annual genre film fest which takes place in the lakeside city of Porto Alegre will announce their full line-up of more than 100 films in May.
Twenty new features were just announced, in addition to the seventeen previously announced and they include PUPPET MASTER: THE LITTLEST REICH, MOHAWK, THE RANGER, EDERLEZI RISING, and LES GARÇONS SAUVAGES.
Along with "Masters of Horror" creator Mick Garris, director William Lustig will receive a career achievement award at this year's festival. Lustig, whose films include MANIC, UNCLE SAM, and the MANIC COP Trilogy, Maniac, Uncle Sam, and the Maniac Cop trilogy, is also the CEO of Blue Underground, an American entertainment company specializing in the distribution of obscure exploitation films.
Some of the new talent attending the festival includes Hernan Aguilar, Gabriela Amaral Almeida, Guillermo Amoedo, Thomas Aske Berg, Lazar Bodroza, Gonzalo Calzada, Caye Casas, Manuel Facal, Samuel Galli, Aryeh Hasfari, Adolfo J. Kolmerer, Marc Martínez Jordán, David Masterson, Michael Peterson, Albert Pintó, Lucio A. Rojas, Tilman Singer, Stoya, and Paul Urkijo Alijo.
Fantaspoa 2018 Second Round of Features:
ATERRADOS (Demián Rugna, Argentina) – Brazilian Premiere
BERLIN FALLING (Ken Duken, Germany) – Brazilian Premiere
BRAVESTORM (Jun'ya Okabe, Japan) – Latin American Premiere
ERREMENTARI (Paul Urkijo Alijo, Spain/France) – Latin American Premiere
FAMILY (Veronica Kedar, Israel, Germany) – Latin American Premiere
FIESTA NIBIRU (Manuel Facal, Uruguay) – Latin American Premiere
FRIENDLY BEAST (Gabriela Amaral Almeida, Brazil) – Regional Premiere
FRAMED (Marc Martínez Jordán, Spain) – Latin American Premiere
EL HABITANTE (Guillermo Amoedo, Mexico/Chile) – Brazilian Premiere
KNUCKLEBALL (Michael Peterson, Canada) – Latin American Premiere
LUCIFERINA (Gonzalo Calzada, Argentine) – Brazilian Premiere
LUZ (Tilman Singer, Germany) – Brazilian Premiere
MADRAZA (Hernan Aguilar, Argentina) – Brazilian Premiere
MAL NOSSO (Samuel Galli, Brazil) – Brazilian Premiere
MATAR A DIOS (Caye Casas and Albert Pintó, Spain) – Brazilian Premiere
SNOWFLAKE (Adolfo Kolmerer and William James, Germany) – Latin American Premiere
TRAUMA (Lucio A. Rojas, Chile) – Brazilian Premiere
THE VELOCIPASTOR (Brendan Steere, U.S./China) – Brazilian Premiere
VAMPIRE CLAY (Sôichi Umezawa, Japan) – Latin American Premiere
VAMPYRVIDAR (Thomas Aske Berg, Norway) – Latin American Premiere