Social media takes a deadly turn in Tragedy Girls, a film by director/co-writer Tyler MacIntyre that screened at Screamfest 2017 in the famed Grauman's Chinese Theater on Hollywood Blvd. Despite it being an independent horror film, the red carpet was swarmed with the film's star-studded cast, as press elbowed their through to photograph and interview celebrities such as Josh Hutcherson (The Hunger Games, The Kids Are Alright), Brianna Hildebrand (Deadpool), and Craig Robinson (This Is The End, Pineapple Express).
"I play a character named Sadie, she's a psychopath," says Hildebrand, the film's lead actress. "And she will go to great lengths to get what she feels she deserves, which is attention, love, and adoration. I related to the character in the sense that sometimes I do feel pressure to post things to my social media accounts, not because I want to, but because I want to keep people interested in me."
Tragedy Girls is a horror-comedy following two death-obsessed teenage girls who use their online show about real-life tragedies to send their small mid-western town into a frenzy, and cement their legacy as modern horror legends. Pun intended, it takes a creative "stab" on the slasher/serial killer genre.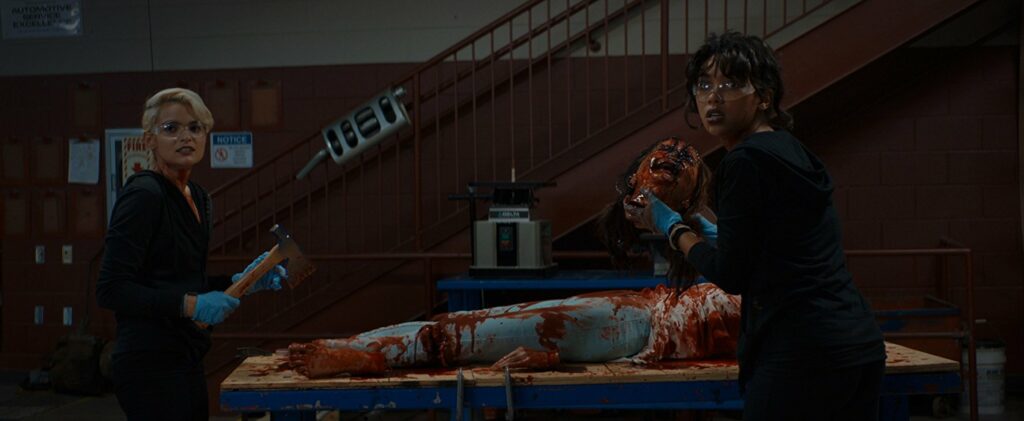 "We all really love slasher films, and we wanted to find a fresh way to approach it," says MacIntyre. "A lot of classic slasher films have this baby-boomer moralizing going on, like no sex, no drugs, no staying up past midnight… We thought it was aged out, and we're past that, what's the world like now? [Women] are very objectified and are usually the victims in horror movies, we wanted to make them have fun on their own terms."
"I think [audiences] can deal with a complex protagonist and admire the beauty of a friendship, even though they're morally abhorrent people," continues MacIntyre.
Also in attendance were co-writers Justin Olsen and Chris Lee Hill, producer/guest star Kerry Rhodes, and supporting actors Alexandra Shipp, Kevin Durand, Marycarmen Lopez, Jack Quaid, Timothy Murphy, Elise Neal, Nicky Whelan, and Katie Stottlemire.
"Independent movies are hard to make, but we're really proud of it. We've got a great cast, it was a great experience, and now we're here at Screamfest in LA, which is huge," says Rhodes. "It's a social media movie, about two high school best friends who are trying to be serial killers and social media stars. And that's the way America is right now, everybody's wrapped up in social media, everybody wants to be famous."
"It can be nice to work on an independent film, cause you've got like a small army with one vision, and there's more passion involved," says Robinson, who plays Big Al, the fire chief of the town. "And with the whole social media aspect, it's very relatable, cause it's exactly what's going on in life."
Tragedy Girls currently holds a 94% on Rotten Tomatoes, and will be in theaters on October 20th. Be sure to check out this super cool film!
@TragedyGirls