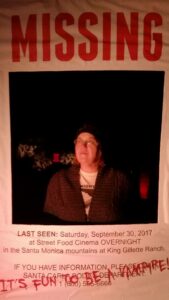 This past Saturday Night, my husband (and fellow HorrorBuzz writer) Eric and I headed to the mountains of Santa Monica for Street Food Cinema's overnight 30th anniversary screening of The Lost Boys (1987). The event was held at King Gillette Ranch in Malibu and featured an exciting night of movie, music, food, and, of course, vampires.

Before heading up we needed to get some camping supplies which included getting a tent. We bought a tepee! It was very popular among our fellow campers.
A full bar was available throughout the night (until 1:30am).

There was a selection of beers, however I opted for a very generous pour of the Vampire Red. It was very tasty, smooth and paired well with the chocolate I had brought for s'mores.

Among the pre-show activities was The Vampire Training Obstacle Course. Two trainees raced side by side to see who could get…to a victim first? I knew that I was going to fall if I tried. So, we just watch others race and it appears that they all really enjoyed it!
Southwest Airlines was there with a mini set up of games to play such as checkers, Jenga and corn hole. They even had pretzels and peanuts available for snacking.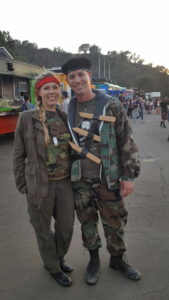 Many attendees dressed in costume. Quite a few were really looked a lot like the characters from the movie.
As the sun began to set the crowd began to pick out their spots on the lawn in front of the screen.
Before the show began, Street Food Cinema founders Heather Hope-Allison and her husband Steve Allison posed for a photo with the evening's host, comedian Justin Rupple, and special guests musician G Tom Mac and actor Billy Wirth.
While time ran out to talk with G Tom Mac, we did get a few moments with Billy Wirth who told us what a great experience it was making the film. Wirth plays Dwayne, a member of the gang of vampires that terrorize the boardwalk town of Santa Carla, CA. He told us he is so impressed that 30 years later the movie is still popular, even among kids who weren't even born when the film was originally released.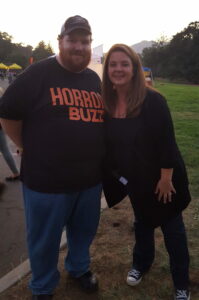 We also had an opportunity to speak with Heather Hope-Allison, one of the founders of Street Food Cinema. While The Lost Boys is only their second overnight screening (the first being Dirty Dancing in July coincidentally also celebrating its 30th anniversary) it's proving to be a successful event. She said they look forward to put on more of these in future including a family overnight (This event was 21+ only).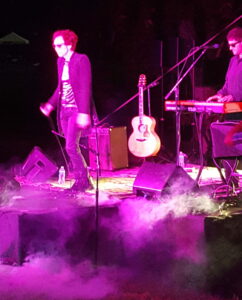 Both G Tom Mac and Billy Wirth participated in a Q&A before the film that you can watch here.
The Lost Boys
is one of my favorite movies and I always have a good time watching it. It looked terrific up on the big screen under the stars. Having grown up in the South Bay Area near San Jose, I was a frequent visitor to the Santa Cruz Beach Boardwalk featured in the film. One thing that hit about the film this time is how brisk the pace of the film is. It wastes little time getting right to the meat of the story. I also feel the film holds up quite well and is just a terrific mix of horror, comedy, and action.
Following the film, the big screen was use to show a collection of classic '80s music viedos.
Other post-show activities included night hikes at 10:30pm and midnight. Both of which we decided to skip as we were a little tired from carrying all our stuff from the GA parking lot to the GA camping area and then trying to quickly setup our tent.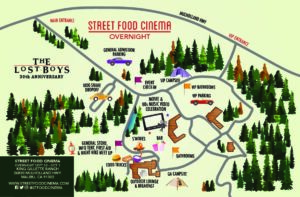 An outdoor lounge was setup on the patio of one of the ranch buildings just beyond a couple of palm trees. With colored lights dancing on the trees over excited party goers, the DJ played music throughout the night.


The lounge had its own bar with different drink options. I was not too interested in the specialty drinks that were created for the event, however I did see a lot of attendees who were.
For those that did not want to hang out in the club, there was an option for some Scary-oke. And although we heard the performers got better as the night went on, they were a little sub-par when we checked it out. I love to sing, however, there were a lot of people that night that loved to sing and the wait list was long so I opted to not perform.
Although the party went on until 2am, we went to bed around midnight listening to conversations of our very close neighbors and the music playing throughout the ranch.

Before long morning came and it was time for the complimentary breakfast.
The breakfast was catered by Porto's, which was awesome since I had never been there due to such long lines at locations near me, however, no lines here!!! My husband and I went separately to get our items but , not surprisingly, we picked all the same items.
This was set up the next day for breakfast. It was such a difference from the night before, when this entire area had been a dance club!
We had such a good time at this event and we certainly look forward to attending again in the future. A big thank you goes out to Heather and Steve for hosting this terrific event that only looks to get better with each future screening. For more information for upcoming Street Food Cinema events, visit their site here.