One of my favorite memories from any immersive experience was Delusion's 2014 show, Lies Within. Sure, I was terrified when Ember, the first monster, burst from his place and tried to kill me. Yes, Marion nearly made me pee my pants when he made me his own personal puppet. And sure, I almost caused our host to die because I didn't type fast enough on the type writer. But I can't just choose ONE of those moments, because the entire show was AMAZING.
Today, Delusion announced some fantastic news: They have teamed up with Skybound Entertainment to return to the Lies Within story line for a virtual reality series.
According to this Variety article, Jon Braver, the mastermind behind it all, approached Skybound originally to turn the show into a comic book. However, Skybound saw the potential in Delusion's stories, and felt it deserved so much more than that.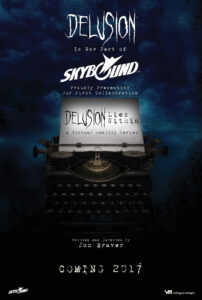 As mentioned, the story will be based on Lies Within, introducing two new characters that, much like us, followed their favorite author into her madness. And much like the show, the series will allow for interactivity, and for the viewer to choose their own path.
Shooting is scheduled to begin in early 2017, and be produced by Skybound in conjunction with Witty Acronym.
As all of us here at HorrorBuzz are MASSIVE fans of Delusion, this is the most exciting news we could have hoped for. Congratulations to Jon and his amazing team. We cannot wait to see this!