THE MOTEL 6 Feet Under  was one of our top 10 haunts from 2015 and we were elated when we found out that they would be returning for another year of fear at Anaheim's Business Expo Center on October 7th, 2016. Located across the free way from Disneyland. Not ones to rest on past success, and always looking to improve the level of hospitality offered, the Motel has decided to slowly introduce the public to their new staff, The Boo Crew
They are back with more ways to disorient and dismay their victims guests. The Motel 6 Feet Under crew is giving HorrorBuzz an exclusive first look at each of the 5 new characters on the boo Crew. Each Day we will share another monstrous fiend that will await you when you check in. We have met every one of the frightening inhabitants. All but one that is. At the end of 2015, Motel 6 Feet Under surveyed guests asking the simple question, "What was the most terrifying aspect of the MOTEL?" And one of our characters won, hands down, above the rest.
We finally meet the little girl.
Her name is Mable. She's coming back in a very, big way. And she's bringing some friends. They
are the BOO Crew Fearsome Five. Here is their story…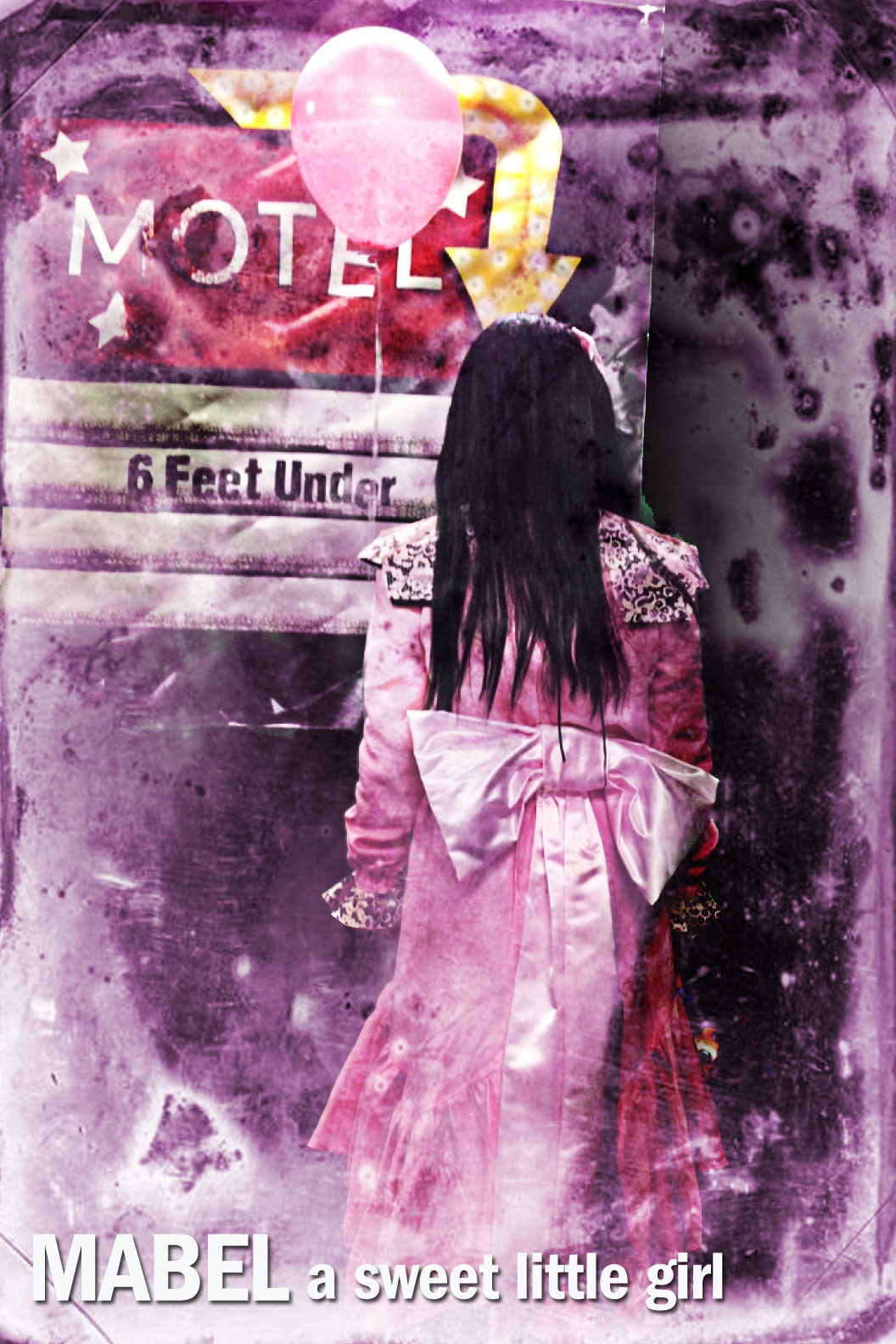 MABLE, a sweet little girl. That will never grow up. Many moons ago, little Mable was a tourist at the MOTEL. Who knew she would give a whole new meaning to the word, "staycation." Mable is now a permanent guest. And she's not very happy about it. She needs a playmate. Bad. And she'll stop at nothing to get one. She'll lure you in, get your attention or hunt you down. YOU WILL PLAY WITH HER.
During her time at the MOTEL, Mable has found friends. They are her crew. Her BOO crew!
VICTOR. Mable's very own clown. He is no joke. He supplies Mable with balloons from…you don't want to know. He hangs out in the MOTEL, bringing a good laugh to Mable's dark sense of humor by tormenting the guests. Especially those who refuse to play. Don't be one of them.
OTIS. He operates the elevator. And lets Mable push all the buttons, all the time. So the elevator gets stuck. A lot. Life with Otis has its ups and downs. He's been watching Mable push those buttons a long time. So if you get into his elevator, whatever you do, don't push his buttons.
AGNES. The Maid. Agnes should have been fired from the MOTEL a long time ago. The place is a mess. Mable likes Agnes though, cuz Mable never liked cleaning her room either. Agnes just wants to get rid of anything in her way. Including you.
BONES. The Maintenance Man, Mable's favorite of the BOO Crew. He fixes things. Not. And he is hilarious in his attempts at greatness. He never gives up. It could be that he is not a very handy handy-man. Or it could be that he is a skeleton…so he is lacking some serious brain power. But what he lacks in smarts he makes up in heart. Bones also helps out over at Hi Tech Haunts. Check out his antics at www.HiTechHaunts.com
Below is our interview with Carolyn Arilyn Carpenter, the Creator of Motel 6 Feet Under and Otis.
---
The MOTEL 6 Feet Under is part of Building Occupational Opportunities (BOO!), a 501c3
charitable organization that provides job opportunities to underserved adults. Tickets for the
MOTEL 6 Feet Under go on sale August 13th. Visit www.MOTEL6FeetUnder.org for more
information. Visit us on Facebook and/or text MOTEL6FEETUNDER to 44222 to win tickets and
prizes from the MOTEL. Check in. Then Get lost.