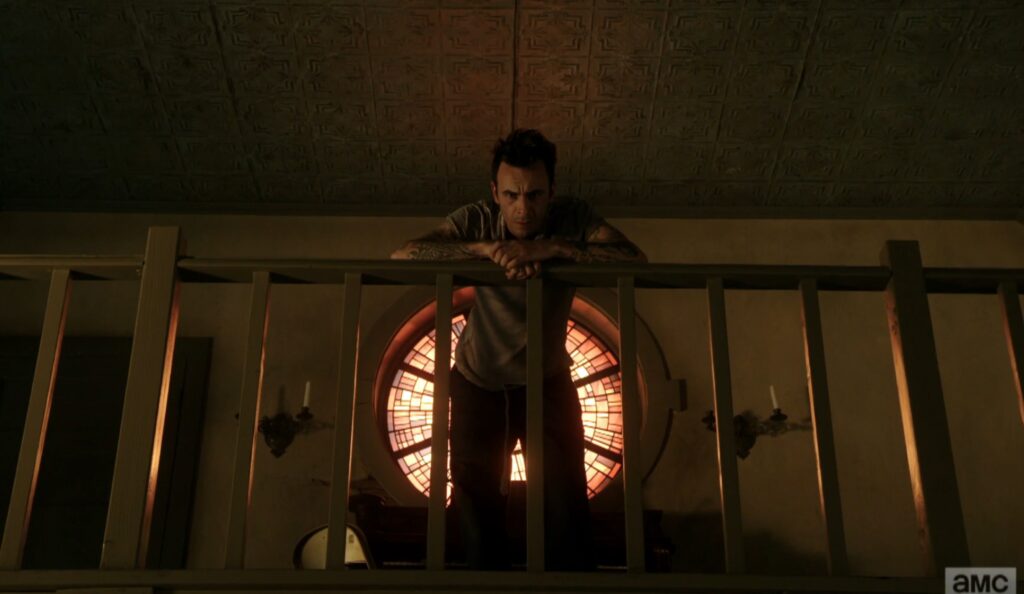 This week, Quincannon reneges on his bet, Jesse remains stubbornly stubborn about his Genesis power, and Cassidy makes the ultimate sacrifice (or does he?).
Episode 7: He Gone
A church program flutters to the floor where Eugene was standing just a moment before. Jesse looks around the empty church. Uh oh. What has he done? And Cassidy has seen the whole thing from the balcony.
The congregants come in, some of them staying outside in the overflow section. Jesse struggles with his sermon and seems on the verge of using Genesis to make them all turn to God–but he ends up backing down at the last second. There's a sadly conspicuous empty spot next to Eugene's father.  After shaking hands with the exiting parishioners, Jesse comes back to an empty church.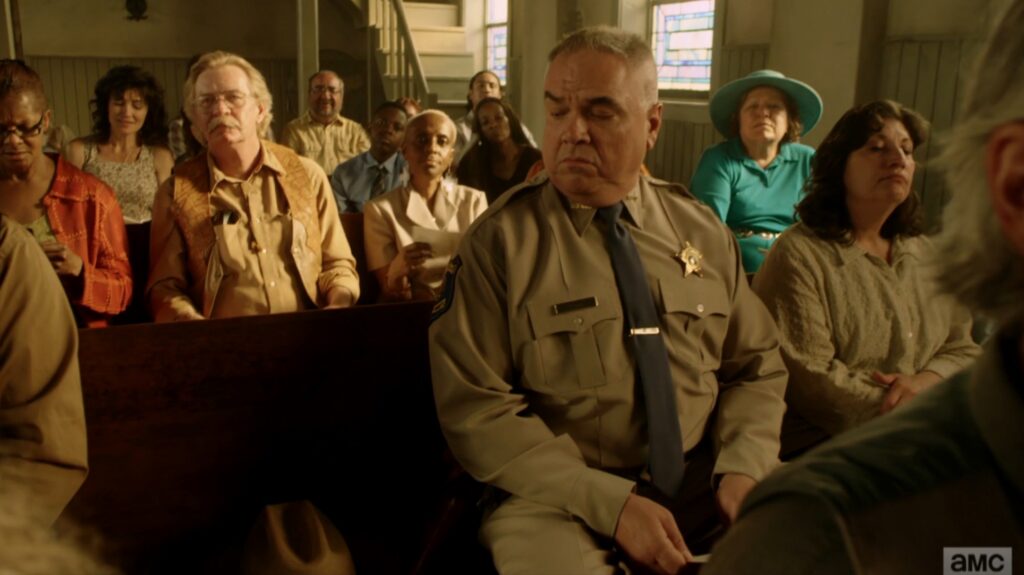 While listening to the lovely sound of cows being slaughtered, Quincannon seems to have some sort of unknown epiphany.
Flashback: Jesse and Tulip are waiting outside the principal's office. They're in trouble for standing up to bullies. but it seems Tulip got a little carried away and bit off the bully's nipple. Since Tulip's mom's in jail, and her uncle's drunk, Jesse's dad offers to let her stay with them at the church.
Now: Tulip runs and runs through back allies and over fences and finally catches up to some modern-day bullies, demanding her uncle's pants back. She sits on his porch, defeated, while remains passed out on the stairs. What's she gonna do with him?
While Jesse goes over his busy busy day (blessings, confessions, etc.), Eugene's bedroom remains empty.
In the kitchen, Cass confronts Jesse about what he saw. "The arse-faced kid. I saw what you done to him!" And Emily is standing right there, with a shocked expression on her face. Emily and Jesse leave to deal with the church business.
And then Tulip walks in and she and Cass have an interesting little conversation about honesty, and what to tell Jesse. And what NOT tell Jesse.
Flashback: Tulip and Jesse are becoming like brother and sister: they rough house, they do chores. While getting some dish soap, Tulip overhears Jesse's dad on the phone, and seems to understand her days with the Custers are coming to an end. Tulip elicits a promise from Jesse: "Til the end of the world."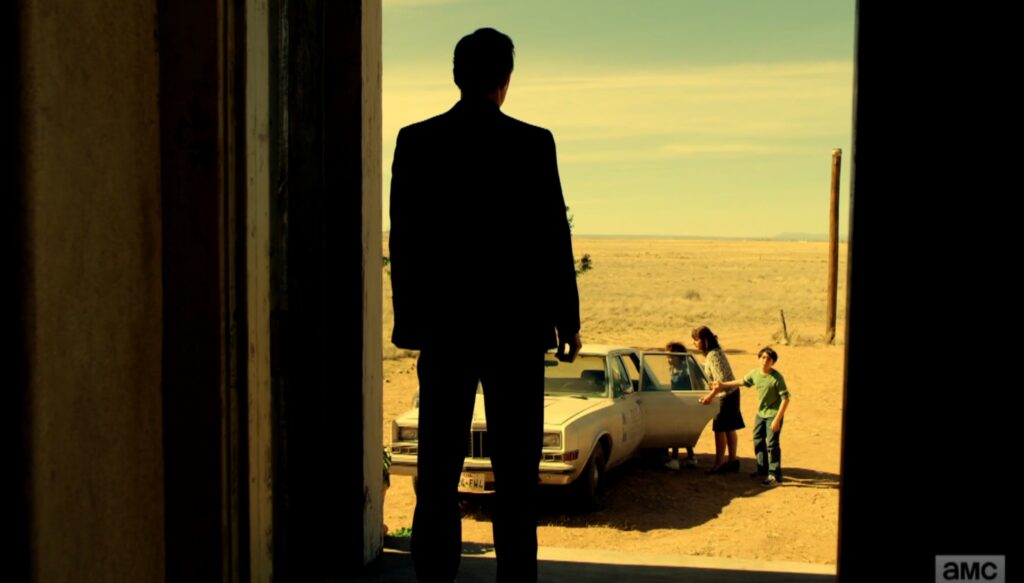 The next day, Tulip is taken away by the Texas Department of Human Services while Jesse yells at his dad, at the social worker, at Tulip, at the world. Reverend Custer is unmoved and watches as she is driven away. That night Jesse prays: he wants God to kill his dad and send him to hell.
Now: A few members of the church rehearse a pageant about Lot's wife turning to salt. Jesse's only comment is that they should act way more scared, what with the wrath of God and all. Quincannon comes in to get the deed to the church, denying that he ever converted. Jesse tells him to get lost. So, does the Genesis power wear off after a while? Is Quincannon more resistant to its charms? Hmmm.
Cassidy and Emily have an awkward conversation on the church porch trying to convince each other that Jesse is still a good man. Neither seems very invested in believing.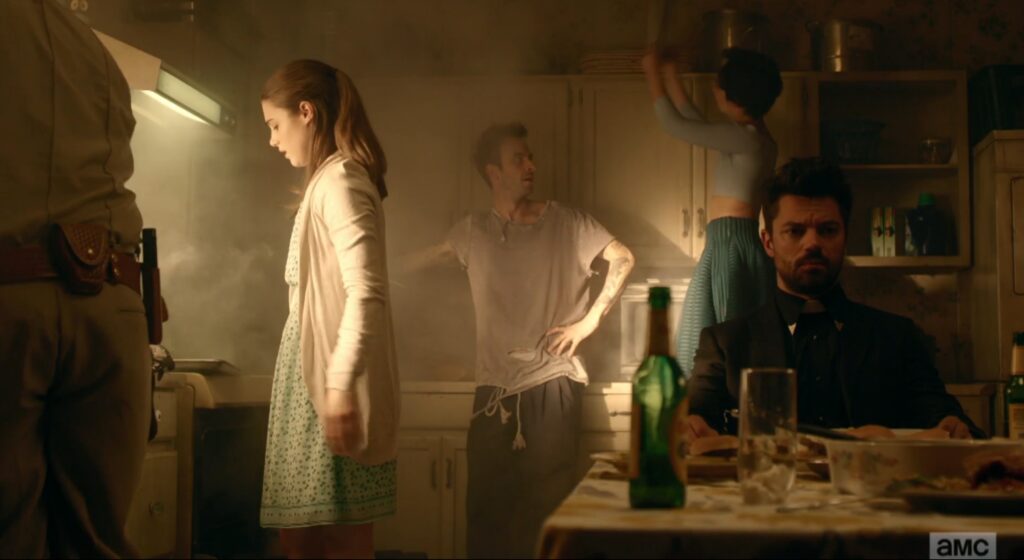 Most awkward dinner ever as Cassidy, Emily, Tulip, and Jesse eat burgers and vanilla-flavored hash browns, and avoid all kinds of eye contact.  Cass waxes on about Coen Brothers' movies, but is interrupted by Sheriff Root, looking for Eugene. And then the oven catches fire. Everybody scrambles to put out out the flames, but Jesse hasn't moved even one centimeter during this entire scene. Emily admits Jesse did see Eugene. But then she covers for him, and says she saw Eugene leave after talking with Jesse.
Outside, Cass confronts Jesse with a fire extinguisher to the face. He's royally mad that Jesse would send an innocent kid to hell, but Jesse implies Eugene ain't so innocent. We get a brief explanation of Eugene's wounds, and how they relate to Tracy Loach, and who is he to interefere with God's plan? "There is no plan!" Cassidy yells. He tosses the extinguisher to Jesse and starts taking off his shirt. In the sunlight.  Will Jesse just sit by as another, "less worthy" sinner goes up in flames?
Does he? We don't know yet.
We see Jess come back to dinner, drop the extinguisher on Cassidy's chair, and start eating again. Silence. Tulip demands to know what happened, and Jess turns the tables. Accusing her and Emily of hiding Cassidy's vampiric truths from him. He lashes out at Tulip: "What are you even doing here?" "That's a real good question," she sighs, and leaves. Emily thinks this is a fine time to calm things down, trying to boost Jesse's mood by saying that when she first saw Jesse back in town,  "I believed in you." "Well, that was stupid." She leaves. Jesse just stares at the fire extinguisher. I think Jesse has finally reached the end of his rope.
Flashback: Jesse is woken by his dad, who makes him hide under his bed. Dad is beaten up by a group of anonymous men (we never see their faces). Reverend Custer makes Jess promise to always be a good man. "Cuz there's way too many of the bad." The good reverend gets shot in the head. It appears God does answer prayers.
Now: Jesse takes apart the church floor, searching in vain for Eugene, begging him to come back. Meanwhile, Quincannon and his goons slowly move up on the church, bulldozers rumbling beside them as they approach.
It took him long enough, but I think Jesse is finally coming around and realizing that the power is overpowering (hehe, sorry) his judgment. And what the heck happened to Cassidy? He can't be dead, or else I'm really going to hate this season. Only three more episodes to set things right, Jesse. Will you? Can you?
See you next week, kids.