LOS ANGELES, April 1, 2016 /PRNewswire/ — IMAX Corporation and The Walt Disney Studios, a division of The Walt Disney Company, today announced that they are taping into the horror market with Walt Disney Animation Studios' newest feature-length animated film franchise  'N Zombies.
THE FOLLOWING WAS AN APRIL FOOLS ARTICLE WRITTEN AS SATIRE.  ENJOY!
The new 'N Zombies series will revisit classic Disney Animated films by adding a new, more macabre twist. Zombies will be folded into the already dynamic storylines of classics  with titles like Beauty and the Beast and Zombies, The Little Zombie, and Snow White and the Seven Zombies. Capitalizing on the zombie craze, Walt Disney Animation Studios will release, Anna and Elsa 'N Zombies in 2018 for a June 8th release date.
Commenting on the announcement, Dave Hollice, Executive Vice President, Theatrical Distribution, The Walt Disney Studios, said, "Anna and Elsa 'N Zombies will feature some of the richest and most inventive kill scenes ever created for a family oriented animated film, and we are thrilled that moviegoers around the world will have a chance to experience it in glorious IMAX® 3D."
"We are excited to team with Disney and the talented filmmakers at Walt Disney Animation Studios on what is sure to be a first in family entertainment and a sure-fire animated Disney classic," said Greg Foster, Senior Executive Vice President, IMAX Corp. and CEO of IMAX Entertainment. "Anna and Elsa 'N Zombies will be a visually stunning and layered film — not to mention a whole lot of bloody fun — that we believe will resonate with IMAX audiences of all ages worldwide."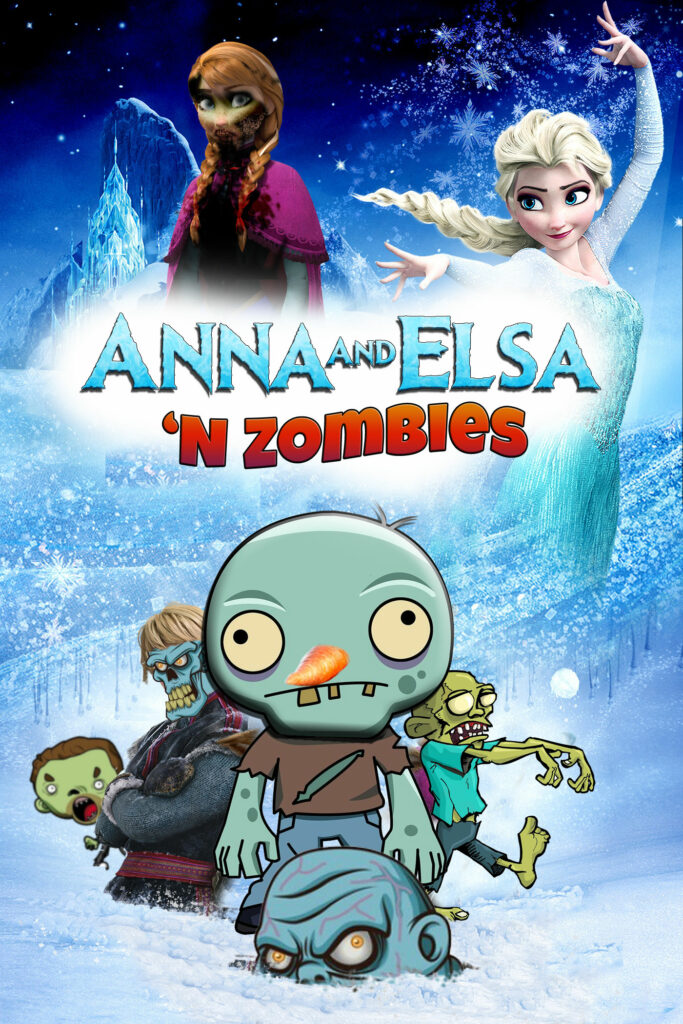 The IMAX® 3D release of Anna and Elsa 'N Zombies on June 8th 2018 will be shown in its digitally re-mastered format, which includes the image and sound quality of The IMAX Experience® with proprietary IMAX DMR® (Digital Re-mastering) technology. The crystal-clear images, coupled with IMAX's customized theatre geometry and powerful digital audio, create a unique environment that will make audiences feel as if they are in the movie. Select theaters will also be fitted with "Scent-O-Rama" taping into the audience sense of smell, filling the air with the smell of a nordic pine forest, the earthy smell of a crackling fire, and the acrid smell of rotting flesh.
About Anna and Elsa 'N Zombies
Anna and Elsa have buried the hatchet and placed the kingdom of Arendelle in a state eternal summer.  Things seem to be going well until the warm weather thaws the horde of evil zombies in the nearby mountains above.  It is up to Anna, Elsa to save the day as armies of ensuing undead surround the once peaceful kingdom with blood drenched, madcap hilarity.  Further complicating things are Anna's recent zombie bite and Elsa's diminishing powers to freeze the undead in their tracks.  Will Kristoff reach his family of magical trolls in time to save Anna from becoming a full zombie? Capitalizing on the popularity of the lovable snowman, Olaf will act as narrator throughout the film, peppering the story with his own brand of commentary and musical numbers.
Speaking of music, The Oscar®-winning team behind the original film is returning to add their golden touch to the musical numbers. "There's going to be at least twice as many songs in this one." Said songwriter Kristen Anderson-Lopez.  "We have twice as many characters in this sequel with just as many wonderful songs." adds Robert Lopez.
---
Walt Disney Animation Studios' horror-musical-comedy-adventure- Anna and Elsa 'N Zombies opens in theaters on June 8th, 2016. Happy April 1st.