It goes without saying that when the fog rolls into Ghost Town, we are at our happiest. But our second favorite time of year down at the ol' Berry Farm is most definitely Merry Farm. Sure, they may trade in the screams of October for the cheers of joy, but I dare say Knott's looks its best when the tinsel comes out.
We recently had the chance to check out Merry Farm's 2021 offerings, and after a year of missing out, it was wonderful to see it back again. And just what do they have in store for you?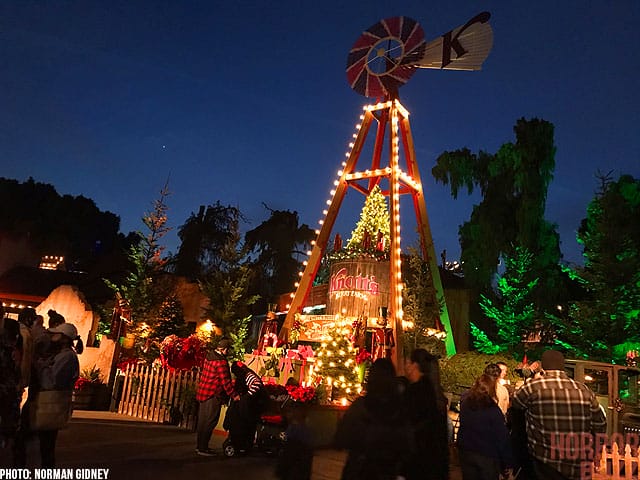 First of all, Merry Farm would not be complete with Snoopy, the Peanuts gang, and a cast of world-class ice skaters returning for "Merry Christmas, Snoopy!", the spectacular ice show. Though it's the exact same as it was in years past, it was still great to be able to settle into the Walter Knott Theater to enjoy this holiday classic.
Also returning to the Calico Mine Stage outside is "Home for the Holidays", where magical scenes of an old-fashioned winter wonderland are celebrated. A wonderful cast and great selection of songs, along with the impressive and multi-layered set design make this a must-see when you attend.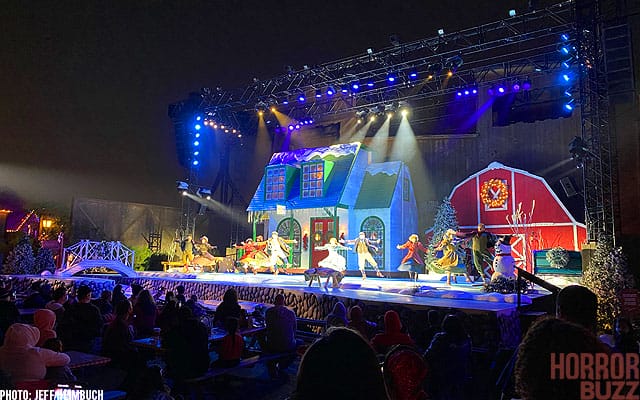 In Ghost Town's historic Bird Cage Theatre, Knott's melodrama company brings to life "Charles Dickens' A Christmas Carol" and "Marley's Wings". While Dickens' classic tale is the same as ever, "Marley's Wings" has the Ghost of Jacob Marley returning in this interesting semi-sequel. Definitely worth checking out, if only for the interesting twist.
Roaming entertainment also abounds, as the Calico Carolers roam the streets of Ghost Town, singing their delights. Elsewhere in the park, you'll be able to catch performances by Crazy Kirk and the Hillbillies, Mariachi Angelitas, and Knott's own KNOT Radio!
We also enjoyed the return of the Christmas Craft Village, where vendors set up in Ghost Town to sell some unique items for the holidays. Also returning is the Snow and Glow, where Ghost Town fills with lights and snow every hour to create a festive atmosphere.
Of course, it wouldn't be a Knott's special event without some delicious food, and we got to see all of them! Of note were the Turkey Poutine Tater Bites and Turkey Balls, which could make for either a delicious snack or a full-fledged meal! The Prancer Pickle and Bacon pizza was another popular dish when we went (though Norm wasn't a fan! EDITOR'S NOTE: Not in the least.), along with the curious Merry Christmas Sushi Rolls.
Of course, if treats are more your thing, they have the Apple Pie Corn Dog, Pumpkin Pie Funnel Cake, and the Pumpkin Cheesecake Stuffed Churro. We don't know how their cooks and pastry chefs come up with such unique offerings, but we are into all of them.
Their seasonal merch was also pretty great, and the Santawampus shirt was a personal favorite. There was also a whole host new Christmas themed Bear-y Tales merch, which was pretty cool as well.
Knott's Merry Farm is always a delight, and it's definitely something we will return to do again and again this holiday season. It runs now through January 2nd, and we highly recommend you check it out!