I have always marveled at Los Angeles's ability to house many hidden gems in the strangest of alleys. Intruder Escape's CLOWN ACADEMY demonstrated how a tiny, secluded space could be transformed into a school fit for any aspiring clown.
CLOWN ACADEMY is Intruder Escape's fourth experience, and one that seemed to both follow in its predecessors' immersive footsteps and branch out into something entirely of its own. Intruder Escape boasts both a couple of longer immersive experiences and an app that was released during the year that shall not be named. All of these prior experiences focused on completing tasks and evading invaders! CLOWN ACADEMY tastefully combined a maze with creative interactions and the occasional jump-scare to create a well-rounded and engaging experience.
CLOWN ACADEMY impressed me from the minute I entered the queue. Since only one group was let into the maze at certain intervals, there can be a bit of a wait. However, I almost wished that I had to wait longer since the queue was quite intricate. Seriously, if all lines were like this one, I would never have an issue waiting ever again. The room that held the queuing was dimly lit and filled with fog. Red and white lights cut through the fog and lit the area just enough to see, but not well enough to take selfies in. Dance music played in tandem with a silent projection of Killer Klowns from Outer Space, which added to the jovial energy of the queue. CLOWN ACADEMY also had some carnival games and a magician to further entertain guests in line, which helped to make time go by even faster.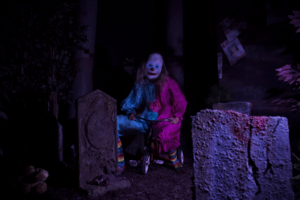 CLOWN ACADEMY proved to continue to impress in all facets of the maze. The set design was incredible and comparable to that of Universal's Halloween Horror Nights. CLOWN ACADEMY's attention to detail in each different room was phenomenal. No room was the same or skimped on, which, when combined with their talented cast, drove the experience to a whole other level.
I enjoyed all of my interactions with the clowns of CLOWN ACADEMY. Each one was dynamic and engaged with us in fun ways. Interactions ranged from terrifying to almost pleasant, but all were creepy in some way. Each room brought a fun, new character and atmosphere that proved to be pleasantly different from the last. The only thing I wished was that the maze was longer. I was left wanting to explore more of this wacky universe and it felt like much too short of a visit.
Overall, Intruder Escape put an admirable amount of time and energy into CLOWN ACADEMY and that made them shine in all departments. The entire maze and even the queue were delightful and charming. The set was by far my favorite thing in the maze, as it was incredibly well done and perfectly intricate. I highly recommend checking out CLOWN ACADEMY if your spooky travels brings you into Los Angeles.
For more information and to purchase tickets, visit: http://www.theclownacademy.com/