The Los Angeles Haunted Hayride is back for 2021. Moved to a new location within Griffith Park, the event takes on a very different vibe yet still retains the overall charm that 13th Floor Entertainment Group Creative Director, Jon Cooke and his tireless clan of freaks are known for. Gone are the surrounding hills that seemed to transport us to the weird world of Midnight Falls and we are instead in a flat, albeit relatively forested section of the sprawling municipal park that backs up against the 5 freeway. This forces that the actors and effects work extra hard to entertain and it demands guests suspend a bit more disbelief than usual.
The Los Angeles Haunted Hayride event is free to enter. The parking is free too despite being endlessly confusing. However, to experience the Hayride or to enter any of the three walkthrough mazes, guests need to buy a ticket. What do you buy? We will lay it out for you. Is it worth it? The short answer is yes.
MAZES
This year Hayride returns with three walkthrough mazes in Dead End Diner, Trick or Treat, and Midnight Mortuary. All of these mazes are impressively long experiences that feature consistent set work and the solid lighting design we have come to expect from Hayride. I will also preface my review of the mazes by reminding readers that mazes are an organic, living piece of immersive theatre. One guest could go through and get the best show ever. The next could miss all the effects and actors. In our case, it was mostly the latter and early in the night.
DEAD END DINER
At the far end of the lot is Dead End Diner. Beginning in a 50's style cafe we are invited to try the special and explore the kitchen where "human" is the main ingredient. We venture out back to discover their farm-to-table approach with the usual assortment of flesh-eating hillbillies and farmhands. What sets this maze apart is that it is an actual maze toward the end where visitors can ostensibly get lost in the bales of hay and fencing. Everything ends with a visit to the barn where monster-sized boars and goats lunge for the kill.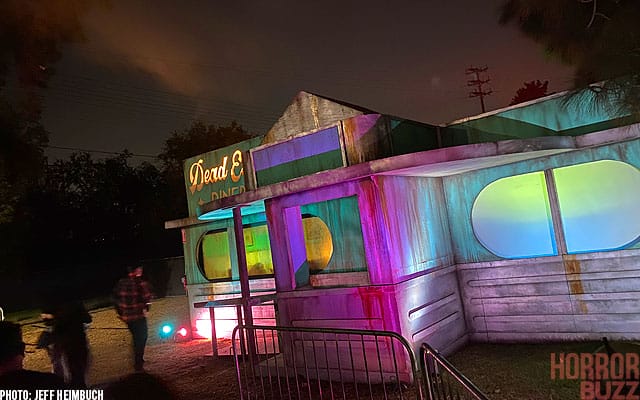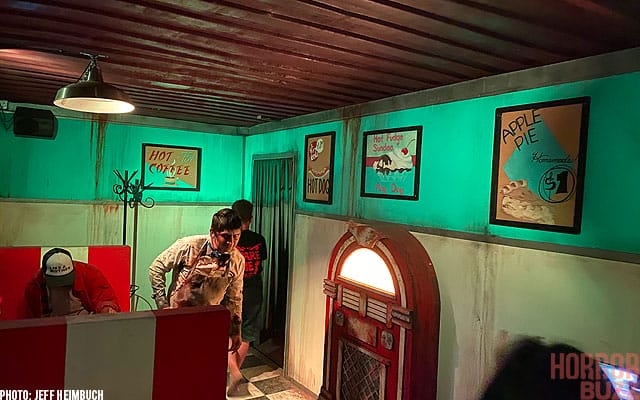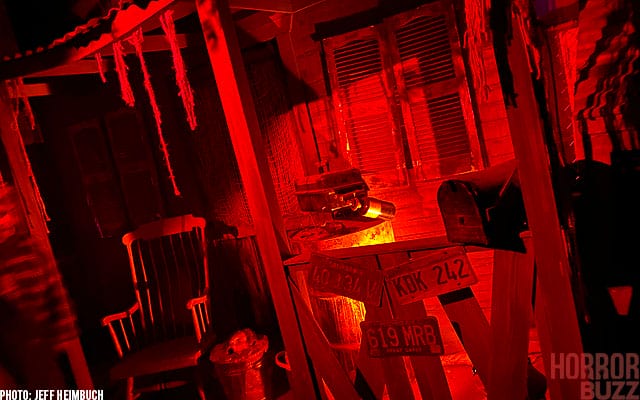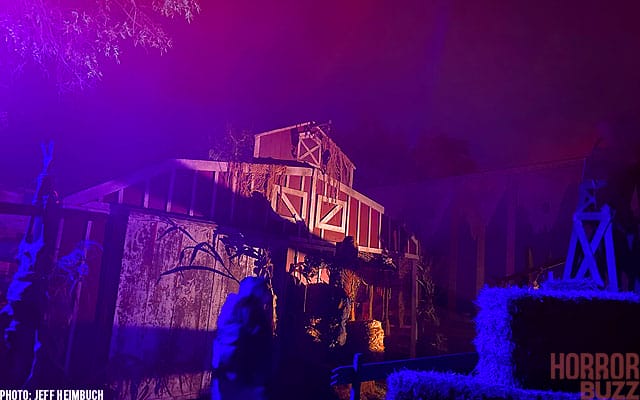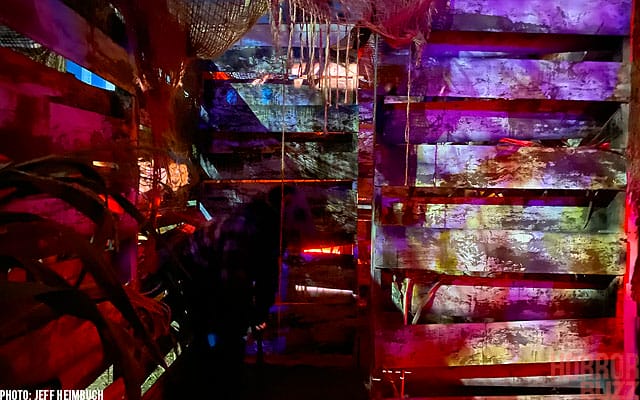 MIDNIGHT MORTUARY
The weakest maze of the three, Midnight Mortuary covers the well-trod theme of a nefarious house of death. Entering the maze we realize that all is not right. In fact, most of it isn't with skulking brutes and goat-headed creepers prance about this domicile of doom.
We make our way out to the backyard, aka the graveyard, and come across a tableau pulled from the 80's classic Return of the Living Dead. Punk rock corpses bound from tombstone to tombstone and invite us to play. Of course, we must head back into the facility for a finale that makes about as much sense as anything in Midnight Falls. Soon we are out and we have survived a strange visit to a morbid Midnight Mortuary.
Talent and lighting design reign supreme in this particular maze when you can spot them. During our trip through there were long stretches absent of talent. Understanding that this is a living piece, the experience might have been different later in the evening.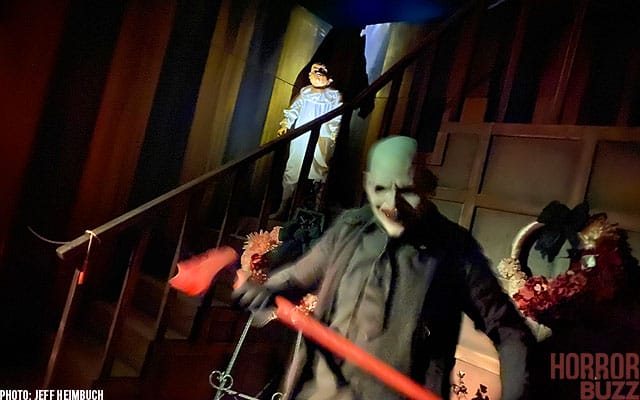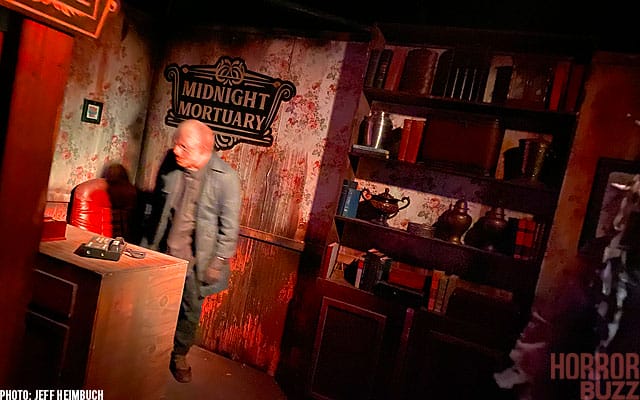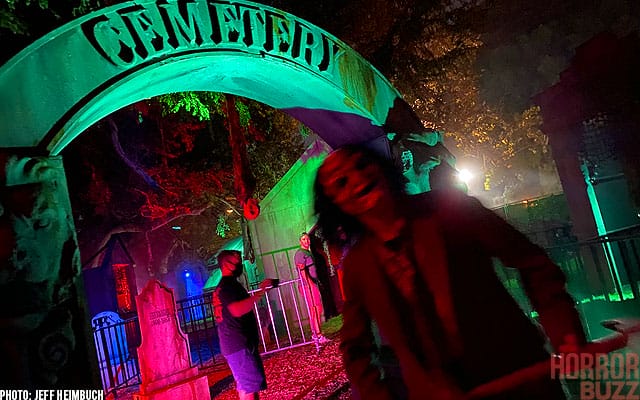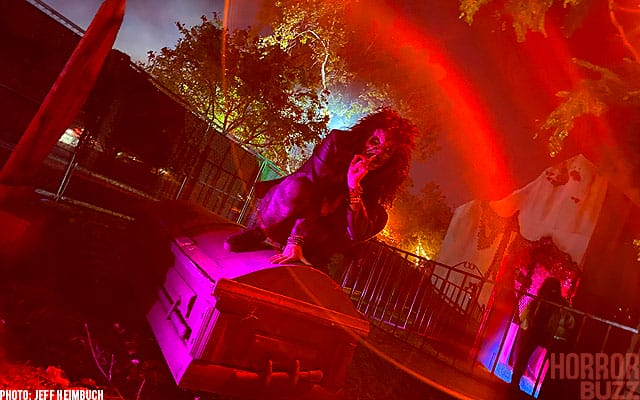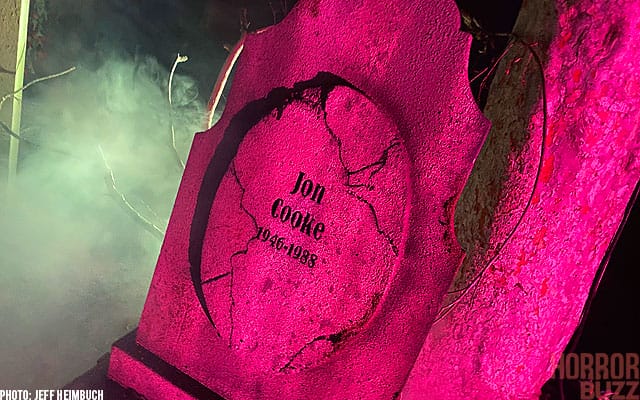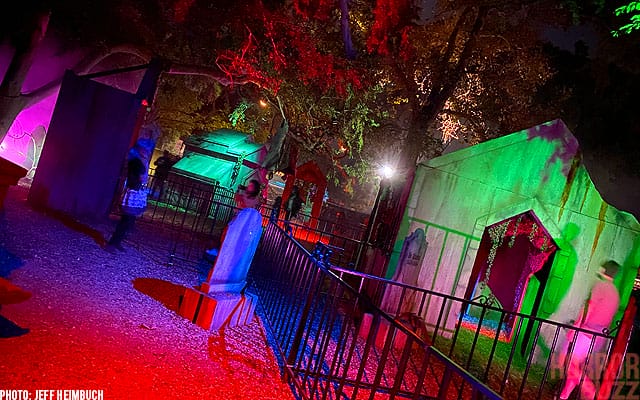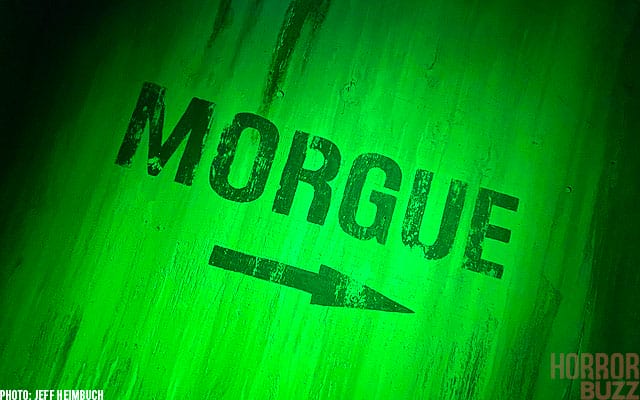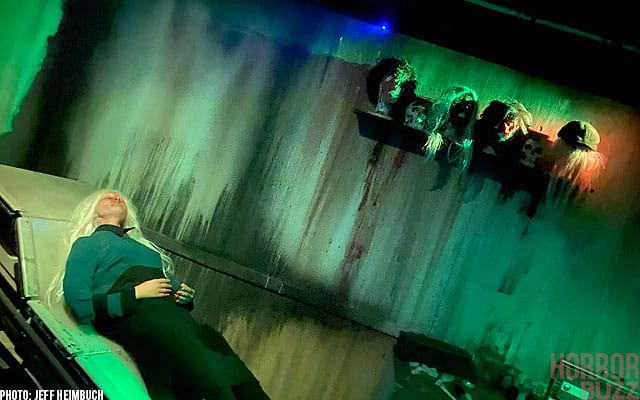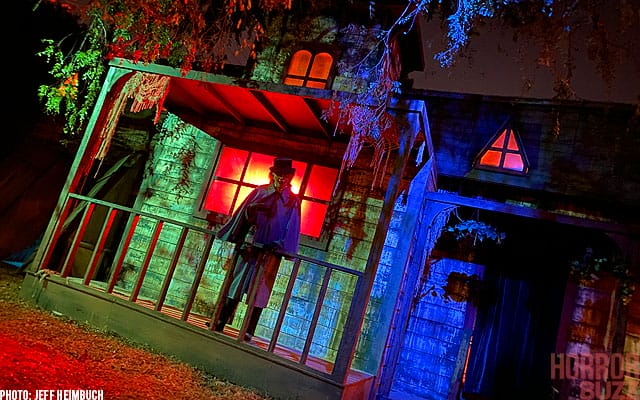 TRICK OR TREAT
The best maze of the bunch on our visit, Trick Or Treat invites guests to pave their own trail of mayhem as we go door to door in search of tricks or treats. The original gimmick of this walkthrough has been jettisoned with only the occasional doorbell moment that triggers a scare. Instead, we have a Samhain-soaked trip past various doors with plenty of scares too.
The maze with the broadest theme, Trick or Treat seemed to work. Not just because of a set amount of actors or scares, but rather a sense of place and a palpable mood of mischief. As with all of the mazes, the lighting was dead on, the actors, when present, were larger than life.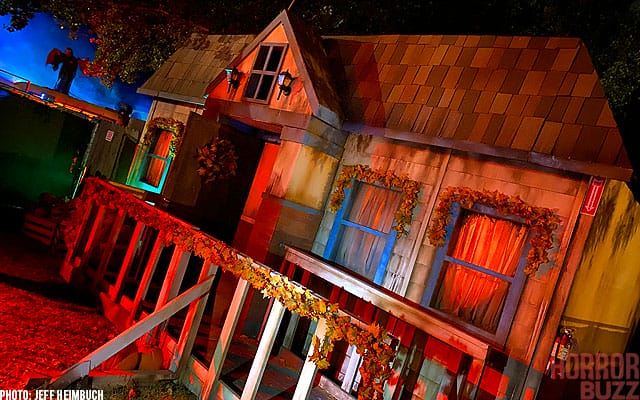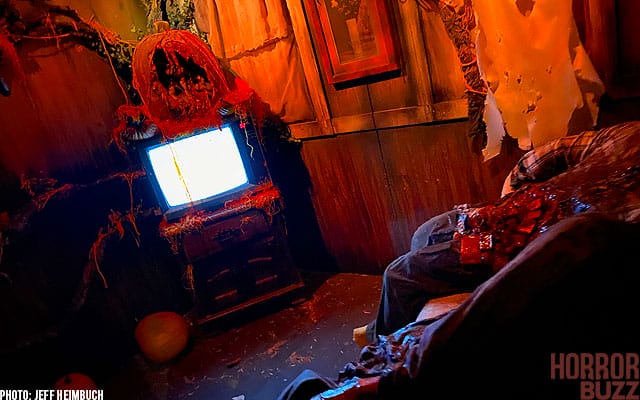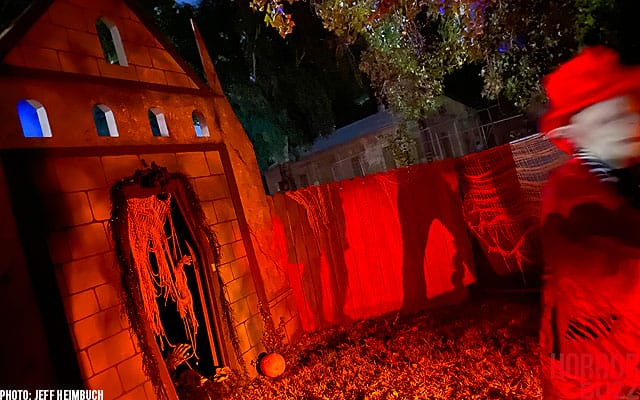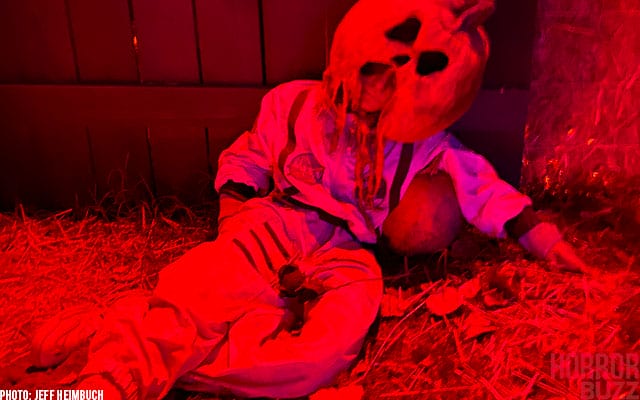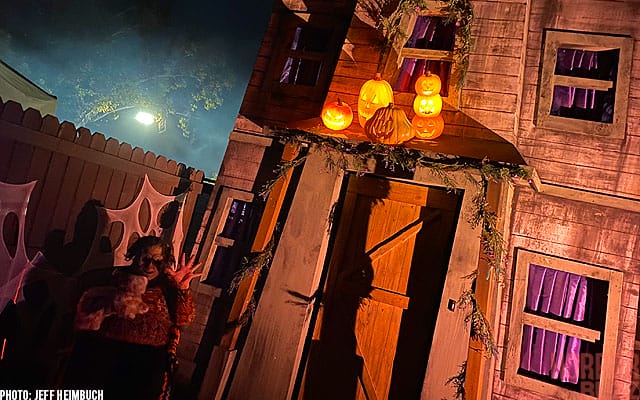 HAUNTED HAYRIDE
We come to the titular attraction, the Los Angeles Haunted Hayride. Packed into a more compact and sadly, flat layout, the attraction does what it needs to do. The hayride offers scene after scene of passively engaging scares that feature live actors, sets, special effects, fog, and lighting that are hit or miss.
We poor California folk are less familiar with the haunted hayride format and that is kind of a bummer. Here groups of 40 people pile onto a hay-laden trailer being pulled by a tractor past various scenes of Halloween fun. Chatter within the crowd dies down on approach to each scene in anticipation of the eventual scare. There is a certain comforting predictability to the format that would pair nicely with cooler weather, hot cocoa, and a nice wool sweater.
Sadly, this version of the hayride lacks the charm it once had. Yes, the scenes are elaborate, the effects are well-timed, I would even say that this is the most successful hayride from an operational standpoint with a lock on crowd control and management.
Still, the location destroys any chance that the smoke and sound effects had in captivating and surprising visitors. Traffic zooms past as the nearby 5 freeway stirs wind and causes noise that destroys any hope for immersive entertainment.
Let me close by saying that the entire cast on the LA Haunted Hayride attraction gave everything that they had and deserve most of the praise for making this attraction work. Try as they did though, the cast was no competition for the nearby bustle of one of the country's busiest highways.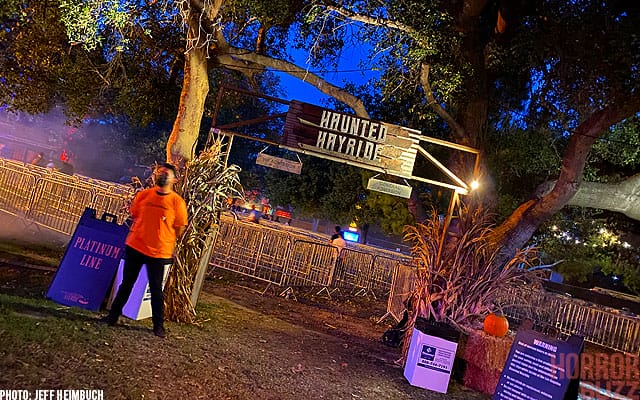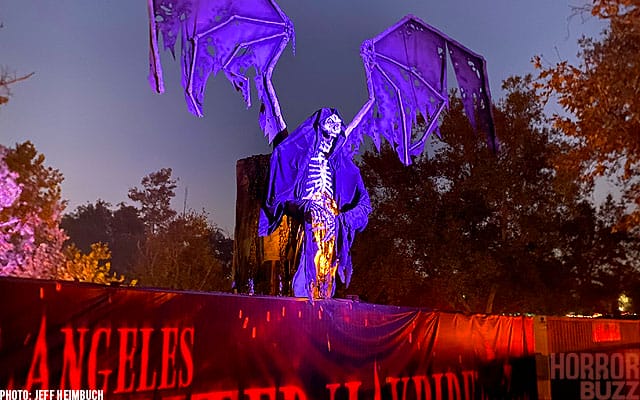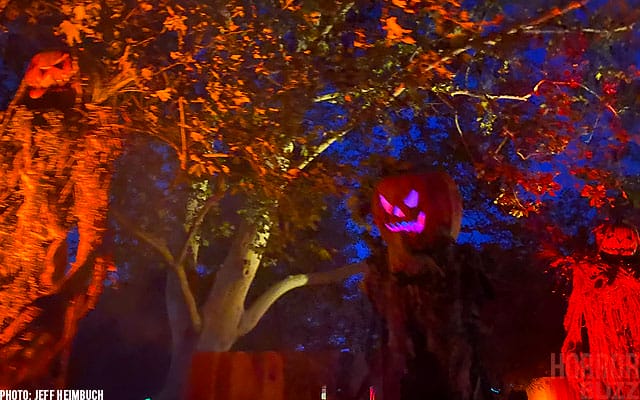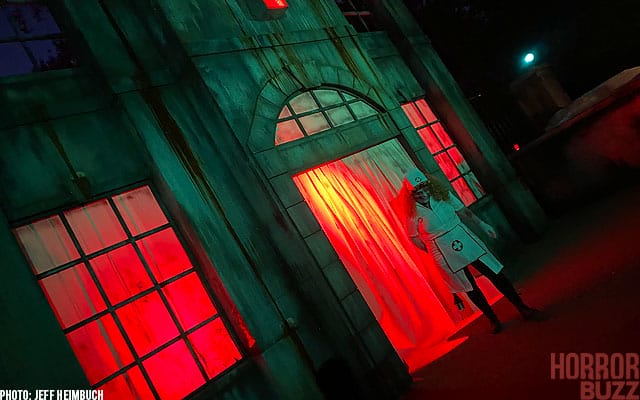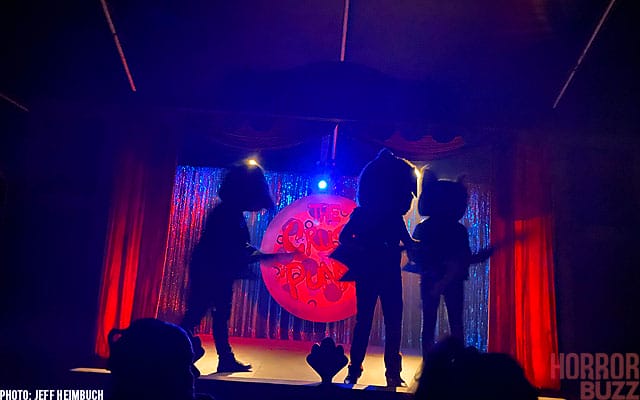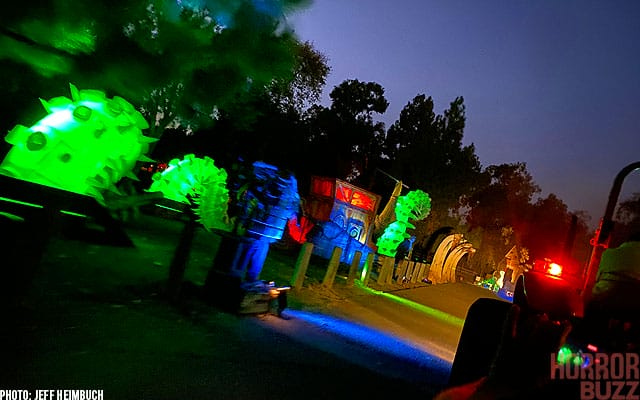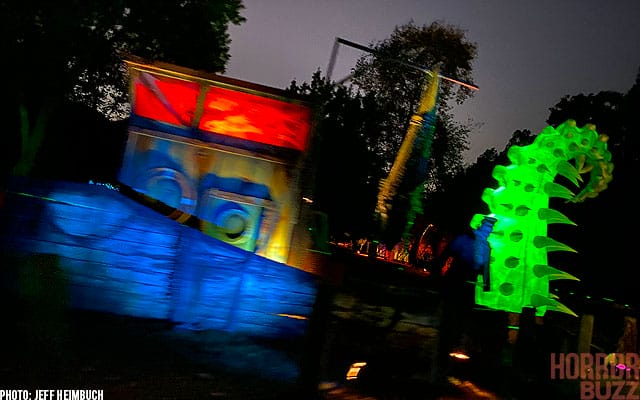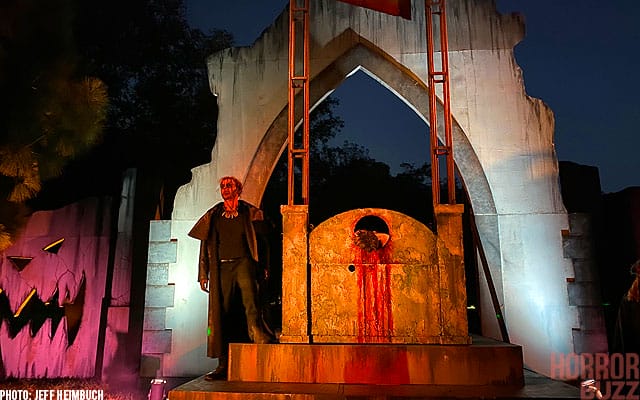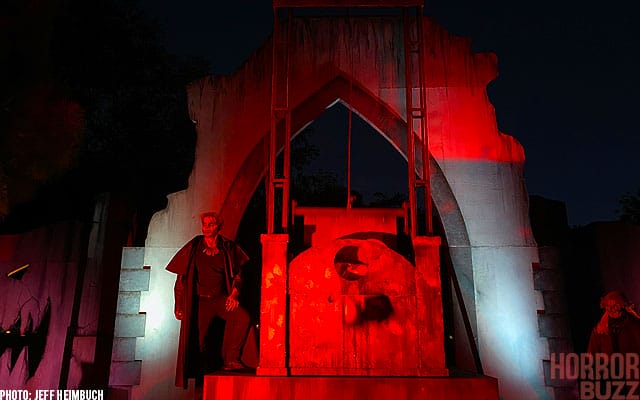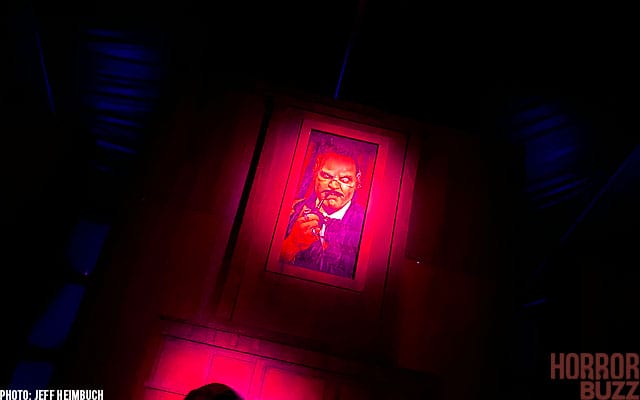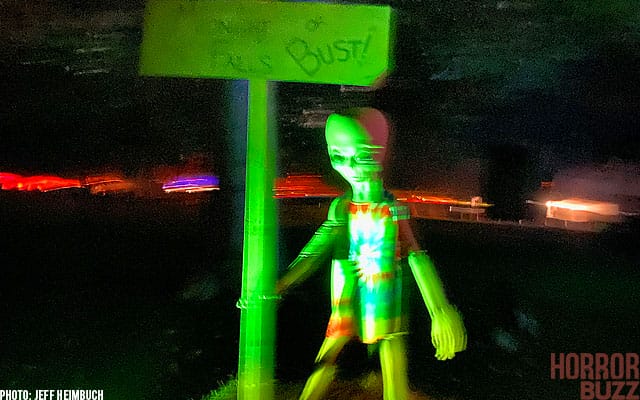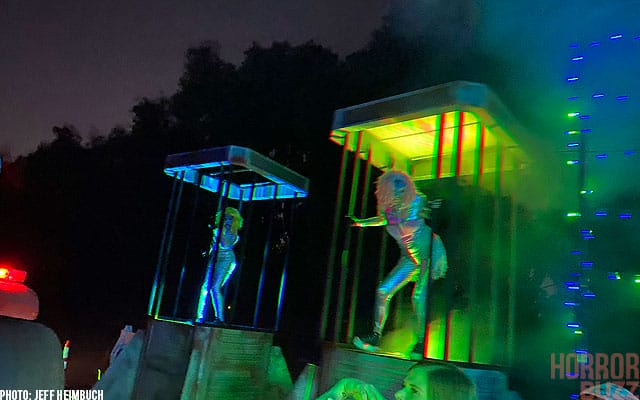 Midnight Falls
To us, what stood out like a shining beacon was the army of talented actors that set the stage for a visit to the Los Angeles Haunted Hayride. Guests enter a tunnel, a pumpkin portal if you will, into the cursed town of Midnight Falls where every night is Halloween.
It is here in this midway of mayhem that you will find the most fulfilling and entertaining moments of the entire event. Furthermore, this area is free to enter! Scareactors roam about weaving a silly tapestry of narratives that paint a panorama of kooky characters inhabiting a cursed berg. The owner of the mortuary struts by warning us to avoid the insurance salesman. The insurance salesman shares his take on the mortuary owner and tries to sell us insurance. A beauty pageant winner (god knows why) talks about her winning streak as lovebird teenagers have a lover's tiff.  Suddenly Monte Revolta takes the stage and entertains with horror-tinged covers of popular rock hits. Everyone is captivated, including the townsfolk.
Last Words
If you are looking to be out and about for Halloween time you could do yourself a favor and stop by the Los Angeles Haunted Hayride for a free diversion into Halloween fun. Arrive early, find your parking, and mosey to the front gates in time for opening. From there you can enjoy the actors, the atmosphere, and the occasional show from Monte Revolta. That's not to mention the collection of food trucks on hand that are sure to satisfy any and all cravings.
From there you can assess the crowd levels and decide what ticket might be right for you. Hayride only starts at $29.99 but for $10 more you get additional access to the three mazes. For $54.99 you get VIP access to all four attractions that cuts wait times to about a third.
Arrive early, grab a bite, assess the crowd, and enjoy the energy of finally being back out in the open after so long.