Nestled deep within an industrial park in Pomona sits the Phillips Mansion. If you didn't know where to look for it, you might just pass it by without a second glance. But those of us invited to it by Esther Phillips, the woman who lives within its walls, know it is there. And now that I survived the night, I know how dangerous it is.
This year, Los Angeles' most famous haunted play, DELUSION, returns to its horror roots with a brand-new spectacle entitled REAPER'S REMORSE. Those of you who have been to DELUSION shows in the past know what to expect from it: Hollywood style special effects, incredible sets and locations, and a story you can get lost in. This year is no different, except for the fact that the folks behind DELUSION have upped the ante considerably.
Before I get into the review itself, I will answer something a lot of people have already asked me: how does this stack up against DELUSIONs of years past? Most people would say that LIES WITHIN, their show from a few years ago, will always be the gold standard when it comes to their work. It was breathtakingly good, and I wish I could see it again. But this year's show, REAPER'S REMORSE…well, truth be told, I think it is just as good, if not better, than LIES WITHIN. And that's some damn high praise, all things considered.
But, back to some details. As the story goes this year, Esther Phillips has invited us to her home for a little party. Of course, more sinister things are afoot, as Esther is no ordinary woman. In fact, she is a collector of haunted objects. Not just any haunted objects, but ones that contain the souls of their owners…along with a few surprises.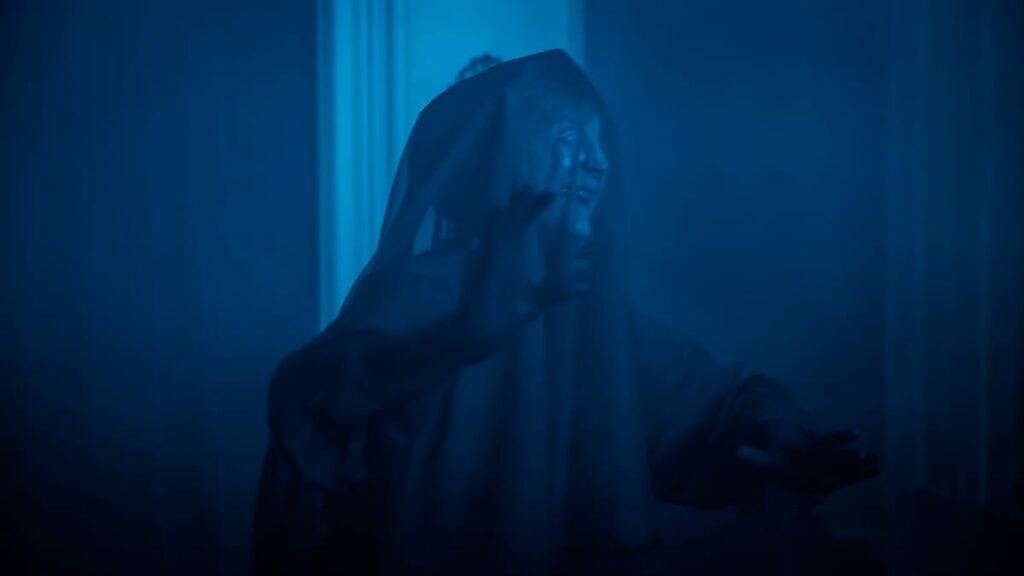 This collection, shown throughout her home, is on display for you when you first arrive. After check-in, you're allowed to wander the grounds in a sort of "open world" environment to explore, and I highly recommend you do so before your show time. The downstairs portion of the Phillips Mansion (at least, the parts you can get to) is filled to the brim with story details. If you see a note somewhere, pick it up and read it! If you hear a voice whispering from the cabinet, lean in closer to listen. While not required, doing so will help deepen the lore of the story for you. I loved getting to learn more about the whos and whats of Esther's collection before the show itself even began, and gave me a nice backstory for some of the things I was to encounter later.
If you happen to buy the VIP ticket as well, you will be treated to a bit more. With this special access, you're allowed upstairs in the mansion, and can feast your eyes not only on a private bar but also some addition pieces of Esther's collection. Again, while not necessary to enjoy the main show, this VIP tour was a welcome addition to our evening, giving us some cool, self-guided story moments (and scares) as we made our way through the wandering halls before eventually winding up in a bedroom to learn more from Esther's husband, Louis.
However, if you don't have VIP access, don't fret! Most of the grounds are still open to you prior to the show, with the outside portion containing not only a nice food station and bar, but also some additional secrets to find (make sure you check out the cellar!). But then, when your time comes, you get to meet Esther herself. And while she may seem nice on the surface, she has something up her sleeve that will require you to head deeper into her collection…one that makes you and your group part of this incredible story.
Without sounding too pretentious about this, the best way to review this show is by saying this: DELUSION is back, baby! Don't get me wrong, I loved HIS CRIMSON QUEEN and THE BLUE BLADE, the last two shows they put on, but they seemed to be missing a little something. I could never quite put my finger on it, but I'm happy to say that REAPER'S REMORSE harkens back to the DELUSION of old.  It's hard to talk about the show without giving anything away, but I'll do my best.
REAPER'S REMORSE was truly incredible. In fact, there were so many moments of awe and gigantic reveals that I can't even point out just one for being fantastic, because they ALL were. There were moments that my jaw dropped, there were moments that I had to cover my mouth from being shocked, hell, there were even moments where I was so terrified, I could barely do anything but whimper to myself in the darkness.
In this large, ensemble cast, special effect-heavy shows, there are innumerable things that can go wrong, but everyone and everything was firing on all cylinders when we went through. The story that creator Jon Braver has cooked up for this year had me enthralled. I was hanging onto every word the characters said, wanting to learn more about this world, and the people that inhabit it. A lot of it was very emotionally heavy material, and I credit the cast we had for the incredible job they did in carrying it. A fantastic story is one thing, but having a cast to truly bring it to life is essential, and the cast did so in spades. Of particular note was the young woman who played "Lily" for our group. She was especially fantastic in bringing her heartbreaking tale to life.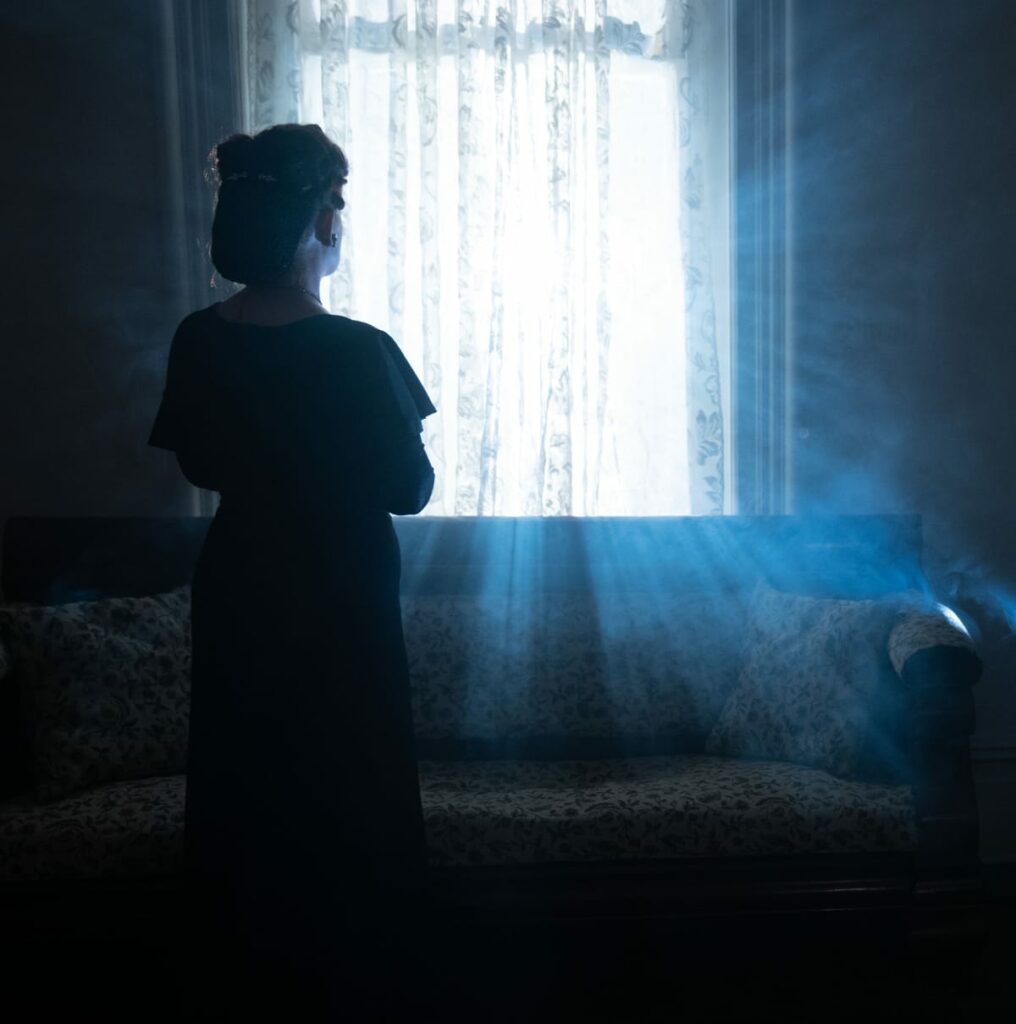 The stunts and special effect work this year is also off the charts. This show is just littered with moments that made my mind screaming "How did they do that?!" There were so many exceptionally cool moments that I don't even want to mention any for fear of spoiling it. But know that they continue to come through out the entire show, each one more spectacular than the last. And the use of digital projections to help enhance the story was a smart choice, because it definitely added a whole new level to the proceedings.
Of course, the show itself would be nothing without the proper atmosphere. I am happy to report that the Phillips Mansion and surrounding grounds have never looked more spectacular. Part set design and part lighting choices, every inch of this place was oozing with atmosphere and personality. Kudos to the lighting and design teams for their fantastic work to make this world shine.
Of course, I'd be remiss if I didn't talk about the show's return to its horror roots. Let me assure you, REAPER'S REMORSE is terrifying. Sometimes, it's hard to be scared while in a large group. Something about safety in numbers always makes me feel better. NOT HERE. No, REAPER'S REMORSE had me scared from start to finish. I audibly screamed numerous times, and not just because there were jump scares. I'm talking good, old-fashioned tension that builds so much that you can't be anything but terrified. As mentioned earlier, I had a one-on-one moment where I went up to the attic, alone, that had me so scared that I couldn't do anything else but whimper. The relief I felt when I finally got back to my group was indescribable. I've not felt like that in a show, any show, in a long, long time. Kudos to DELUSION for the best damn scare I've ever experienced.
All in all, DELUSION: REAPER'S REMORSE was a spectacle that has to be seen to be believed. It's scary, it's enthralling, and it's the best damn thing Los Angeles has seen in a long time. Tickets are selling fast, so if you haven't jumped on them already, I urge you to do so. When tickets first went on sale, I bought them for November to see it with visiting family, and initially balked at the ticket price. But let me assure you, this show is worth every, single penny. Trust me. And now, I await my next visit to Esther Phillips' private collection…because I can't wait to get back again!
For more information, and to purchase tickets, visit them online at: www.enterdelusion.com