SeaWorld San Diego kicked off its first-ever, separate-ticket nighttime event this year to great anticipation and eager San Diego haunt fans. Howl-O-Scream invites guests to step into a world of frights in the labyrinthian park. While only occasionally referencing the daytime ocean theme, San Diego Howl-O-Scream delivers six different themed scare zones, three themed bars, and three haunted houses to terrify guests.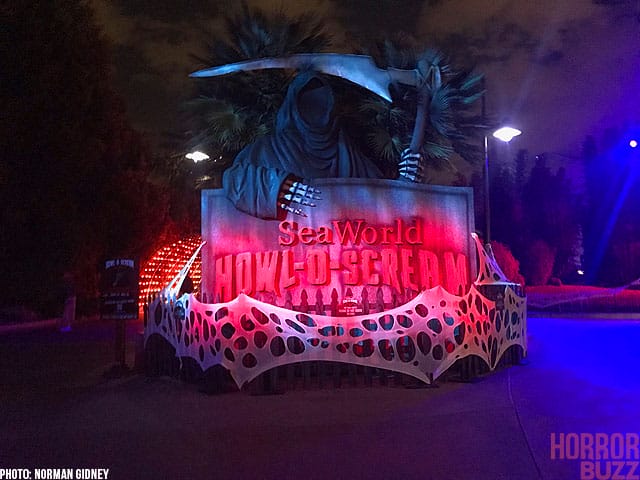 On the opening night, guests and media were treated to an opening ceremony that introduced everyone to the terrors that awaited them.
Scare Zones
As with any solid theme park haunt, San Diego Howl-O-Scream sports little patches of terror throughout to keep the scares and the mood pleasantly uneasy. Impressively, we were treated to a total of six scare zones each with its own take on classic horror tropes. Some are successful, some not-so-much. Thankfully the hits outweigh the misses.
First Fright
We enter the park and are greeted with the first scare zone, First Fright. This is, pretty much the haunt stew section of the park with chain-saw-wielding maniacs, a strangely familiar hockey mask-wearing monolith of a person that is definitely not Jason, and snake handlers. (One snake was real, the other a rubbery facsimile) The talent in this area was wonderful and had their timing on point. None of it made too much sense but it was fun and beautifully lit.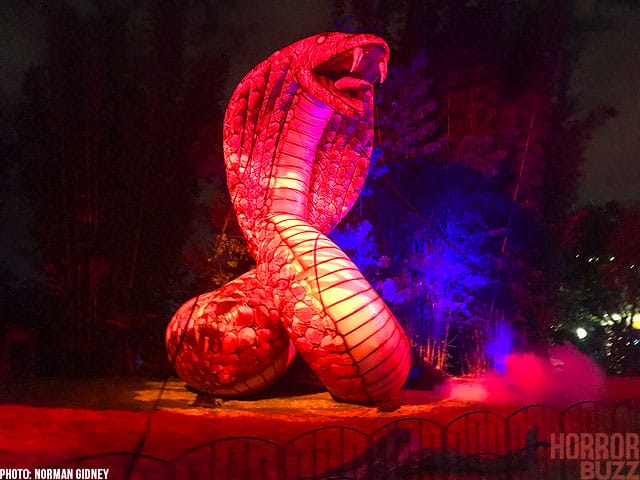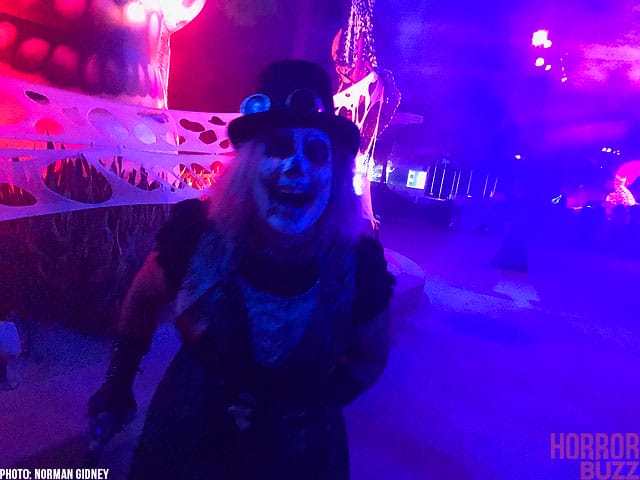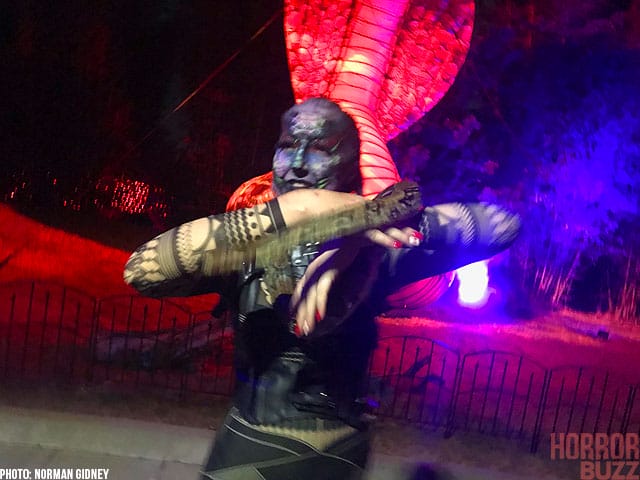 The Sirens
We get to the best-themed scare zone, The Sirens. Again, excellent lighting and solid talent mixed with a beautiful collection of set pieces really create a sense of place. As you hear the shrill catcalls of the oceanic beauties sailors, pirates, and the like warn guests to stay far away. You can practically smell the ocean air. Oh, wait…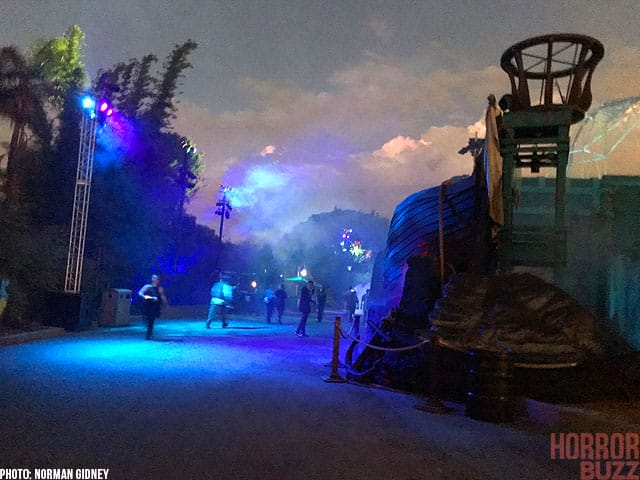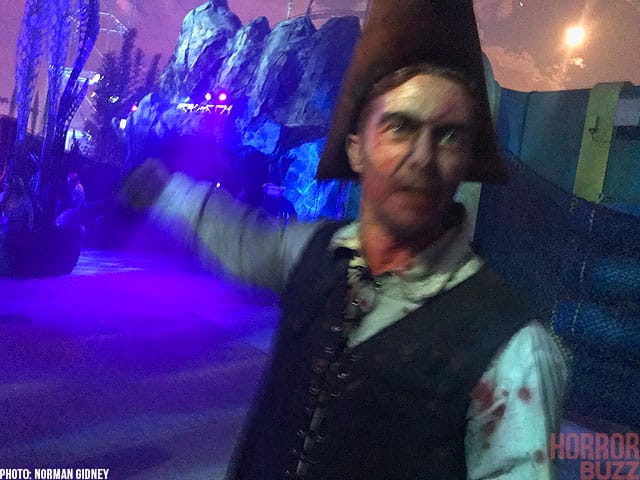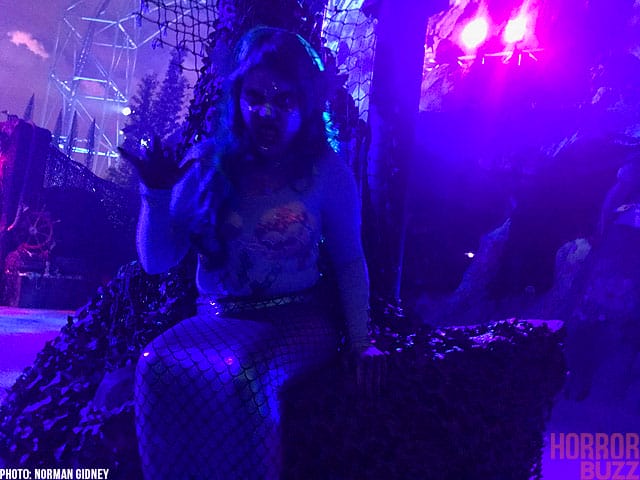 Graveyard
In the shadow of the Electric Eel coaster is the relatively forgettable Graveyard scare zone. There are tombstones on the nearby hill and skulking monsters in the fog anchored by the setpiece of a walkthrough stone cathedral. The lighting didn't shine here as it does throughout the park but the talent was consistent enough to provide a few frights.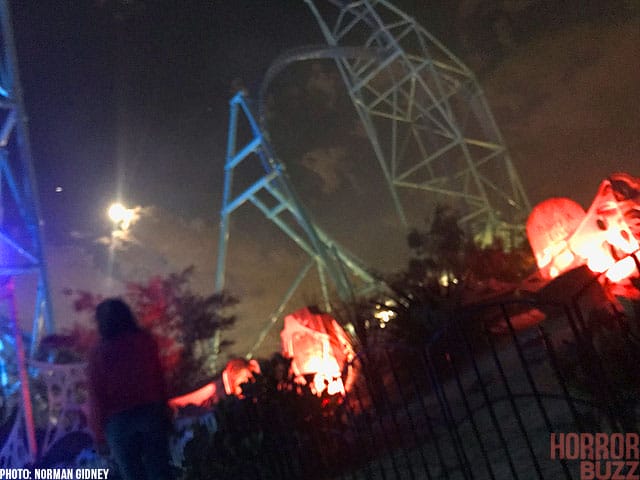 The Hauntings
What really works at SeaWorld San Diego's Howl-O-Scream is the wandering paths of the park and its disorienting layout. Nowhere is this better utilized than in The Hauntings scare zone. Stiltwalkers in gilly suits blend into the dark foliage and pounce on victims triggering shrieks and laughter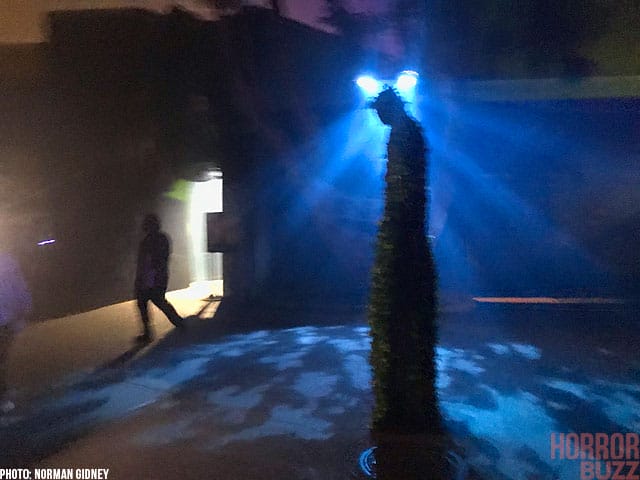 Deadly Toys
The second-best scare zone in the park, Deadly Toys sports eye-poping colors and solid talent throughout. While this is a pretty played-out theme, it's fresh here thanks to the wide range of scare techniques, the wonderful costumes and makeup, and the size of the are used. Of course, they too use the winding paths of SeaWorld's back half to their advantage and I was pleasantly surprised here.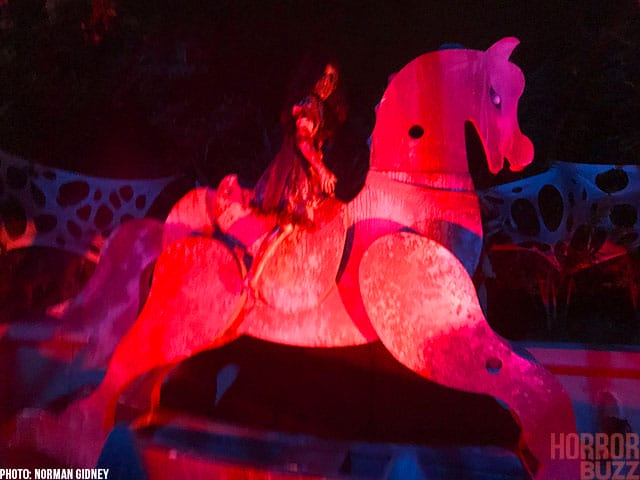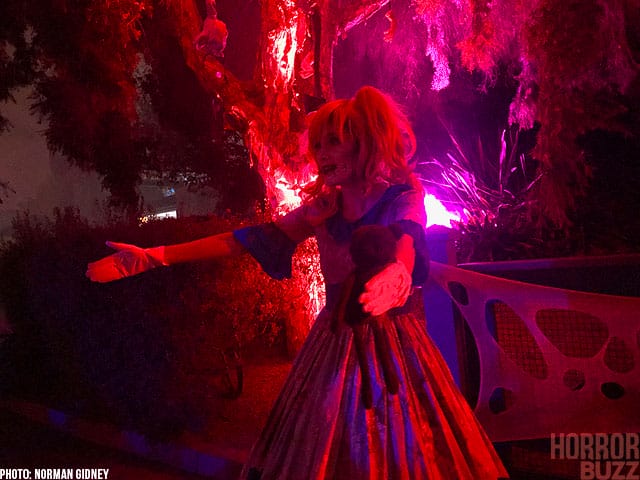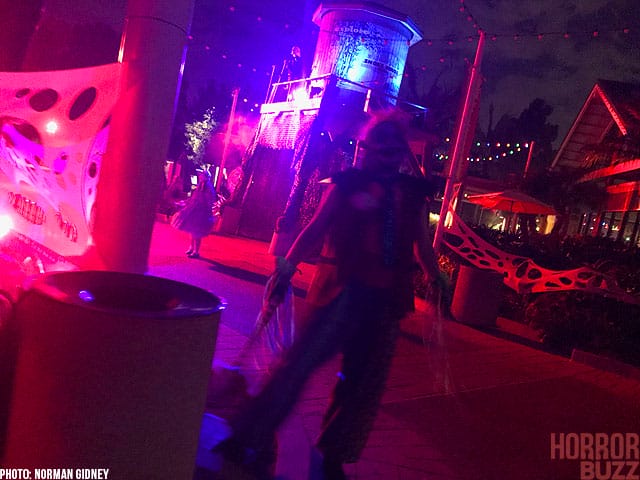 La Llorona
The one scare zone that could use a bit of work is La Llorona. Seemingly missing the point of this chilling figure from Latinx culture we see nothing resembling the distraught, water-logged weeping woman hoping to find her children. Instead, we are treated to a grouping of talented actors pushing baby carriages around covered in black crepe. Once again, lighting shines here, and the talent does what they can, sorry, but "HUH???"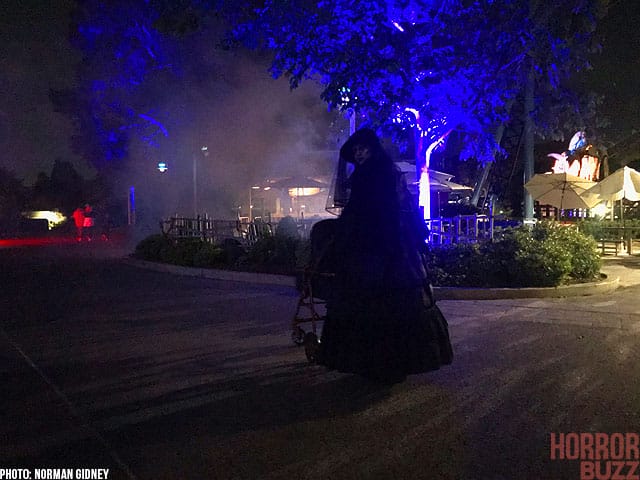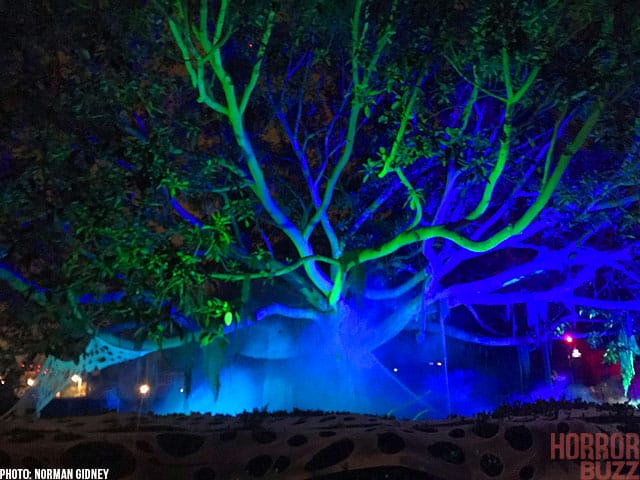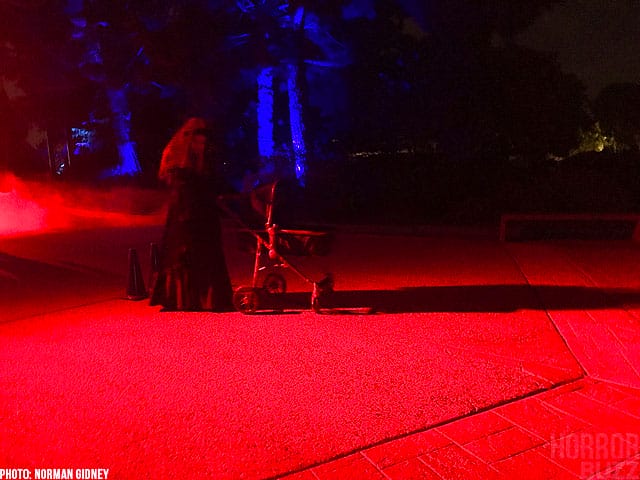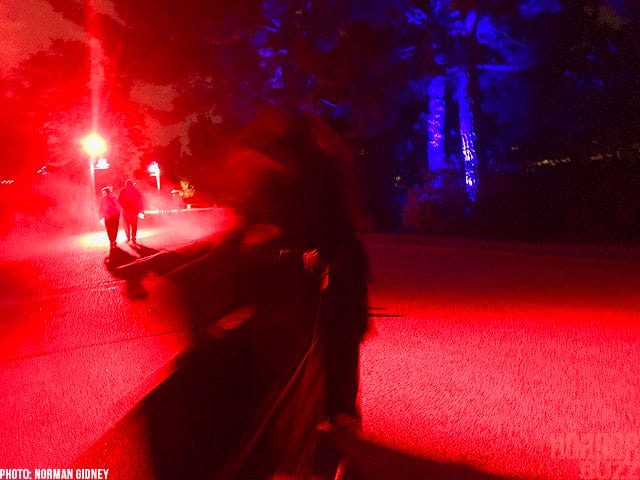 Haunted Houses
The real highlight of any theme park haunt is the mazes or in this case, the Haunted Houses to use the East Coast nomenclature. Very green, very young, but filled with an undeniable passion for the scare, these are examples of starting off on the right, albeit shaky foot. It's not all perfect, but their heart is in the scare in a big way.
Death Water Bayou
We start with Death Water Bayou. A carry-over in theme from Busch Gardens Tampa, this maze sports solid talent, a few interesting scares, and consistently beautiful lighting. A suspension of disbelief is mandatory as we wind around the bayou that was built from the queue of the Wild Arctic attraction. The maze starts off pretty weak with a funeral procession display in an unconvincing Louisianna graveyard. Soon enough though the talent begins to toy with you, the walls close in, and we are in haunted house territory, wincing in anticipation of what is around the next corner.
Some highlights include a suspension bridge over a swamp, a visit to a bayou shack, and a run-in with a voodoo priestess. This is a solid walkthrough of substantial size.
Nightmare Experiment
Yes, we have seen this type of haunted house before. A mad doctor, "crazy" people, and the search for a way out. There are patches of nice work from the talent including the doctor who admits us and a number of the inmates that populate the facility. The real star of this maze is the inventive layout and the well-themed rooms and corridors. A favorite moment was seeing the marks on the wall of a cell while escaping through a makeshift tunnel. Nice stuff in here with a few tricky scares that kept us hopping.
Simon's Slaughterhouse
Another common theme, but this time with a fresh twist of mayhem, we have Simon's Slaughterhouse. Yes, you guessed it, there's a bit of human meat being harvested too and we are invited to be the main course. Creative scares and a sprawling layout set this one apart from the other two houses. Add to that some wonderfully repulsive tableaus and hungry monsters and you have yourself a line-worthy house.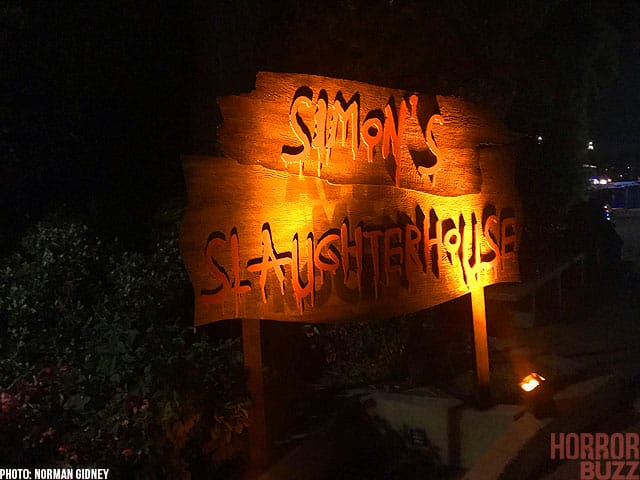 Shows
To be totally honest, it was a bit unclear to us what the showtimes were for the show offering. Consequently, we missed both. Suffice it to say, as we passed the arena we did hear people having a great time, so there is that. Plenty of cheers were heard.
The Vampire Circus
Populated by a motley collection of off-the-wall characters and incomparable acrobats, The Vampire Circus is a performance set in a twisted fantasy universe where chaos and craziness give way to a haunted celebration. Guests are immersed in a spirited journey through an abandoned cemetery where an extraordinary circus comes back to life. The suspenseful entertainment captivates audiences and is spread throughout the night with a selection of show times for attendees to choose from.
The Coasters
As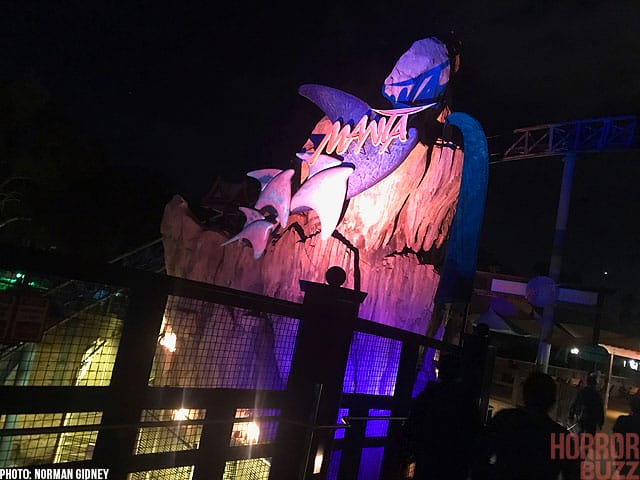 The Bars
Taking a cue from Dark Harbor, Howl-O-Screams San Diego made sure to include multiple themed bars throughout the park.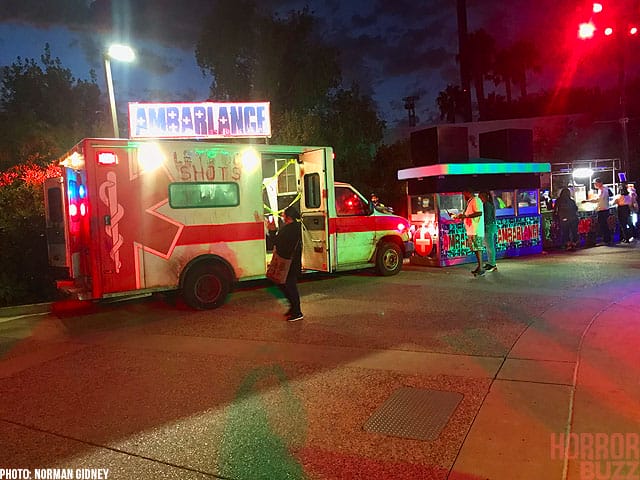 AmBARlance – After escaping Nightmare Experiment, the AmBARlance is there to cure all guests' ailments. The boozy "medications" are administered via IV bags and syringes as well as vodka-soaked "vitamins" in medicine cups. For a more intense treatment, the Pop Rocks rimmed "ElectroShock" cocktail is sure to make their brain pop.
Simon's Screamatorium – Guests are on the menu at Simon the Butcher's Screamatorium. Bartenders serve up the hottest drinks from within Simon's human-sized smoker, including "The Bloodiest Mary" and "Vomit Shots."
Murder She Float – Pulled from the depths of the murky swamp, this abandoned Mardi Gras float was brought back to life and is glowing with the "spirits" of the Mardi Gras dead. Guests feast on grasshoppers and worms in a scoop of "mud" and wash it down with cursed concoctions, served up on Ouija boards, in fishbowls, and in the skulls of those who have crossed the Bayou Witch.
---
This is a very young haunt. What is here is very promising and at times wonderful, but it needs work. The scare zones are, overall, good with a few standouts that really shine. The themed bars are a nice touch and well done, not to mention the food that is always great at this park. The haunted houses were substantial in size and oftentimes well-themed, but it is clear that that the talent inside is still cutting their teeth on the flesh of their new victims. What's more, this is a pretty reasonably priced venue starting at $41.99.
Our advice: If you are looking for a good haunt for first-timers with a side of thrilling coasters, you should take the plunge and head to Howl-O-Scream San Diego.