Late Sunday night, I walked into Knott's Berry Farm via their western entrance. As I began to walk toward the fountain, the fog began to unfurl all around me. The unmistakable smell of haunt season filled my nostrils, and that only meant one thing: It's Scary Farm time!
While the event itself does not begin until Thursday, September 16th, we were invited down to the old berry farm this weekend to preview some of their new food offerings, the latest INTO THE FOG art show, and to chat with some designers about the park's latest Scary Farm frights.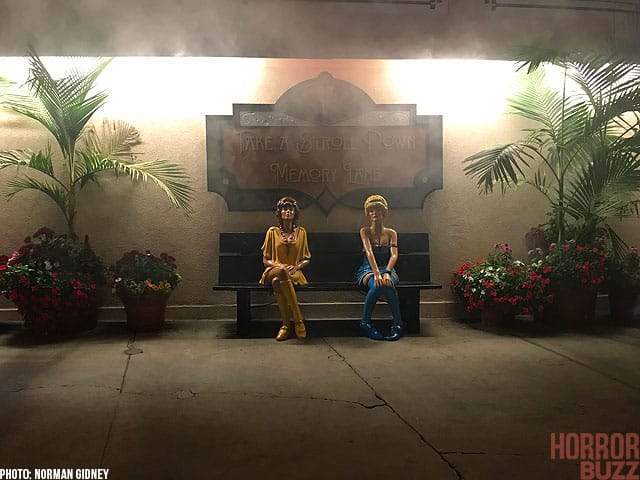 Starting backward, the dessert table called out to me immediately. Having quite enjoyed their "Frankenstein's Head Pudding" in the past, I was anxious to see what new concoctions the culinary witches behind Knott's had in store for us. Kicking us off were some samples for us to try, including the Spider Web Eclairs, Bobbing for Apples Macaroons, and the Dark Entities Lemonade. Each was expertly themed for the event, with spooky touches every where. Though we did not get to try everything, Knott's has plenty of desserts for this year, each more appetizing than the last. Of particular note was the Sweet Sinister S'mores Dessert Pizza (which, yes, is exactly what you think it is), the Halloween Sushi Crab Roll (which is a candy corn flavored treat in the shape and texture of sushi), and the Murderous Midnight Funnel Cake (which might give the Fun Bun a run for its money!).
Of course, it wasn't just dessert at the event, they had plenty of real food to try, too! Have you ever wanted to try Freaky Frog Legs? Well, now is your chance! Norm actually tried it, and found it quite pleasant, so don't be turned off by how it looks! There was also the delicious Cauldrons BBQ Brisket Mac-N-Cheese Cone, which was quite incredible. I had a serving and a half! For lighter fare, there is the Grim Reaper Walking Taco, which is essentially a taco salad. And the Hound Hot Dog Tater Bites (which we did not get to try, unfortunately) is a giant hot dog on a mound of tater tots. How can you go wrong?! Check out the photos to see what other delights you're in store for.
In addition to stuffing our faces with food, we also got to talk to Tim Barham, manager of Wardrobe Design, and Bill Meier, supervisor of Wardrobe Services. Barham told us a bit about The Gore-ing 20s, the latest Scare Zone to grace the farm, while Meier talked to us about Mesmer, the newest maze. Check out the interviews below to hear what they have to say!
And finally, in a last-ditch effort to take every bit of money to my name, we got to check out the INTO THE FOG art show. With incredible, original pieces of art from some of Southern California's most talented artists, it's amazing to see so much love for Scary Farm. From pieces dedicated to some of the more recent mazes to ones that harken back to the event's beginnings, I always love seeing what these folks come up with. There is more art than ever before here, and all of it is truly impressive. From mixed media to traditional paintings, every single piece is fantastic. Plus, many of them are for sale or have prints available (my house is already filled with artwork from show's past, now it's just time for me to figure out where to put this new stuff).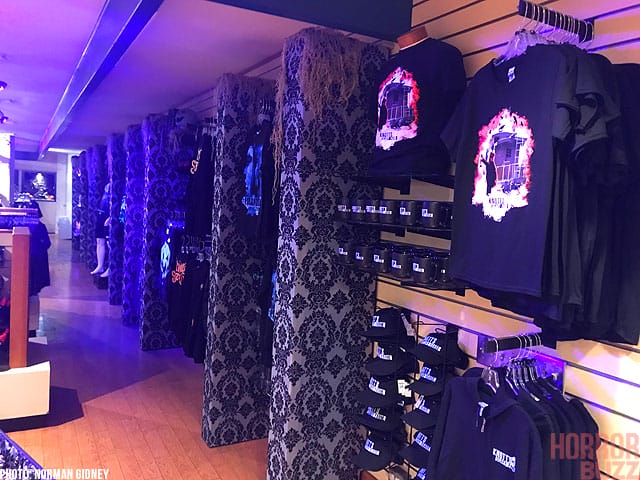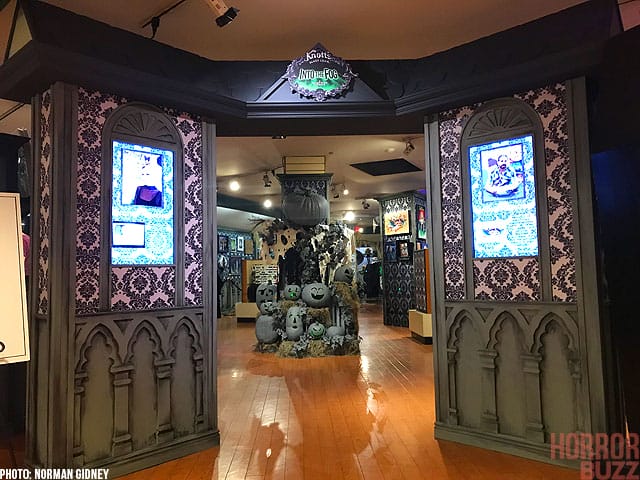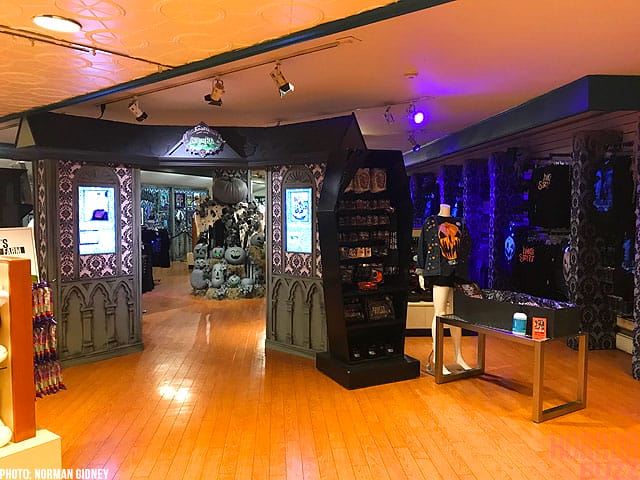 I was already excited for Scary Farm, but getting a preview of what was to come made me even more excited! Be sure to check out Knott's Scary Farm, opening September 16th and running through the entire Halloween season. See you in the fog!