After the mostly barren landscape of Halloween 2020, Southern California residents like me have been itching for the new haunt season to begin. With only a slight taste of it sated by visiting Midsummer Scream's Awaken The Spirits a few weekends ago, I've been jonesing for my haunt fix. Though the season usually doesn't begin until early September, I was incredibly happy to learn that Horrorworld opened this past weekend.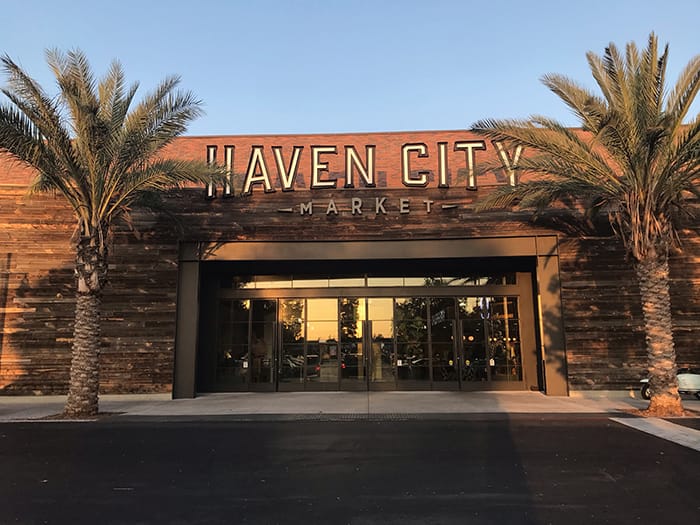 Situated in a nondescript food court in Rancho Cucamonga, Horrorworld looks only slightly out of place. While patrons enjoyed delicious treats of all kinds nearby, the screams of terrified guests echoed through the building on the evening we arrived. Snugly sitting between a yet-to-be opened pizza place and a seating area, Horrorworld's sign hung neatly from an overhead banner, with no indication of what horrors awaited us inside.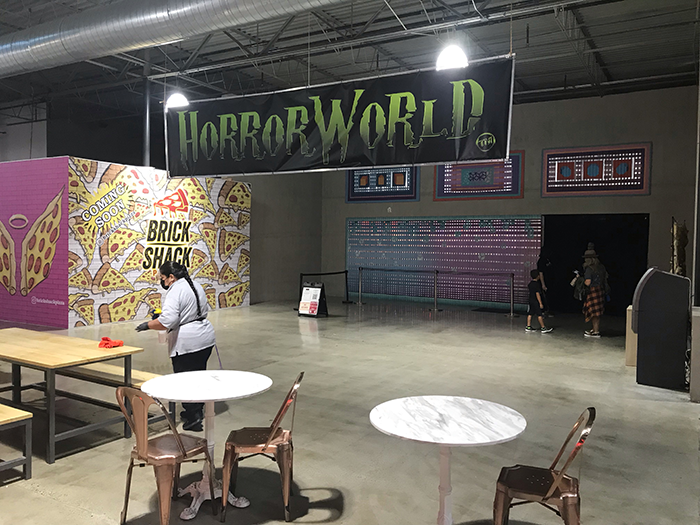 I've been a fan of Larry Bones and his crew at Bone Yard Effects for some time. While I didn't get to see the original version of INTO THE BLACK, their haunt that made you go through alone, in pitch darkness, I did see later incarnations of it that I loved. So, when I heard that they were tackling the story of a Texas family that had a penchant for cannibalism and chainsaws, I was intrigued. Of course, any similarity between a certain horror movie series and the story of this haunt is purely coincidental.
Anyway, we arrived, and I'll be honest, I was a bit nervous. It had been a long time since I had been through a haunt, so I was anxious about the fact that (a) I was surely out of practice for these kinds of things and (b) would this be full of the scares that I hoped it to have. Well, 15 minutes later, as I ran screaming from the maze while being chased by a chainsaw-wielding maniac, all of those fears were alleviated.
Horrorworld is, hands down, one of the scariest haunts I have ever been to. Legitimately, my heart was beating out of my chest the entire time, and I felt like I had just run a marathon by the time it was over.
Don't let the food court location fool you, this is a HAUNT. As soon as you step foot through the door, you're instantly transported into the world of Bubba and his family. Traversing the dark hallways of the family home, you never know what is lurking around every corner. The scares start fast and furious here, as a fantastic maze layout and plenty of misdirections make for a truly incredible experience. Seriously, I had no idea where each scare was going to come from, and even if I tried to guess, Horrorworld threw me a curveball.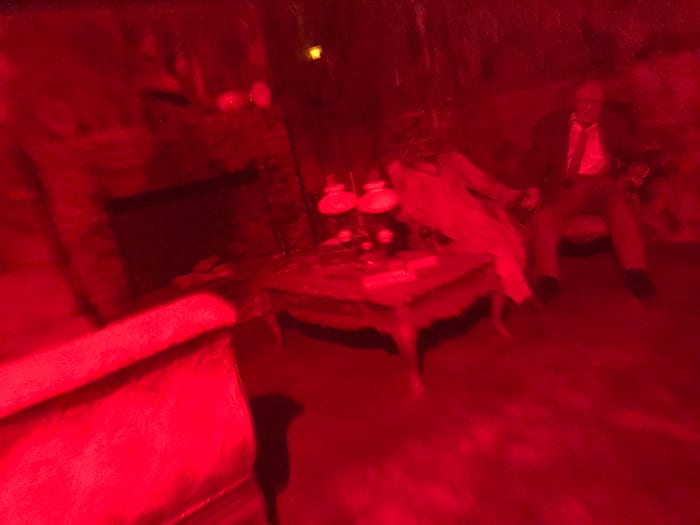 The actors were firing on all cylinders when we went through, with several of them following us for a significant amount of time, often from scene to scene, so they could continue to scare the living hell out of us. There was never a dull moment here, and I was absolutely terrified anytime one of these folks jumped out at us. These guys and girls were working HARD for the duration of the maze, truly committed to their roles. I was impressed, and can only imagine how exhausted they are by the end of every night.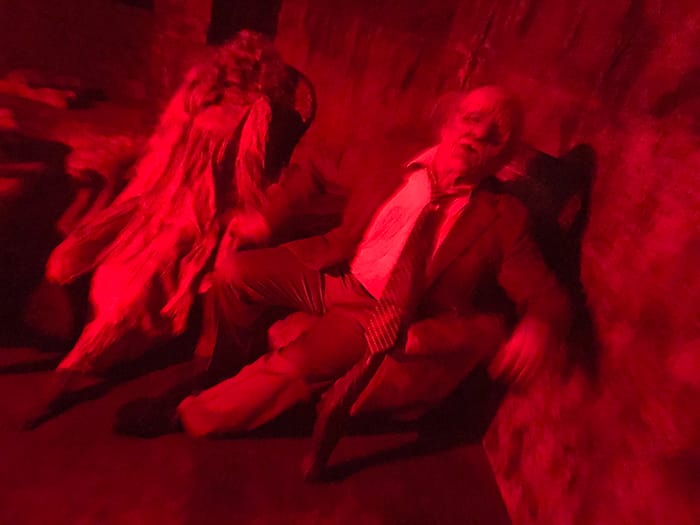 When my eyes finally adjusted from an incredibly bright room to the incredibly dark halls of the maze, I was also blown away by the craftsmanship of the sets. The detail was immense, and it truly felt like we were walking through the family home. There were two set pieces near the end that truly took my breath away, really impressing me at the incredible level of awe that an independent haunt could produce. One fog-filled room contained some really impressive work (and some wonderful scares, as well).
Hell, even just writing about it now, I'm seriously considering going back next weekend…that's how good it was!
Though it was over an hour's drive away for me, Horrorworld was worth every second of it. Larry Bones and his team did a tremendous job, and this is the absolute perfect way to kick off the first haunt season back after the world paused. The only downside is that it's only open for TWO more weekends! That's right, this event will be over by the time the other haunts roll around, so consider this your opportunity to see one of the best haunts I've ever seen before everything else opens. Seriously, you'll be kicking yourself if you miss this. Be sure to check it out today.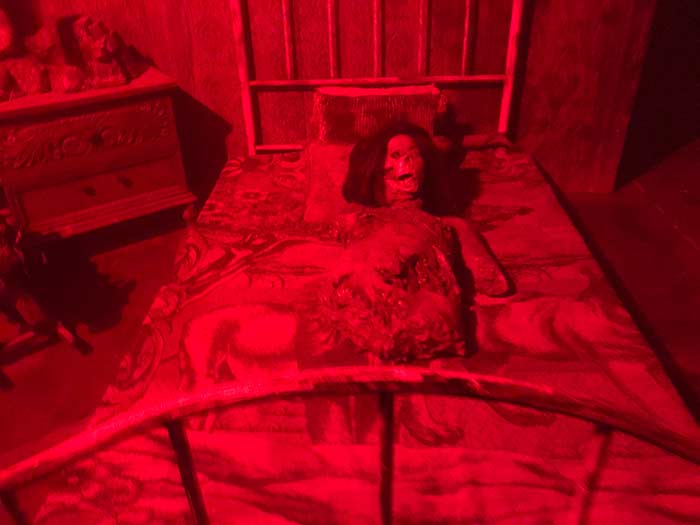 For more information, visit them on Facebook at: https://www.facebook.com/horrorworldofficial/
To buy tickets, visit: https://app.hauntpay.com/events/horrorworld
View this post on Instagram