Zombie Joe's Underground Theatre is at it again! This time we are getting an all-new, Haunted-Horror Walk-Thru Theatre Experience, TOXIC VAMPYRE! Be forewarned, the ZJU team brings it full force and their productions are generally created for ages 18 and up. This one in particular focuses on  a terrifyingly-mischievous motley gang of hungry Vampyres as they guide visitors through their wretched, soul-sucking phantasmagoria with a blood-promise of a blissful eternal life devoid of pain and worry!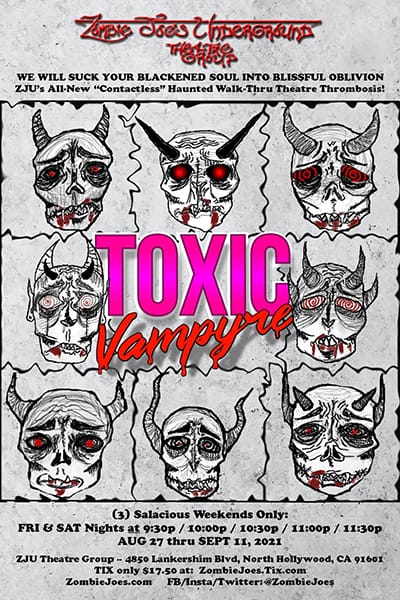 *This is a 20-minute (approx.) Contactless, Walk-thru Theatre Experience that contains nudity and dark/mature themes.
All Cast Members and ZJU Staff are Vaccinated.  Face-masks required for entry.
The experience runs FRIDAYS & SATURDAYS @ 9:30p / 10:00p / 10:30p / 11:00p/ 11:30p:  AUGUST 27 thru SEPTEMBER 11, 2021. ZJU Theatre Group is located at at 4850 Lankershim Blvd., North Hollywood, CA 91601 Tickets are $17.50 and are on sale at: 
ZombieJoes.Tix.com