Arrow Video announced the ARROW release of Noel David Taylor's bizarre filmmaking comedy Man Under Table, available exclusively to subscribers in the US, Canada, the UK and newly launched in Ireland. The feature debut from writer/director Noel David Taylor, who also stars as Guy, a beleaguered, hilariously obnoxious scriptwriter navigating his way through the chaotic indie film scene in a dystopian Los Angeles, Man Under Table world premiered at the Slamdance Film Festival and screened at the Chattanooga Film Festival. The film will debut on ARROW August 2nd.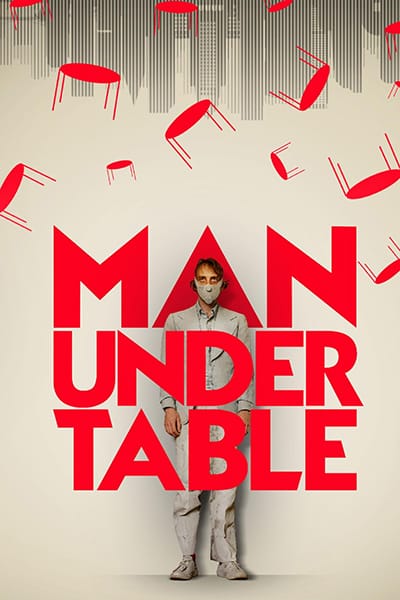 In Hollywood, it's who you know, not what you write.
Guy is writing a movie, or so he claims in bars, parties, pretty much wherever he can. Guy eventually stumbles into the path of Indie darling Jill Custard and her lackey Ben who endlessly accosts him and pull him into projects that are not his own. Frazzled and frustrated, Guy decides to join forces with a washed up neverbeen Gerald, and the duo plan to write what could be the dumbest movie ever made.
Set against the backdrop of a crumbling dystopian Los Angeles, Man Under Table pushes a spotlight onto the endlessly bizarre world of the Hollywood movie industry where things are never easy, dreams are crushed, content is king, and you'll need to wear a gasmask to cope with the unnamed toxins in the polluted green air…
Man Under Table is an inventive and quirky comedy that skewers the hustle and grind of independent filmmaking, as seen in ARROW's doc Clapboard Jungle.