The trailer and poster for Blood Covered Chocolate, the surreal vampire thriller from writer/director Monte Light, has just released.
When a recovering drug-addict named Massimo is bitten by an ancient, shapeshifting monster, he must fight to save his girlfriend Tien from the same, bloody fate.
Blood Covered Chocolate has also released its poster, painted by famed UK pop artist Simon Pritchard and we are living for it. As you can see, it is a sultry homage to the long and macabre history of vampires in film, with its hand-painted design inspired by the classic Hammer Horror Film posters of the 1960s. There even seems to be a hint of Gialo.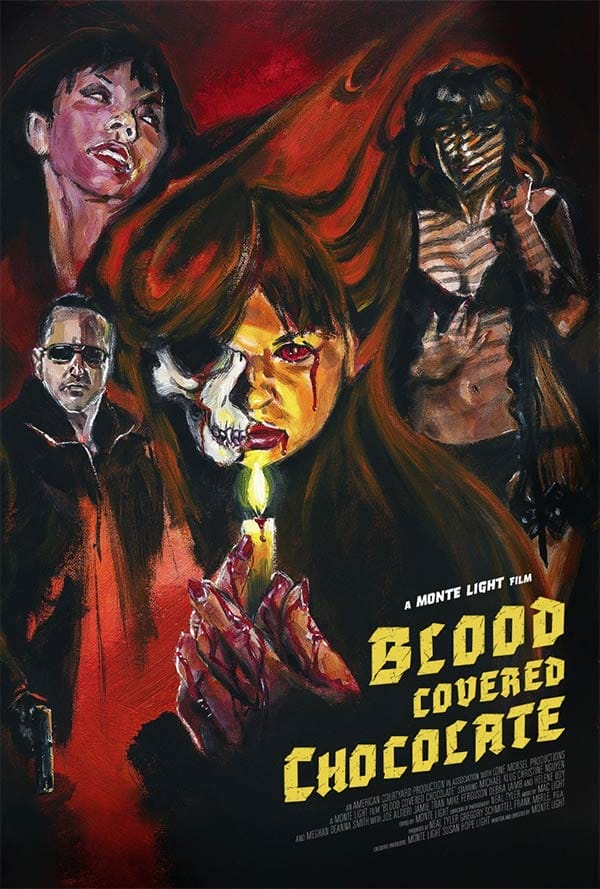 Monte Light and Susan Hope Light served as Executive Producers on the film, made through their production company American Courtyard Productions. Neal Tyler and Greg Schmittel served as Producers, and the movie was made in association with Frank Merle at Lone Morsel Productions, whose previous credits include The Employer, starring David Dastmalchian, (The Suicide Squad), and the legendary Malcolm McDowell, (A Clockwork Orange).
Blood Covered Chocolate will be released in 2022.