At long last, the trailer for CarousHELL The 2nd was trotted out to high expectations, and boy does it deliver. Written by Aleen Isley & Steve Rudzinski, CarousHELL The 2nd picks up where the original left off as Duke the sentient carousel Unicorn continues his reign of terror while searching for his purpose in life. Isley and Rudzinski take the story in a bonkers direction with Duke discovering that he has a son while the evil Nazis that created him years ago are in pursuit. This is indie horror at its finest folks, no rules, total insanity, and above all, family.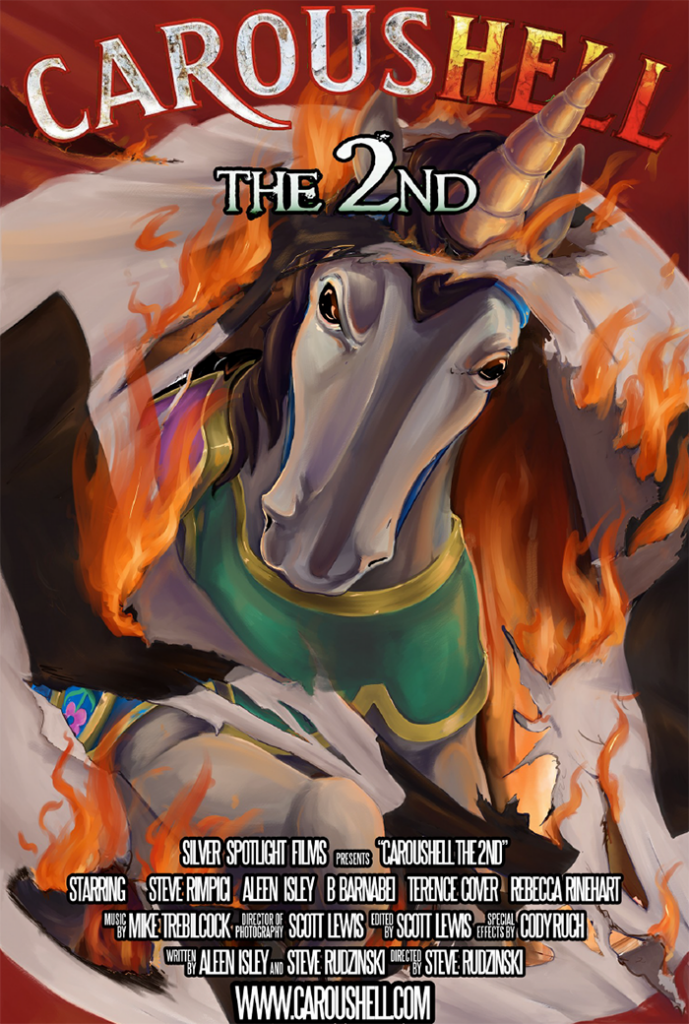 So now that we know the setup, let's take a look at the cast list.
Otto – Terence Cover
WW2 Nazi – Justin Ebeling
Duke – Steve Rimpici
Ilsa – Aleen Isley
WW2 American – David Hubbard
Jack – Lucas Carter
Robbie – B. Barnabei
Ms. Laurence – Judy Casella
Katrina – Rebecca Rinehart
Klaus – Mark McConnell
Santa Claus – Joshua Antoon
Karen – Reagan Heller
Child Adolf Hitler – Connor Asti
Mother Adolf Hitler – Jessica Asti
Jen – Marci Leigh
Sugar Daddy – Nate Ragon
Flag Slut – Mark D. Valenti
He Love Gun – Matt Mahon
Joe – Steve Rudzinski
Lawrence Laurence – Scott Lewis
So much to unpack here. THANK GODS we have Steve Rimpici back as the voice of Duke. His work was perfection in the first film so we are eager to see what he does here.  Judy Casella is back as Ms. Laurence, the mom of the two jerk kids in the first film, so we will at least have a callback to that. Also, we get another fine cameo from Steve Rudzinski as Joe. Then there are the Nazis. My goodness. Mother Adolf Hitler AND Child Adolf Hitler??? AND SANTA CLAUS???
Cody Ruch returns as Special Effects Designer/Coordinator which is a good thing as the first movie had some remarkably bloody practical effects that still hold up today. Great stuff.
When CarousHELL arrived in 2016, we called it one of the year's best horror films with its audacious mix of absurdity, camp, and gore. Now Director Rudzinski is claiming that this one is even better. Crossing our hooves that this will be true. We are expecting an Autumn 2021 release.