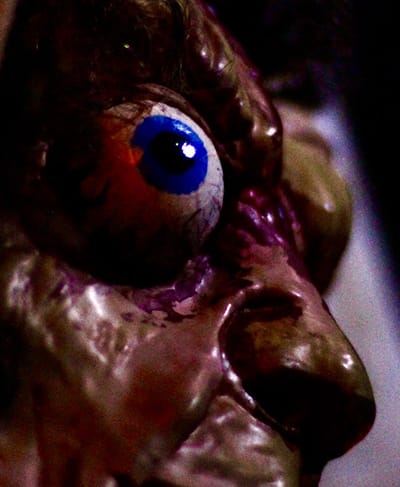 I've said it before and I will say it again. Zombie Joe's Underground Theatre is one of the most important theatres in the United States, if not the world. Their fearless, avant-garde approach to live performance is something that should and must be experienced by any fan of theatre and immersive entertainment. Their recent hybrid production URBAN DEATH: TRAIL OF TORMENT is no exception. The odd originality of this particular production coupled with ZJU's trademark audacity makes this a must-do for both ZJU fans and fans of truly original performance art.
In short, They have extended their show for one more weekend and you need to go. I have already been and I will most likely go again.
What makes this show so different? The pandemic effect. As with pretty much everyone, smaller theatre companies had to find inventive ways to survive since March 19th, 2020. Just over a year ago, Zombie Joe's was rehearsing for their trademark show, Urban Death, when the world shut down. Later on, workarounds were devised. Remote performances, peep show style theatre, and the like. Now we have TRAIL OF TORMENT, which is a sort of hybrid walkthrough and Guignol museum that plays on the company's strengths while navigating the strange web of safety regulations that we continue to phase out of.
Theatre-goers are admitted in groups of four and asked to keep their eyes fixed on a faint blue trail of lights on the floor. When the shuffling quartet reaches a laser-red line they are to pause, single file, and watch a ghastly scene unfold before their eyes. As with Urban Death, there is no dialogue and the scenes play out episodically. When the group arrives at a performance spot, the lights come up, the scene plays out, the lights go out and the group moves on.
We encounter a number of horrifying vignettes along the way. Yael Herman's opening scene is particularly nasty while ZJU Vet Elif Savas greets passing guests into her kitchen with a nasty collection of culinary horrors. Is everything scary? No. Is everything effective? Mostly. To be clear every scene in this caravan of cruel delights is worth the time to watch them. Together they are a remarkable collection of what ZJU does best. This is a strange hybrid of their traditional spring show consisting of a 45-minute performance, and their fall, Halloween show that mixes a winding makeshift maze of horrors with a 20-minute show. In short, go see this show.
While the show is wonderful, the bad news is that you only have one more weekend to catch it. URBAN DEATH TRAIL OF TORMENT is closing out its run this FRI & SAT Night – Starting at 7:20p until 11:00p, JUNE 25 & 26, 2021
ZJU Theatre Group, 4850 Lankershim Blvd., North Hollywood, CA 91601
URBAN DEATH TRAIL OF TORMENT EXTENDED FRIDAY &
SATURDAY Nights JUNE 18, 19, 25, 26