A dimly lit labyrinth leads you straight into the monster's womb… where a phantasmagoria of horrors awaits that can only be experienced to be understood. Unfathomable monstrosities wait and disturbing spirits lurk, walking among those who enter the Trail of Torment.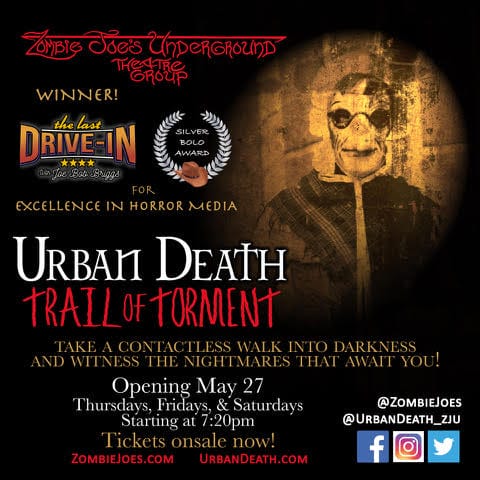 Zombie Joe's Urban Death Trail of Torment is a haunted walk-through theater performance that has risen from the darkest depths of the pandemic and arrives as a celebration for Urban Death's 16th year in operation. Bring terrifying new theatrical nightmares to thousands of curious guests.
The ZJU team has called Trail of Torment, "a ferocious labor of love that thrills, chills, and jars you to the bone with blood, sweat, and tears from every scream". This 20-minute experience is sure to pack a mean punch that will stick with you long after the car ride home.
Currently, all COVID guidelines are being strictly implemented. Attendees will be admitted in small groups, there will be no contact during the performance, and guests will be required to wear a mask at all times to remain in adherence with social distancing procedures.
Trail of Torment is created and directed by Zombie Joe and Jana Wimer and features the talents of Charlotte Cocker, Tyler Davidson, Daisy Donohue, Ian Heath, Yael Herman, Randy "Kernel" Long, Amanda McKenna, Daniel Palma, Jess Sabine, Elif Savas, Brandon Slezak, and Weston Tucker.
Trail of Torment is a wheelchair-accessible event and is recommended for guests ages 16 and up. Opening night is Thursday, May 27, 2021, and dates will run Thursdays, Fridays, and Saturdays. Tickets are timed starting at 7:20 pm and running until 11 pm in 20-minute increments. It is strongly recommended to arrive at least 10 minutes early to park and check-in so you do not miss the start of the show. The event will take place at Zombie Joe's Underground Theatre Group, located at 4850 Lankershim Blvd., North Hollywood, CA 91601.
Tickets are $35 and include admission for up to 2 people, secure your spot and grab tickets on ZJU's website!