Can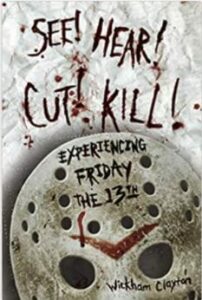 you think of a more iconic American horror villain than Jason Voorhees?
Released this past October by University Press of Mississippi to coincide with Friday the 13th's 40th anniversary, Wickham Clayton's See! Hear! Cut! Kill! Experiencing Friday the 13th provides readers with 238 pages of generous overview and detailed analysis on the popular horror franchise.
While there have been numerous popular and academic essays written about the series and its lasting impact, the only other book devoted to the series is Peter M. Bracke's 2006 Camp Crystal Lake Memories: The Complete History of Friday the 13th. Bracke's text inspired the acclaimed documentary of the same name. However, they both serve more as a captivating production diary and oral history than an academic discourse about the series. 
Clayton, who serves as a Lecturer at the University for the Creative Arts in the UK, is no stranger to the slasher genre. He's previously edited a collection entitled Style and Form in the Hollywood Slasher for Palgrave Macmillan in 2015. With See! Hear! Cut! Kill! Experiencing Friday the 13th, Clayton places foundational academic horror texts in conversation with recent scholarship to produce compelling critical observations about the franchise.
According to Clayton's preface, the book's origins trace back to a Ph.D. thesis. However, as detailed as his analyses are, the writing style and tone do not alienate the general reader. As a result, the book is accessible to horror fans, students, and academics alike.
The text explores Friday the 13th's origins, as well as devotes chapters to film form and aesthetics, sound and editing, and horror spectatorship. To help frame his analyses, Clayton chooses key sequences, which he describes in detail. He follows these by intertextually connecting them to other films, as well as introducing overarching themes and other elements of interest.
One section particularly helps contextualize the franchise in terms of horror tropes and the slasher film production cycle of the 1980s. An aspect that Clayton analyzes in-depth—of which more casual fans of the series may not be aware—is how the slasher genre is indebted to Italian giallo films. By engaging with the theories of Mikel J. Koven and other scholars, as well as referencing interviews from cast and production members, Clayton makes a strong argument for Friday the 13th's connection to giallo cinema.
Accompanying the text is a collection of illustrations, film stills, and a screenshot from Friday the 13th: The Game. While some readers may have preferred color photographs, it is understandable why the publisher only included black and white photographs, most likely to reduce production costs; even so, they are well detailed and reproduced with accuracy.
Lastly, it is understandable that some fans may be disappointed to not see new insights from Sean S. Cunningham in the book. However, many factors come into play when trying to arrange interviews with potential sources; as a result, authors and editors of academic monographs or collections should not be blamed. In fact, Clayton addresses his polite attempt to arrange interviews with Sean and Brean Cunningham in his acknowledgments section. That being said, Clayton adequately utilizes a selection of archival interviews to bolster his analyses.
Overall, See! Hear! Cut! Kill! Experiencing Friday the 13th contains a treasure trove of information that caters well to general readers, students, and scholars. Those who enjoy this book should also be on the lookout for a forthcoming collection Clayton is co-editing with Karra Shimabukuro tentatively titled, (Don't) Look Back: Our Nostalgia for Horror and Slasher Films.
9 out of 10