Welcome to part 2 of our coverage of the SXSW Online 2021 Music Video Competition, in which we'll be discussing this year's submissions through lightning-fast mini-reviews. Most of these videos are already available online and are not debuting at the festival, so if you want to want to experience these music videos for yourself feel free to follow the title links, and if you missed part 1 you can find it here.
He
dgehog- Bat (Directed by Haonan Wang): Another of the dystopian entries, this one way outside the box– the protagonist lives in a world apparently run by children and in which he and the adults around him are forced to constantly assemble toys. In the end, the man escapes his predicament through colorful psychedelic daydreams. This one has a strangely nightmarish quality to it even though it's very bright, colorful, and even a little silly. The music reinforces the strange dream-like quality of it all.
Jeremey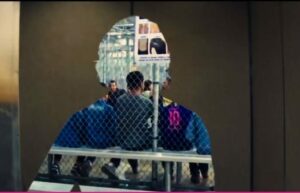 Ivey- Someone Else's Problem (Directed by Kimberly Stuckwish): One of the most powerful and timely entries this year, this video follows a businessman who can't escape the same few blocks of his commute as he attempts to ignore the societal problems playing out around him. I was struck by how well the director managed to capture the lyrics, which are harrowing and gutwrenching on their own.  If you have a thing for videos with any sort of narrative throughline you'll probably enjoy both the video itself and the folksy song that accompanies it.
Julia Stone- Break (D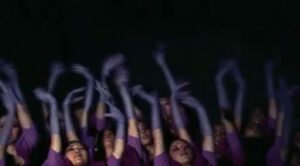 irected by Jessie Hill): Rather than a narrative or excessive fantastical imagery, this somewhat understated entry is all about choreography (supplied by Andrew Winghart), costumes, and lush locales. The visual component is pretty interesting and it's clear that a lot of work went into the performance, but the song itself was not my cup of tea- Stone's voice is just a bit too mousey for me.
Kuricorder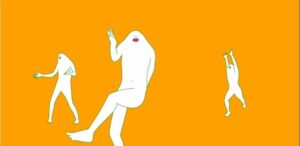 Quartet- Southpaw (Directed by Sawako Kabuki): I love this video for the sheer unlikeliness of its existence. What are these creatures? Where have they come from? Why are they absolutely getting down to recorder music? There are and will be no answers, only their entrancing dance and the hypnotic lull of recorders, which are usually among the worst instruments but are just so…entrancing here.
Madame
Gandhi- Waiting for Me (Directed by Misha Ghose): This video is about shrugging off drab institutional conformity in favor of vivid individualism and self-expression. It opens with school-aged girls traveling dull grey corridors and tackling mountains of schoolwork before introducing the band in colorful, unique outfits which blend traditional Indian clothing with more modern looks. That blending carries over into the music itself, which is full of nods to the traditional but punched up with more modern elements. A powerful message for young girls.
Keep an eye out for the third part of our SXSW 2021 Music Video Competition coverage, where we'll discuss the last five submissions!