Of course we're all interested in the film side of SXSW– that's where the horror is, after all! Still, we'd be remiss not to take the opportunity to enjoy some of the music featured at the festival, and what better way to merge those interests than by taking a look at the submissions for the SXSW Online 2021 Music Video Competition? These entries are by no means horror or even horror adjacent, but they've got some powerful and occasionally horrifying imagery, so let's dive in lightning-round style and take a look at what was on offer.
The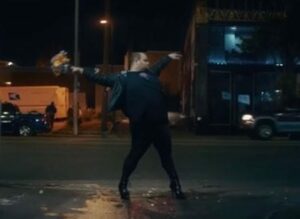 Avalanches- Running Red Lights (Directed by Greg Bunkalla): A dancer misinterprets the message of a psychic, dancing across town until he's met with heartbreak and takes off in a pink Corvette. The song itself is light and floaty, pairing well with dancer Erik Cavanaugh's jaunt across town. There's a fun inversion to this video– how many times have you seen someone happily dancing down the street to upbeat music? How many times has the dancer been a larger (but still plenty acrobatic) man in heels who turns to grand theft auto to ease his heartbreak?
Bob
Moses Featuring ZHU- Desire (Directed by Owen Brown): The first of our animated submissions doesn't disappoint! Bold, stark electronic sound melds perfectly with high contrast dark visuals. Everything is a vibrant blue and red, which denotes the separate interlocking animations used to give this one its unique look and motion. Striking images reinforce this idea of entanglement as the characters blend together, leaving permanent marks on one another. Definitely worth seeing even if you aren't into the track.
C. Tan
gana- Demasiadas Mujeres (Directed by Santos Bacana): A town full of women mourn the passing of an artist who is confessing his guilt to a priest. There are a lot of great visual elements of the video, from the mourners and their funerary attire to the abstract confessional from which the artist is singing. The song itself was a miss for me because I found the modulation at the chorus annoying, but the bad-trip psychedelic visuals like those pictured right were pretty cool.
Dirty
Projectors- Overlord (Directed by Dave Longstreth): The first in a trend of dystopian videos– at one point I double-checked to see if there was a theme for music video submissions, but there doesn't seem to be one, so I guess this is just a reflection of the headspace we're in the world over. With this video, the dystopian message is more subtle and reliant on a combination of the lyrics and weird futurist backgrounds. The almost twee indie vibe is an interesting juxtapose for these elements, which made this one more memorable than expected.
FKA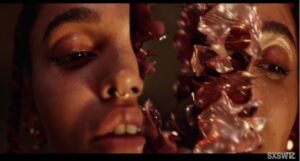 Twigs- sad day (Directed by Hiro Murai): This one is a stunner. A man waiting for his date in a London diner is confronted by his strangely contorting date– she draws a sword and a highly stylized fight breaks out. This story is all told through Wushu, and is described as an exploration of the addictive cycle of love and loss. The song is haunting as well, and the final product is one of the more fully realized submissions, offering plenty for both the music and film-based attendees at SXSW.
Stay tuned for part 2, where we'll keep rolling through the entrants in the SXSW 2021 Music Video Competition!