RLJE Films, a branch of AMC Networks, has picked up the rights to Scare Me from Shudder (also part of the AMC network and AMC's premium streaming service for horror and thriller films). Scare Me is the feature directorial debut of Josh Ruben ("CollegeHumor Originals"). Ruben also wrote the screenplay and stars in the film. Scare Me is currently scheduled to creep its way onto shelves in early March.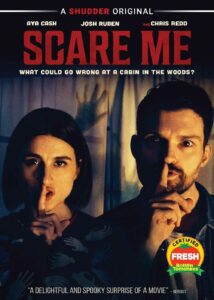 Release Date: March 2, 2021
Synopsis: Two strangers, Fred and Fanny, are stuck in their Catskills cabin during a power outage. Looking to pass the time, they decide to tell each other scary stories. But the more Fred and Fanny commit to their tales, the more the stories come to life. As the horrors of reality manifest, Fred confronts his ultimate fear that Fanny may be the better storyteller, forcing him to craft the most horrific tale imaginable and put an end to the competition for good.
BONUS FEATURES INCLUDED ON BLU-RAY AND DVD
Director and Cinematographer Commentary
Interviews with the Cast
Behind the Scenes Photo Gallery
Make Cool Sh!t Podcast Episode 1: Scare Me
Outtakes
"Feel the Music, Feel the Light" Music Video
Written and directed by Josh Ruben, Scare Me stars Ruben, Aya Cash ("The Boys"), Rebecca Drysdale ("Arrested Development"), and Chris Redd ("Saturday Night Live"). The film will be available for purchase online and in select stores. The DVD and Blu-ray will be released with an SRP of $27.97 and $28.96, respectively.