After a small pandemic-related hiatus, Knott's is back and better than ever. The Buena Park-based theme park is combining their very popular outdoor dining events that emerged in 2020 with the world-famous Boysenberry festival for "Knott's Taste of Boysenberry Festival".
This special food and retail experience celebrates that little berry that put Knott's on the map. Guests can savor a taste of the popular springtime Boysenberry Festival, featuring all-new boysenberry-inspired savory foods, sweet treats, and refreshing drinks that can't be found anywhere else!
Though the rides and attractions remain closed, this one-of-a-kind event boasts over 80 different boysenberry-infused food and drink items. Some of these tantalizing treats include beer cheese soup with a boysenberry drizzle and brown butter croutons, beef tips served with creamy boysenberry mashed potatoes, and boysenberry BBQ carne asada pizza garnished with cilantro and onions. Not to be outdone, the drinks have quite the mouth-watering lineup of their own! Some refreshing beverage options include boysenberry lemonade with basil, boysenberry ICEE float with vanilla soft serve, boysenberry mint and pineapple aqua Fresca, and so much more!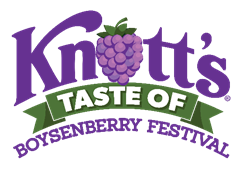 Guests can also shop for a wide variety of boysenberry-inspired merchandise including event apparel, kitchenware, and pre-packaged take-home sweets. In addition to Knott's goodies, local artisans and craftsmen representing over 20 different businesses will be present to offer handmade and personalized gifts.
The only way to experience the limited time Knott's Taste of Boysenberry Festival is with a tasting card purchased in advance on the Knott's website. Planned dates for the festival are March 5-7, March 12-14, March 19-21, March 26-April 11, April 16-18, April 23-25, and April 30-May 2. Adult tasting cards (ages 12+) are priced at $45 (plus tax) and will include five food tastings. Junior tasting cards (ages 3-11), including three food tastings, are $20 (plus tax).
Tasting cards are date-specific and are subject to capacity limits. Knott's Taste of Boysenberry Festival hotel packages are also available online. Knott's continues to prioritize public health and physical distancing guidelines and will provide ample hand sanitizing stations, plenty of seating, and limited entry to promote social distancing.