There's a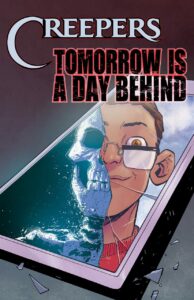 new middle-grade horror novel in development and it needs your help! Tomorrow is a day Behind has only 5 days left to reach its primary funding goal, so if you're looking for something macabre you can share with the young readers in your life head over to the Kickstarter and preorder a copy.
Here's a synopsis from the creative team: No matter how hard Martin tries, he can't adjust the date on his new phone. It's set to one day in the future. Mild frustration turns to alarm when Martin starts receiving texts from one day in the future. And the future is not looking bright. Now Martin must piece together clues from incoming texts to try to prevent an impending disaster, all while being terrorized by a middle school bully, and trying to impress the coolest girl in school. Will Martin save the day? Or will his minutes run out?
Tomorrow is a Day Behind is being co-written by authors Jason McNamara and Adrianne Ambrose. Adrianne Ambrose's catalog includes franchise titles for young readers and a few original titles including Glitter Kiss, which earned her a YALSA nomination. Jason McNamara has a slew of graphic novels under his belt including the SUCKER titles, which we've previously reviewed. The book will also include 4 full-page illustrations from Justin Greenwood, a veteran graphic novel illustrator perhaps best known for his work on Stumptown.
Keen eyes will also notice the "Creepers" just above the title– that's because the creators have plans to develop a middle-grade horror anthology series under the name, pending the success of Tomorrow is a Day Behind. That's an exciting prospect if, like me, you grew up on Goosebumps and would like to see more horror available for younger audiences. Here's hoping that you see the potential in this project too and are able to support it– there are signed copies up for grabs as well as original art pieces from the book over on the campaign page.