Greetings from 2021!
Hopefully whatever holidays or annual traditions you partake in were as enjoyable as possible given the once in a lifetime (knock on wood) stresses we've all endured this last year. Our Gurnenthar's Ascendance Zoom celebration was actually quite enjoyable, thank you for asking.
Now that the previous dumpster fire of a year is firmly in the past we here at HorrorBuzz are looking back at some favorite films of 2020. Our critics have searched through everything they were lucky enough to experience these last 12 months and each has whittled down their selections to a few movies worthy of another spotlight before we move forward to a new year of thrills and chills–plus maybe some scary movies, too.
Maybe it's a creature feature they loved after the initial viewing and cannot get enough of, maybe it's a throwback slasher that felt pretty okay the first time only to greatly improve upon a re-watch, or every now and then a movie manages to come out of nowhere and make the journey from not liking it very much to finding plenty to enjoy on subsequent viewings. You never know where some all-time favorite films might come from!
If the blurbs of what make these our favorite films from the year whet your appetite at all feel free to click the linked titles for the original reviews full of more reasons the various horror or horror-adjacent films are well worth your time. A few reviewers cheated a little bit as they just had so many recommendations, but I'm sure you don't mind having a little more gold to choose from.
So, without further ado let's get this road on the show…
Murder Bury Win/Spontaneous/The Nest – These three–aka "The Nines"–are the only ones I gave a 9/10 this last year so how could I not vouch for them at least once more when discussing favorite films? They each fire on all cylinders in their respective genres and while I've only been able to re-watch The Nest so far (it's still a tour de force showcase of Carrie Coon & Jude Law in their prime) I look forward to seeing both the others again when possible. My stomach was in knots waiting for people to randomly pop in bloody bursts of gore–in a fun way–throughout that first viewing of Spontaneous so the re-watch should bring a new set of less active emotions. Murder Bury Win had just so much character-based amusing hijinks I'm sure I missed a few bits of dialogue the first time because I was laughing so I'll have something new when I get to it again.
How to Deter a Robber/Spree – What links this pair? They both share what I'd call a "human criminal" element I found nicely done. Spree takes you on a ride with a social media obsessed young man who decides it's time to take drastic measures in order to get people to notice him. Director Eugene Kotlyarenko nails the manic tone of the interestingly told story and, perhaps most importantly, Joe Keery (Steve from Stranger Things) makes it all work with his central performance as the disturbed but amusing Kurt. How to Deter a Robber is a home invasion comedy/thriller set around Christmas with a refreshingly human cast who don't quite behave as one might expect in the given circumstance. I enjoyed watching their predicament unfold and nothing overstays its welcome so give it a chance–it's still the season if Christmas trees are up.
Alone/Range Runners – Two great examples of survival thrillers I've heard sometimes described as "Lady Vengeance" films, which I think sums it up pretty well. Alone utilizes a sparse cast and straightforward story we've all seen before, woman encounters weirdo who relentlessly pursues her until violence ensues, to great success. The first half, in particular, I think is quite effective and what follows is quite well made while involving until the credits roll. Range Runners is a wonderful showcase for lead actress Celeste Cooper as an action hero you believe and root for. I'm not saying she's necessarily an action hero in this movie, even though her character might briefly make you think otherwise. There are flashbacks which feel rather extraneous, frankly, but I wouldn't say they're a dealbreaker. After seeing this I'm hopeful Cooper gets her chance at being a big-screen bad ass some more because she deserves it. Also, these are both free of overly done rape garbage which I appreciate.
Blood On Her Name/Hunter Hunter – After going through my most highly rated films in an understatedly trying year I noticed a pattern of great character development, introspection, and difficult or otherwise challenging subject matter for the protagonist to wrestle with (or escape from). For a harrowing melodrama that details family and obligation in the gritty-as-grit-can-get deep South, Matthew Pope's Blood On Her Name American gothic tale is easily one of my favorite indie watches of 2020 thanks largely to an unforgettable performance from Bethany Anne Lind. Another female-led stunner was Shawn Linden's Hunter Hunter, which began with a slow boil but shocked me with a murderously cathartic ending that was surprisingly violent and chilled me to the bone.
Murder Death Koreatown
– While not necessarily the best movie,
Murder Death Koreatown
is definitely unlike most found footage films I've seen and is easily the best "no budget" film I reviewed of 2020. The character arc was nothing short of a wild ride and it's an eerie descent–without being horrifying–into psychological madness.
Uplift/Chickens – 2020 was also a year where short films shinned and none left an impression on me as much as Uplift did. Abjectly depressing but well-shot, this one used objects culturally associated with happiness and reassigned them with sadness to create a poignant piece that addresses death with the darkest kind of humor. Also, Bryian Keith Montgomery Jr.'s Chickens is among my favorite films not only for being ripped from the headlines in a year highlighted by police brutality against persons of color but also because it's a well-directed, telling a story with gripping dialogue that shows the thought process behind telling eye movements of its characters.
Monster Force Zero/Fingers/Feedback – I'm as much a sucker for slasher films as I am for a character's motive–I blame Scream for making me stick to that lesson–so when a movie is done by heart rather than by what they think the audience wants, I melt and rejoice for a job well done. Monster Force Zero was one of those films because it gives a heck of a chance to anyone that feels like an outcast by letting it be known you don't need to belong somewhere when you can create your own world and bring others to it. It brings a geek celebration of quirky positivity with a joyful '80s beat to take things into your own hands and kick some alien butts. Fingers and Feedback (one crazier than the other…) stick to our times like a piece of butter on warm bread as they take current movements into their plots and spin the concepts of hero and villain— each may make you question your ethics when you don't know if you're rooting for the bad ones.
Scratch/Kissed – Now, when it comes to short films, I can honestly say I'm not a fan because most of the time they seem to fail on delivering motives and it's always justified by a director as being left open to interpretation. Scratch, however, changed my mind as it told a big story in short time. Besides being visually stunning, it also has a smart script and great characters that pushed it into a neon light of wonders. Also, I cannot end my favorite films contribution without mentioning Kissed. The ending was obvious from the start and the character's motive seemed blurry until he speaks his love letter to the corpse with such necrophiliac enthusiasm that cleared the stench of uncertainty–it felt alive (no pun intended), vibrant, and smart. Both are set in dark environments but they shine for their own merits.
Bloody Mary/Red Light/The Killer of Grassy Ridge – 2020 may have been long, however it was definitely the year of short film! There were so many amazing shorts to review but I would be remiss not to mention to these three favorite films that took hold of me and never let go all in 10 minutes or less. Bloody Mary brought on the killer special effects and cinematography, Red Light shed light on real horrors in humanity with gorgeous coloration, and The Killer of Grassy Ridge (my absolute most favorite thing I reviewed in 2020 which you can watch HERE) told a story to die for…literally. The commonality these short terror tales share is their fresh take on tried-and-true stories. Horror lore, a killer in the woods, and a sadistic murderer offing unlikeable young adults are by no means unexplored concepts, but these stories take a classic script and write a whole new ending.
Mass Hysteria/The Devil to Pay/Point Defiance – 2020 also brought some seriously strong features, if shorts aren't your thing. Mass Hysteria was a hysterical frolic through the town of Salem as a modern-day witch hunt unfolds. It's deliciously dark, historically based, doesn't take itself too seriously, and I loved every bloody minute. For a gritty tale of debt and revenge that smells like homemade biscuits soaked in fear and wrapped in desperation look no further than The Devil to Pay. This dark backwoods southern horror tale should be on everyone's watch list with its never-ending tension and captivating dialogue that clawed its way into my heart forever. Point Defiance rounds out this group of favorites with a gripping tale of love, loss, brotherhood, and madness. This remarkably original story got my blood pumping, kept me guessing, left me hanging, and I wouldn't have it any other way.
Swallow – Though there's enough stress and misery going on in the world as it is, that's no excuse to pass up seeing this powerful drama. The intense tale of Haley Bennett as a freshly married woman exploring her newfound urge to swallow inedible objects is endlessly captivating. While the premise may seem unsavory and daunting from a body horror aspect, Swallow's story is so important and powerful in a time where taking back power has never been more necessary. If you're still unconvinced know this perfect modern drama is one of only two favorite films I gave a 9 out of 10 in 2020.
Freaky – My other 9 out of 10, which will instead lighten the mood, should come as no surprise to anyone in the horror community. Blumhouse's Freaky is a true love letter to the slasher genre and an instant body swap classic. Vince Vaughn and Kathryn Newton deliver spectacular performances as their characters–regular and body swapped–and are surrounded by a wonderful supporting cast in this hilarious, clever, and at times equally thrilling film. This is the undeniably comedic palate cleanser of choice after such a year of disappointment & sadness and I cannot recommend it enough.
Labrys/See You On The Other Side/Eyes of Eidolon – I have an immense, undeniable affinity for short films. I think capturing a concept in a few pages of script and brief moments of film is a feat many can't accomplish. Pacing in the span of a few minutes is nearly impossible to manage and each of these nearly perfect shorts gave it to us in spades. Labrys, by BJ Colangelo, offers a hopeful, happy, and empowered queer narrative–something that's too often missing even from queer-driven and queer-produced films. Superheroics are just icing on the cake. See You On The Other Side, by the Summers Brothers and starring the remarkable Grace Marlow, took on the unthinkable and made a time travel movie in ten minutes. Seamless storytelling meets perfect performance–as it did again in Eyes of Eidolon, written and directed by Davi Pena. Eyes is moody, mournful, and the presence of grief is felt in every frame and every piece of music. Three nearly perfect films all under 10 minutes long means some big name filmmakers have a lot to live up to.
Carmilla – I could not get enough of Emily Harris' Carmilla. Masterpiece Theatre wishes they could put out media as thought-provoking, aesthetically stunning, and flat out phenomenal as this. A perfect example of why women should be allowed to make films about women in the Boys' Club of filmmaking. The feminine touch of Carmilla is palpable throughout, with sun drenched and exquisitely detailed cinematography by Michael Wood playing the perfect support to this femme-driven love story. As far as favorite films of the year go, when it comes to dramatic narrative features this is a rare piece of perfection.
Morgana – Adult filmmaker "Morgana Muses" is as unconventional as they come and so is the stunning documentary about her. Directed by Isabel Peppard and Josie Hess, Morgana is a love letter to female sexuality after its prime–to women who are different, bigger, bolder, and more beautiful. It's a love letter to sex, to love, and to finding out who you really are. Childlike miniatures and dollhouses are sprinkled in throughout this very adult tale, reminding us at our core who we are and why we seek love and validation. Intensely erotic and intensely stunning, I am in total awe of everything Morgana is and does–scars and all. After this film you will be, too.
Possessor/His House – When tasked with assessing a full year of films some jump to the fore, while others float to the top of your memory. 2020 started off well enough with a couple Sundance screenings, both of which landed in my top ten of the year. Brandon Cronenberg's second feature (yes, his dad is David) Possessor, is easily one of the best sci-fi horror films of the year, if not the coming decade. The sheer mix of brutal violence, gender-bending sci-fi tropes, and existential dread at once challenges viewers while just being a damned good ride. His House, on the other hand, is a remarkably human film on the horrors of refugees in a seemingly civilized England. Haunted by the inherent challenges of acclimation and the psychic ghost that linger after fleeing their war-torn home, a Sudanese couple does their best to create a home amidst the tenements of London. When they begin to hear strange things crawling within the walls of their new abode it becomes a struggle to assert their place in a strange land.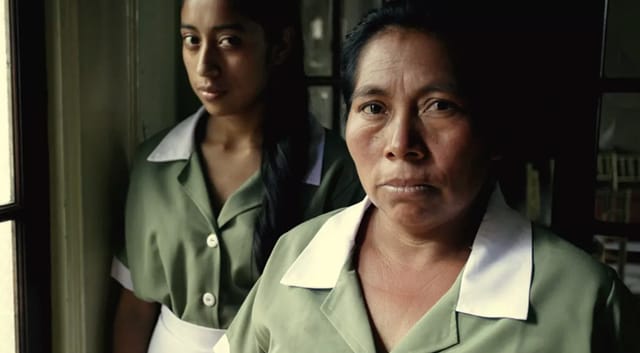 Invisible Man/The Vast of Night/La Llorona – There were other total oddities like The Twentieth Century and Jesus Shows you the Way to the Highway, but they merely flirted with the title of Genre rather than being Horror. No, if we are talking strictly scares, I'd have to round out my collection of horror favorite films during a horrific year with Invisible Man, The Vast of Night, and La Llorona. Blumhouse and Leigh Whannell struck paydirt with his reimagining of the classic Universal monster Invisible Man by inverting the story and telling it from his victim's point of view. Genius. The Vast of Night is a slow burn sci-fi horror mystery about two youngsters in a small New Mexico town in the 50's who believe that alien visitation is not far off that featured bravura technical tricks and brilliant storytelling. Then there was the beautifully realized La Llorona, which recasts this weeping specter as a bringer of social justice during the time of the Guatemalan genocide of the Mayan natives in that country. Hints of Del Toro and magical realism to create a haunting political horror film.
1BR
/
Vivarium
– Ah, the horrors of moving into a new home–a staple of the haunted house genre. Only 2020 brought two new twists:
1BR
 explores a single woman's experience adapting to a gated community that seems just a little too perfect while
Vivarium
 takes suburban sameness and conformity then weaponizes it to an absurd degree. Both are truly identifiable to anyone moving into a new home. While generally we don't experience quite the level of torture and entrapment Jesse Eisenberg, Imogene Poots & Nicole Brydon Bloom had to face, we do have legitimate worries about landlords, neighbors, and a true homeowner horror–the HOA.
Dreamland
/
Uncle Peckerhead
– Other favorite films of the year went in the direction of the bizarre.
Dreamland
 is a neo-noir jazz thriller with a sax-playing assassin and a dandy vampire (by the makers of the inimitable 
Pontypool
), while
Uncle Peckerhead
 is a character-driven punk road comedy horror exploring the meaning of what it is to be human and family with humor, gore & death. Weird-for-weird's sake movies this year weren't that uncommon, but these two were especially full of heart, charm, and the occasional thought-
provocation. Great soundtracks, too! What more could you ask for?
Alrighty, well that seems a good selection with a bunch of range! Whether you like your horrors lightly comedic, harsh and bloody, ponderous, or whatever else you're sure to find at least a couple things here to give a go in the new year which–fingers crossed–finds reality less frightening than fiction (not off to a great start with that so far).
What about you? Any suggestions for a modern classic we missed and must get to ASAP in 2021?