Blood Moon Pictures brings you their newest anthology of fear from writer/producer P.J. Starks and producer Eric Huskisson: 13 SLAYS TILL X-MAS. The new horror anthology is comprised of thirteen Christmas themed stories of merry mayhem from directors Brittany Blanton, Sean Blevins, Jed Brian, William Capps, Alex Clark, John Hale, Blair Hoyle, Robert Kern III, Carlos Omar De Leon, Drew Marvick, John Mason, Eric Huskisson, P.J. Starks, Julie Streble, and Shawn Burkett.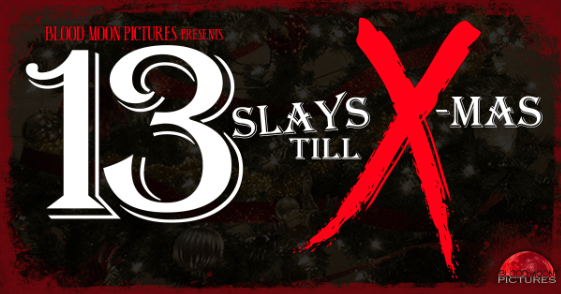 On December 24th, five seemingly random men are invited to a dive bar by a mysterious e-
mail. They decide to pass the time by resurrecting the old tradition of telling scary stories on Christmas
Eve. As each take turns spinning yarns of yuletide terror, it becomes evident, they may be harboring a
dark and deadly secret.
13 Slays features an ensemble cast including Kevin Roach, Christopher Bower, Katie Stewart, Ryan Matthew Ziegler, David McMahon, Sonya Delormier, Kevin Clark, Julie Streble, Wes Bartlett, Steve Christopher, Chris Killian, Nathan Tymoshuk, Roni Jonah, Lauren Argo, RJ Campbell, Kaylee Williams, Gerrimy Keiffer, Michael Merchant, Brittany Blanton, Greg Harpold, and many more.
The release date for 13 Slays Till X-Mas has not yet been revealed.