MVD Entertainment Group has acquired North American distribution rights to Arto Halonen's psychological hypnosis thriller Murderous Trance. The film is based on an incredible true story and features a stellar cast. Due to the ongoing pandemic, the film will be made available in both hard disk and streaming forms. MVD Entertainment has dropped the poster and trailer ahead of the film's scheduled February release.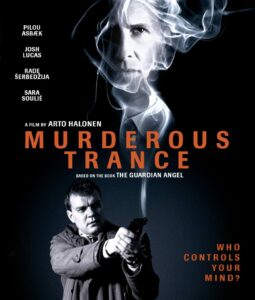 Synopsis: Based on the extraordinary true story, Murderous Trance follows detective Anders Olsen (Pilou Asbæk) as he investigates a case in which a bank robber shoots two bank clerks before fleeing with the money.  With the help of a hypnotist (Rade Šerbedžija), Olsen discovers a sinister mystery involving mind control and the charismatic criminal Björn Schow Nielsen (Josh Lucas) who secretly befriends the investigator's young wife, bringing the menace ever closer to the investigator while putting their lives in great danger.
This looks like an edge-of-your-seat-until-the-end type of film. And the fact that this is based on a true story makes it even better. Josh Lucas and Pilou Asbæk look incredible in their respective roles and I personally cannot wait to see the details of the unbelievable story told on the big screen.
Written by Arto Halonen, William Aldridge, and Mitchell Bard, and directed by Halonen, Murderous Trance stars Josh Lucas (Ford v. Ferrari, The Lincoln Lawyer), Pilou Asbæk (Game of Thrones, Ghost in the Shell), Rade Šerbedžija (Downton Abbey, Mission Impossible 2), Christopher Fulford (A Prayer For The Dying), and Sara Soulié (The Golden Anniversary).
The film will be available on DVD, Blu-Ray, and to rent and own on North American digital HD internet, cable, and satellite platforms through MVD Entertainment Group on February 9, 2021.