RLJE Films, a unit of AMC Networks, has announced the DVD and Blu Ray release date for Shudder original Spiral. RLJE recently acquired select rights to release the film and plans to drop the DVD and Blu Ray online and in brick and mortar stores in January 2021. Along with the film, special features include interviews with the writers of Spiral and a behind the scenes look at filming on set.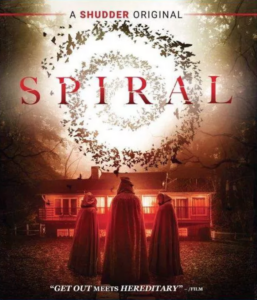 Release Date: January 19, 2021
Synopsis: A same-sex couple moves to a small town so they can enjoy a better quality of life as they raise their 16-year-old daughter. But nothing is as it seems in their picturesque neighborhood. And when they see that the folks next door are throwing a very strange party, being the new family in town suddenly feels extremely dangerous.
Tech Specs:
Movie Genre: Horror
Rating: Unrated
Studio: RLJE
Run Time: 90 Minutes
Format: DVD & Blu Ray
Language: English
Release Date: January 19, 2021
Directed by Kurtis David Harder(What Keeps You Alive), Spiral was written by Colin Minihan (Z), and John Poliquin(Still/Born). The film stars Jeffrey Bowyer-Chapman ("American Horror Story"), Ari Cohen (It franchise), Jennifer Laporte ("iZombie"), Ty Wood ("Chilling Adventures of Sabrina"), Chandra West(I Now Pronounce You Chuck & Larry), and Lochlyn Munro ("Riverdale"). Spiral will be available on DVD for $27.97 and Blu Ray for $28.96 online and at local retailers.