Shockfest film Festival closed out a year of nationwide pop-up events with a virtual screening event that spanned 4 hours, culminating in an awards ceremony honoring horrifying achievements in film. Beginning at 430pm a self-serve library of short films and features were made available to viewers as hosts Jeffrey Macabre and Dr. Do Good hosted a series of Q&A panels and appearances featuring the likes of Rob Zombie, Zak Bagans, Malcolm McDowell, Elvira and more.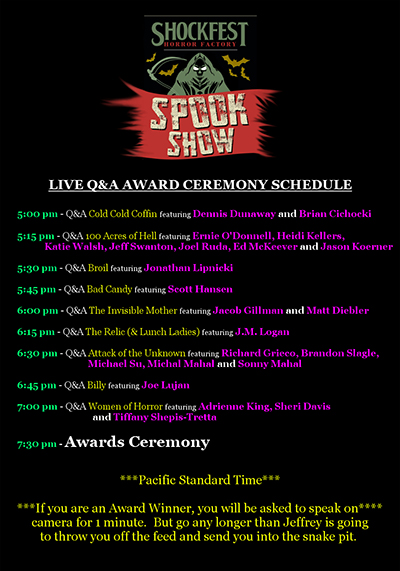 The night led up to the Schockfest Film Festival honoring those who created horror in 2020. More pointedly, horror films in 2020 ranging from shorts to full features. Below is a listing of all winners.
SHOCKER AWARD
Rob Zombie
THE MUSEUM OF PARANORMAL EXHIBITS AND ARTIFACTS AWARD
Zak Bagans
BEST FEATURE
Attack of the Unknown
BEST DIRECTOR
Joe Lujan – Billy
CAPTIVE AUDIENCE AWARD
100 Acres of Hell
BEST WRITER
Brandon Slagle – Attack of the Unknown
BEST SHORT
J.M. Logan – The Relic
BEST INTERNATIONAL FILM
Deathcember
BEST ACTRESS
Dee Wallace – Await The Dawn
BEST ACTOR
Richard Grieco – Attack of the Unknown
BEST CINEMATOGRAPHER
Daniel Lazoff – The Invisible Mother
BEST MUSIC
Pablo C. Vergara – Necromurder
BEST MUSIC VIDEO
Brian Cichocki – Dennis Dunaway: Cold Cold Coffin
EXCELLENCE IN MEDIA IN THE FIELD OF THE PARANORMAL AWARD
Buried Secrets Paranormal
POSTER COMPETITION
Destiny Soria – Christmas Slasher
MONSTER COMPETITION
Christopher Maggard – Darkness
ONE SHEET COMPETITION
Christopher Beaubien – Siren
SCREENPLAY COMPETITION
Mikeal Burgin – Lockridge
DIRECTOR'S REEL COMPETITION
Andrew Pinon
FILM FIGHT/QUARANTINE COMPETITION
Amy Geist – Enjoy Your Stay
ROCKFEST AWARD
Leslie Bornstein – Terra Pesada
BEST ROCKFEST MUSIC SINGLE TRACK
Morbidly Delirious – Possessed
MOCKFEST AWARD
Clarissa Jacobson – Lunch Ladies
BEST MOCKFEST SCREENPLAY
Suzanne Friedman – Polar Ratz
Congratulations to all nominees and those who went home with the prize. It may seem superfluous, a luxury even, to have horror, much less awards during a global pandemic. Yet it is exactly what we should do. Film, entertainment, the arts, all allow us to process the horrors we see before us. For that reason alone horror movies are important. Be sure to catch any of these titles you can!