Looking for a way to KILL some time with friends? Ever wished you could mastermind a series of macabre murders from the comfort of your living room?? If so, Oh, The Horror will be your perfect weapon for a killer evening of murderous fun!
Oh, The Horror is described by its creators as a "horribly hilarious horror card game" and is played in a similar fashion to games like Cards Against Humanity. It uses three types of cards – Killer Cards, Victim Cards and Method Cards.
Each player takes 5 Method Cards, which describe humorously horrifying methods of homicide. The "Death Dealer" for the round turns over a Killer Card and a Victim Card and reads them aloud. All other players mastermind the perfect crime by selecting one of the five method cards they hold and giving it to the Death Dealer face down. Once all cards have been turned in, the Death Dealer shuffles them and then reads each one aloud, finally selecting the winning scenario for a sidesplitting slaying! Then the role of Death Dealer shifts and the fun continues like a serial killer on a spree.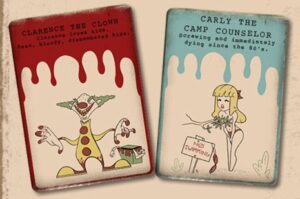 The game includes 100 Killer Cards, 100 Victim Cards and 200 Method Cards plus a few special "twist" cards! (You can't have a horror experience without a TWIST!)
Expansion packs will also be available, like FOLK-LORROR (Mythical Creature Killer Cards and Whimsical Victim Cards).
Ready to plan your ghastly gala? Hold that bloodlust! The game is planned for release June 2021, but YOU can make a KILLER KICKSTARTER contribution and grab some bloody amazing extras! The Kickstarter Campaign has just launched allowing you in on the gory, gut-strewn ground floor. There are many levels of support and for as little as $25.00 you can secure a game when they are released. With higher pledges you can claim expansion packs as well as special packaging and gifts. My favorite is the Killer Victim level. For $500.00 you will be immortalized for all time in the Victim Deck! (Come on – a victim card of Diane The Dog Trainer would be PERFECT, right??) But if you REALLY have that killer instinct, go for the $1000.00 Kickstarter and they will turn YOU into a KILLER card!
The Kickstarter is open now until January 1, 2021, so don't hide in the chainsaw shed! Jump on this opportunity like a killer on a summer camp co-ed by following this link to the Kickstarter Campaign.
https://www.kickstarter.com/projects/ohthehorrorgame/oh-the-horror/
Oh, The Horror is the criminally creative brainchild of Patrick Braillard, Nate Stevenson, and Jacob McAlister, the genius scaremeisters that have been bringing thrills, chills and kills to Universal Studio's Halloween Horror Nights for years. When they were dealt the Covid-19 Job Killer Card, the horrifying images and stories stockpiled in their twisted brains had to go somewhere! So, rather than pursue therapy, they poured their nightmarish visions and a healthy dose of hilarity into Oh, The Horror.
Learn more about the game at their website: https://www.ohthehorrorgame.com.  If you love horror, you'll be hooked like a victim of the hook-handed killer! So support the Kickstarter and start a list of your closest homicidal maniacs for an evening of horror and hilarity!