A brand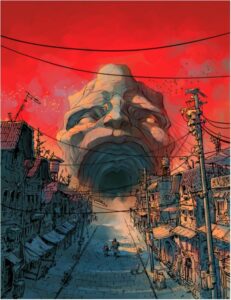 new horror fiction magazine is on the horizon! Corridor is a new mixed-media horror magazine that seeks to bring together creators from different areas of horror media, namely writers and artists that may not otherwise have had the opportunity to collaborate. The founders of the new venture ask that you imagine what it would have been like if Ray Bradbury, Junji Ito, and HR Giger had the opportunity to work together within the same pages, and that sounds like an incredibly exciting concept. The first issue is available to back now on Kickstarter, where you can order physical or digital copies of the magazine along with various exclusive prints and backer bundles based on the numerous individual contributors to issue 1.
From the campaign: The first oversized, 10×13 inch, 96-page issue of CORRIDOR will bring together the worlds of short fiction, comics and art. Its stories will blend horror with science-fiction and fantasy, focusing on weird, wondrous curiosities. These horrors will express an uncertainty about reality, invoking a radical strangeness and providing psychological mysteries that dissect our collective fears and anxieties.
The magazine is being managed by Christian Sager & Dave Moore, and the first issue features content from a huge list of creators within the world of horror print media: Corinna Bechko, Nadia Bulkin, Brandon Daniels, Kristi DeMeester, J.M. Dragunas, Marie Enger,  Ray Fawkes,  Ed Grabianowski, Dave Jordan, Jonathan La Mantia, Robert Lamb, Ryan Lee, Brian Level, Maria Nguyen, Dr Eilís Phillips,  Rafer Roberts, Christian Sager, SCARECROWOVEN, Matt Sheean, Kate Sherron, Dave Wachter, and Malachi Ward. With a contributor list that long you'd be forgiven for not being familiar with everybody involved, but I'd encourage you to head over to the campaign page where you can find profiles on the artists involved and take a peek at their previous work. There's a lot of really great talent here. 
 Corridor is also founded on the very noble concept of paying creators fairly for their work, something which occasionally goes the wayside in startup publications. In fact, that's what the majority of the campaign's goal is meant to provide– if you scroll down the campaign page you'll find a cost breakdown that promises just over sixty percent of the project's funding towards creator payments, which is further reinforced by the creator specific backer bundles.  
With 13 days left to meet the campaign goal, I sincerely hope this one gets funded. It looks like an innovative and modern approach to blending horror and visual arts that is mostly absent from current periodicals outside of Black Static and comics. The creator-centric model is a major plus, and with any luck, Corridor can become a mainstay of horror in print.